Yesterday the entire skiing community lost a great friend, CR Johnson. He died while skiing his home mountain of Squaw Valley. I'm one of the lucky ones who was blessed to witness his positivity in person and I've had the fortune of sharing some powder turns over the years. He will be missed but never forgotten.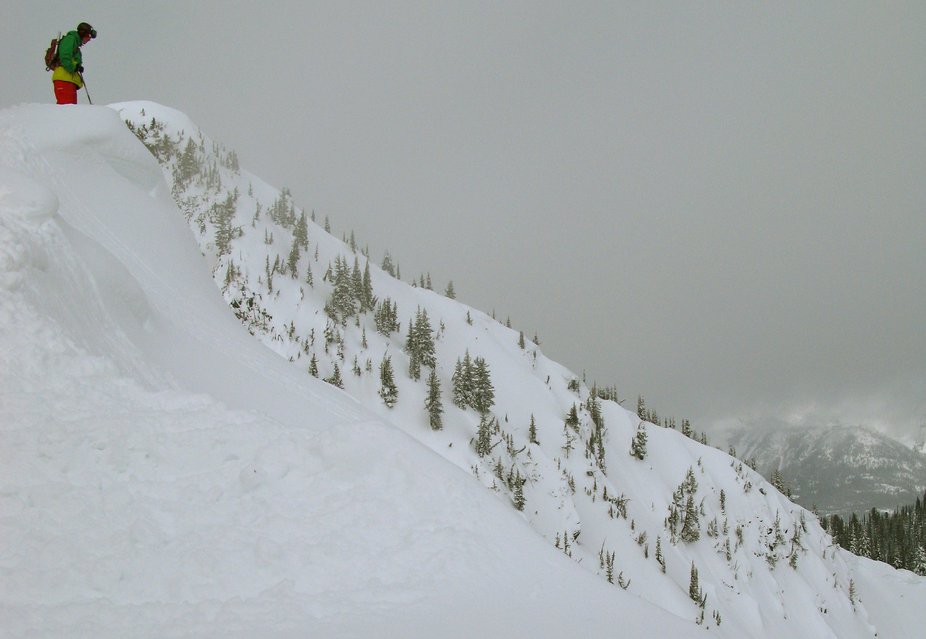 "Come Back?, written by CR Johnson in 2007
?What?s the status down there, because I?m ready to drop when you?re all ready for me,? I say across the radio as I stand on top of a towering ridge in British Columbia, about to drop in on one of the longest, most exposed lines I have ever filmed.
?We?re about three minutes out. We?ll give you the word when we?re set, CR,? Dustin, the cinematographer, answers back.
When he gives me the word, it?s go time. I breathe deep and relax my anxiety by taking in the beautiful day life has blessed me with. I?m pretty excited because this is about to be one of the most challenging lines of my life, but not nervous because I don?t have much of a range of emotions, due to the brain damage I sustained last year.
This winter was by far the most challenging winter of my career. Because of that, it was also one of my most rewarding. Returning to the sport that nearly took my life the year before presented many mental hurdles. I had a deep sub-conscious fear of injury and death throughout the entire year. To calm my nerves, the Snow Gods presented me with more powder than I have seen in the last few years combined. I wasn?t able to come back as strong as ever, but by the grace of Jah, God, or whoever, was able to return to skiing.
I spent ten weeks filming in British Columbia this year, where I watched over 40 feet of snow fall. One of the most memorable trips of my life was a trip with Eric Hjorleifson and Ingrid Backstrom to a small town called Bralorne. We rented a lodge and flew a helicopter up to sit in our yard. We spent ten days there and flew almost every day? on the snowy days, we would fly to treeline and ski pillows the whole way down. It snowed day after day, until one day we awoke to 100% clear blue skies. The avalanche conditions were as stable as you could ever ask for. The snowpack was bottomless and on top was the lightest powder any of us have ever skied. We attacked the entire day and I was able to step into some of the longest, most challenging lines I?ve ever attempted. To have perfect snow, perfect weather, and bombproof snowpack is an opportunity that comes along maybe once a year. It was by far the best day of heli-skiing of my life.
The rest of the time I was in BC it snowed like crazy. Later in the season at Northern Escape Heli, we once again rented a lodge and had the heli parked right out- side. It snowed every day, but we were still able to fly to the top of the tree line. On the partly cloudy days, we shopped around for windows of sun ? window-shopping can be a mildly stressful day, but when it opened up, it was spectacular. While at Northern Escape I got the opportunity to meet and ski with Chris Rubens and to ski again with a long-time great friend, Sarah Burke. It was a very fun crew, and it was truly a blessing for me to have Sarah there. She spent a bit of time with me in the hospital last year and witnessed a lot of what I went through. When I wasn?t able to land certain lines or tricks that I was trying, I would get incredibly discouraged and be very hard on myself. Sarah would see that and remind me of how well I was actually doing. Although I wasn?t skiing everything exactly how I wanted, I was doing well. I have such high expectations of myself and at times this winter those expectations were a bit unrealistic. I have the perspective that for me to be able to even walk is very lucky, but from time to time I would lose sight of that perspective. Fortunately, I had my buddy Sarah there to ground me and remind me of how I am re- ally doing in the grand scheme of things.
All in all, this year was amazing. If I wanted to be hard on myself, I could reflect on the year and say I didn?t ski as strong as I ever have and wish I would?ve done better. Realistically though, I can reflect on the year and be very proud of how I performed. I overcame the fear of death while skiing ? some may say that is a bit dramatic, but it was too close to a reality for me just one year prior. I also re-established my focus on this sport. Over my entire ski career, I have wanted to be the best all-around skier. Now I am going to focus on one aspect of skiing, and that is film. I?m so fortunate to have the opportunity to film with Matchstick again. They are the film company that helped me establish my ski career, and I have a lifetime of amazing memories filming with them. I look forward to creating more memories with the Matchstick crew and continuing to pursue what I love most: skiing and chasing new experiences of a lifetime.
In the future, I?m going to continue to push the boundaries of our sport in the backcountry. That is where I love to spend my time and the aspect of skiing that I love most. I am so fortunate to be skiing again, and appreciate every day that I am able to pursue what I love. Every icy day, every deep pow day? EVERY day is a blessing. When we can appreciate every experience for all that it is, we will never need nor want more.