Finally I was able to get some pictures up on ns to do a park update. Here they are. They are in the order that the features appear in the parks.
Open Slope Park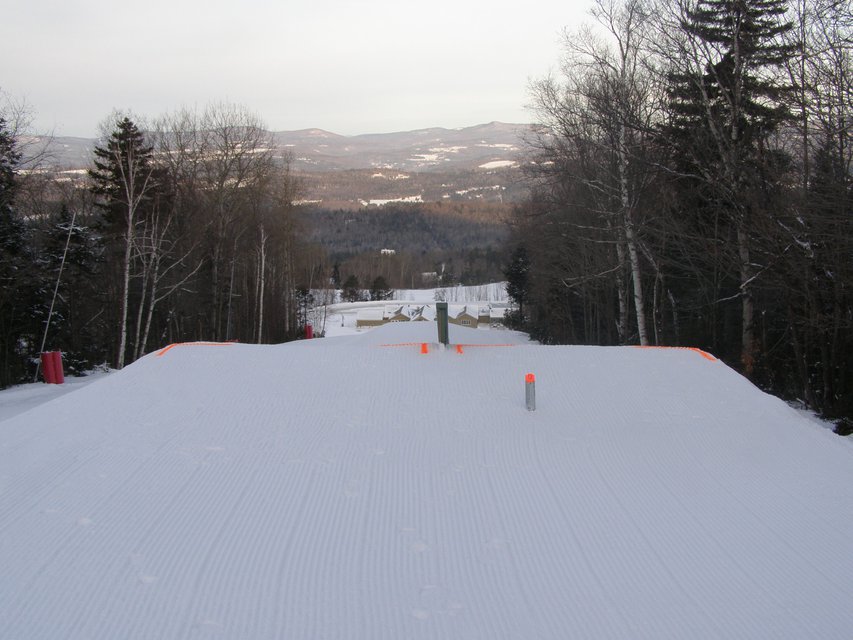 Super wide takeoff for the dfdfd. Also works great a staging area for sessions on  the step down rail.
The dfdfd
step down rail
perfect for 450s
or boosting 270s
a shitty pic of the jump that ends open slope. It a poppy 20ft jump with a long landing.
D-Block Park
New sign that should say D-Block
Down rail or box to start out, your choice.
Jump 1 Takeoff
 and the landing. shifty one here but I have seem some stomped sw 7s on this one.
The c-box or after yesterday its call Curry's box
Front of log/ tire jib
back of jib with the ultra long poles
First flat box
Flat Rail with the log spine in the background
Jump 2 at 30ft with a long landing
Jump #3 15ft to 20ft but very poppy
Rainbow! I know you cant see the lip and its a snowboarder but Ezra is boosting off of it.
Flat box 2 and another little snowboarder. This ones good for getting those 270s on.
2 single barrel down rails in a row. Super low for learning tricks
Log stall
Slides well too. fun for 270s out
hit the dfd and then its time for another lap and Sherburne express.
Foxes
This is the big park. It can be hit from the poma or top quad. Take the
cut across and you can get to the open slope park in the same run.  All
I have is 1 piciture of the big jump at the end.
Steve gives it a test. Its 40ft and very poppy. Be cafefull with this
one the pop can be a bit unerving. If you look to left while your in
the air you will be looking down at the chair lift.
Dashney is getting a face lift tomorow. It will be closed all day. Look
for a new setup with bigger jumps and lots of new features. A couple of
the new rails will also be ready. Here is one.