Bula Adds Kaya Turski to Freeski Roster
(Montreal, Quebec) – June 1, 2007, Bula, the leading manufacturer of cold weather accessories, is proud to announce the latest addition to their world-class snow athlete roster,  19-year-old female Freeski Pro Kaya Turski. Joining the Bula ranks with a lineup that includes Phil Belanger, JF Cusson, Vincent Dorion, Lynsey Dyer, Frank Raymond, Colby West and JD Zicat, Turski is queued to wear and endorse Bula accessories throughout the 2007 competition season.
Although relatively new to the sport, Turski's extensive experience competing in Inline quickly propelled her status as one of the best female pro Freeskiers in the industry.  She was tragically sidelined in the 2006-2007 season by a major injury sustained during competition and has fully recovered to rejoin the competition circuit. Kaya is more confident than ever to get back on her skis and start competing in her Bula regalia this coming season.
"I am psyched to get back out there and couldn't be happier representing a company like Bula," said Turski. "Bula makes incredibly cute and super functional product that is right in line with my personal style."
Kaya kicks off her official return to the sport in August 2007 with the New Zealand Free Ski Open. She has also secured a segment with Poorboyz and plans to compete at the X-Games, US Open and other major contests.
"Kaya represents the future of women's freeski, and her great attitude, skills and personal style are perfectly representative of the Bula lifestyle," said JF DuRocher, director of marketing and team manager of Bula. "'We're look forward to supporting her big comeback and bright future ."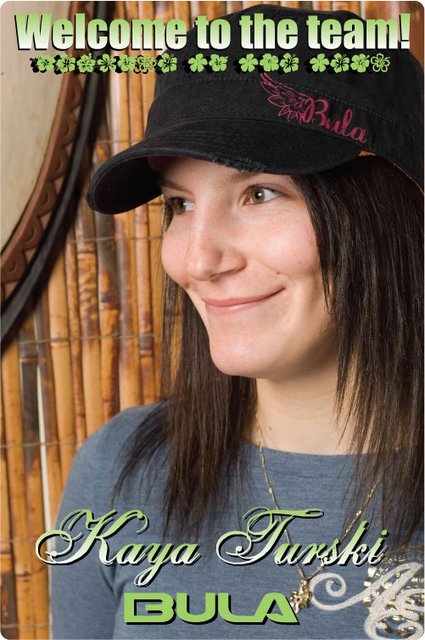 About Bula Snow Accessories:
'Bula', a Fijian expression meaning "hello, peace and cheers', is also the brand name for the Montreal-based premier snow sports accessory brand and manufacturer of winter headwear, socks, and base layers. Bula's motto, "To live the good life" permeates all that we do, and is reflected in a product line that offers a wide variety of styles stressing high quality at a great price. Bula's design team comes from a storied background within the industry with strong roots to snowboard, ski and beach culture.  To learn more visit: http://www.bulabula.com.