From warmer and more durable clothing to increased function in equipment and better materials, the outdoors world has seen some wonderful progression over the years. There are plenty of brands pushing things forward in one way or another, but when it comes to the advocacy of women and producing women's gear, Roxy is THE name in the game.
They are a brand created by women and doing things that not only push the quality of the product but also shedding light on the (hopefully lessening) gender disparity in the community of action sports.
Roxy was the first female-specific action sports brand when it was born from Quiksilver in 1990, dating its origins to the birth of freestyle, snowboarding, and twin tipper culture in many ways. Although Roxy didn't formally enter the world of snow until 2003, their involvement in surfing made the transition into snowboarding and then freeskiing a natural fit.
Back in 1993, Roxy hit a milestone with an innovative women's board short. It was designed by a team of female designers, and married function and fashion for women in surfing. Its impact went beyond surfing though, as it raised the bar for what could and should be made available in terms of women's gear. Product aside, Roxy has also played a massive role as a sponsor to industry legends, with a stacked roster of names like Lisa Andersen, Sarah Burke, and Torah Bright. The team continues to inspire the brand, product, and consumer alike. Roxy has made immense efforts to support the athletes that wear their clothing in many ways, from the long-standing snow competition series "Chicken Jam", to supporting women hitting urban, long before it became somewhat mainstream in snowboarding.
In December, Roxy hosted the first on-snow installment of their "Make Waves, Move Mountains" camp. An immersive few days of team gathering, the camp connects Roxy athletes together with a focus on a mentor and mentee kind of setup. It's about "bringing in our athletes that have more experience and have gotten further along in their careers, who have gone to the Olympics or X- Games, etc., and connecting them with up and comers who are just starting to figure out their career they're just starting to get out there more and creating a situation where they can get to know each other and also learn from each other," says Jenna Kuklinski, a Team Manager of Roxy.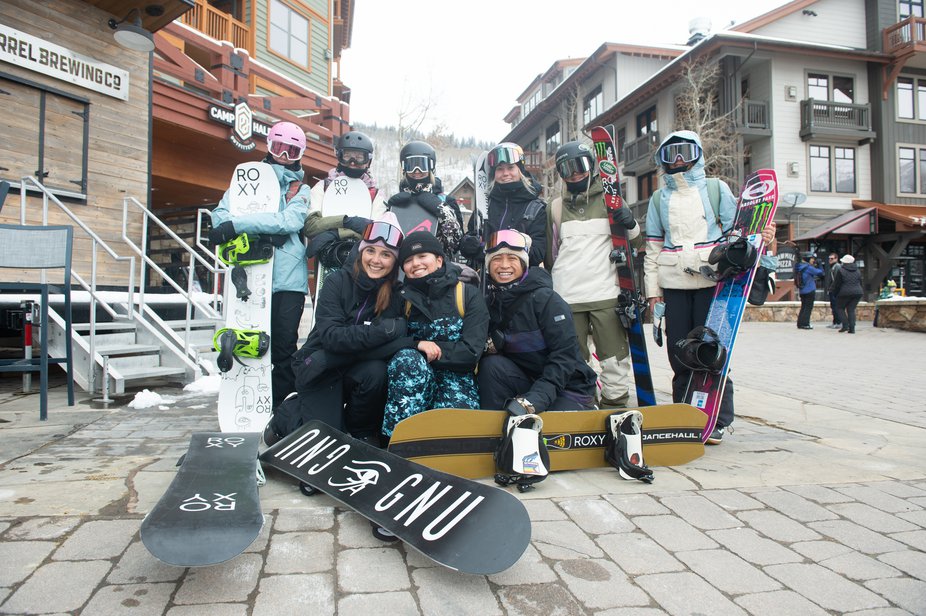 When it comes to the team, there's an emphasis on support for athletes that want to give back, and how their partnership with Roxy can allow for that. When asked how Roxy is continuing the legacy of community influence, Kuklinski described the importance of being "deliberate in choices of campaign, media features, what could be made better and how we can affect change through each facet that we do," whether that's surf or snow-related. The progression for women in these spaces is "not going to be an overnight thing, it's not going to be perfect or all-encompassing. It is things like making this team camp, we affect all the athletes we have here by building upon themes of connection and inclusivity."
"We had the first make waves/move mountains camp, surf edition that happened in France last May," Kuklinski says on talking about the program's inception. The idea came from looking at how we can help foster the growth of our athletes and working to connect all of them together with a focus on a mentor/mentee kind of setup. Bringing in our athletes that have more experience and have gotten further along in their careers, who have gone to the Olympics or X- Games, etc., and connecting them with up and comers who are just starting to figure out their career they're just starting to get out there more and creating a situation where they can get to know each other and also learn from each other."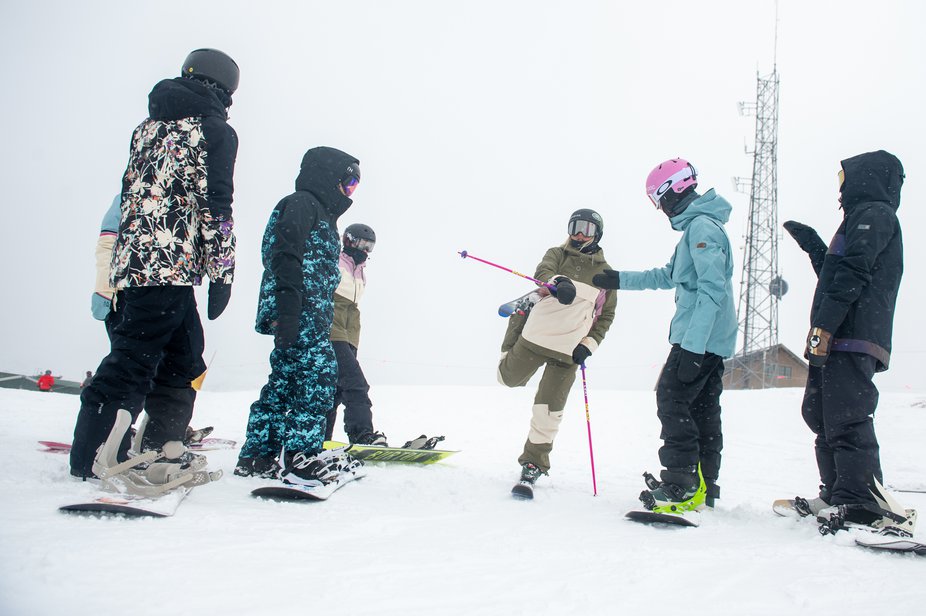 It created a space for fun, team building, and definitely some good old-fashioned shenanigans amongst the young ladies involved.
Maggie Voisin and Tess Ledeux were on the list of athletes at the camp at Copper. Ledeux has been part of the Roxy team since 2017, but Voisin is a recent addition- and certainly a great choice to have on the roster given her success in the contest scene as well as her recent video "Swiftcurrent", showing a move into the backcountry filming game.
Voisin is a great addition to the team for a number of reasons, but the relationship she has been able to foster with Roxy is looking like a turning point for her career.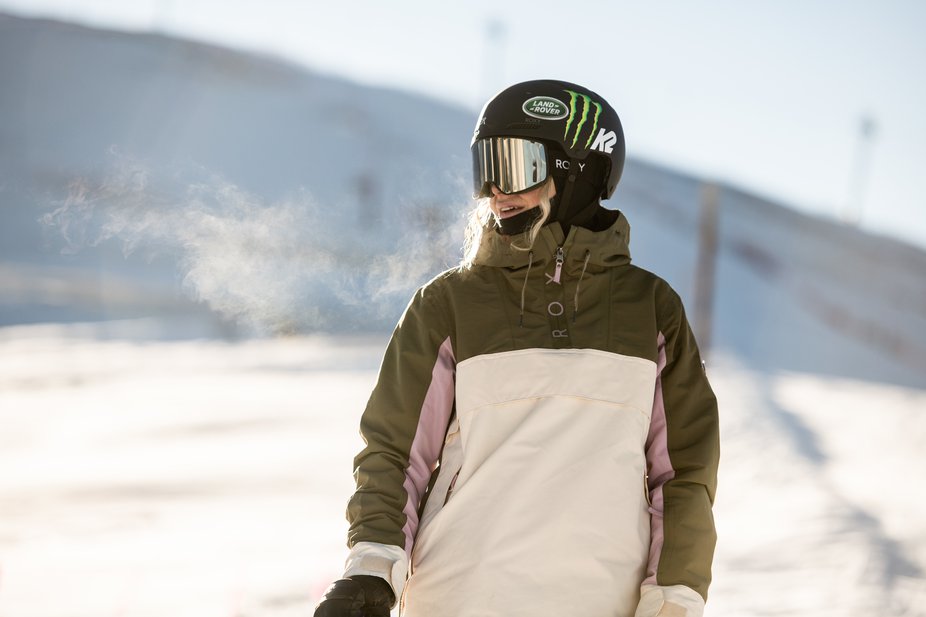 "For me, I've gotten to this point in my career... and it's really hard to explain because obviously, I do something really cool, I do what I love. But I have these moments where I struggle with what I am doing and ask myself whether am I doing something to make the world a better place?" she tells me. "I am so grateful to have had so many opportunities and I realize that, whether that's through sponsors or where I've gone in my career, but getting the chance to participate in making a difference is really meaningful to me. It feels like perfect timing to be partnering with Roxy because of all of these conversations I've been having surrounding what I can do to make a difference. They are doing that, and hopefully, I can inspire some of the up-and-coming women, as well as bring more to the sport in the first place. That's the direction I want to go in with my sponsors that I am representing and that represent me."
Voisin continues to talk about her path ahead, and what her goals are shaping up to be.
"Down the road, I hope to work with organizations that are also making a difference. I just lost my brother to suicide, and I have realized that I can use my platform in skiing to join organizations and open conversation, and create change. It's crazy to think that at 23, I've already had this amazing and successful career, but for some reason, and I think it's just being human, I'm not necessarily fulfilled. It's not like I need more medals, it's like "what can I do with my life where I wake up and know I'm making a difference every single day".
Voisin is clearly still achieving great things through competition, with Beijing 2022 on the agenda as her third Olympics. But she is looking beyond that aspect of things now.
"It's so cool to be a part of a brand that doesn't want you just because of your discipline. Like they don't want me on the team just because I'm a contest skier. I thought that I had to be a contest skier to get to where I am in my career, but being around all of these girls is showing me that that is just not true. There are girls here who are focused on totally different paths. It's important that there are brands out there that want to just represent people for what they love to do, whether that's street or pow or contests."
It's important that support is shown to disciplines like street and filming, as these are criminally underrepresented genres of women's skiing. For the next generation, the knowledge that there are different ways to achieve success outside of the realm of podiums is crucial. Brands supporting filming projects and the grassroots are the backbone of ski culture, and it's great that Roxy is stepping forward in that way.
On a more corporate level, Roxy is also the home of inspirational figures. As Voisin herself pointed out, "having two women for team managers who have a background in snow is really great, and they have different enough backgrounds that their combined knowledge is incredible." Jenna Kuklinsky has been around the block with experience working at different outerwear brands, always with a focus on female-centric companies and events. Nirvana Ortanez hails from a career as an athlete and has traveled the world hitting street and putting out numerous video parts that are sick, regardless of whether you like having one plank or two.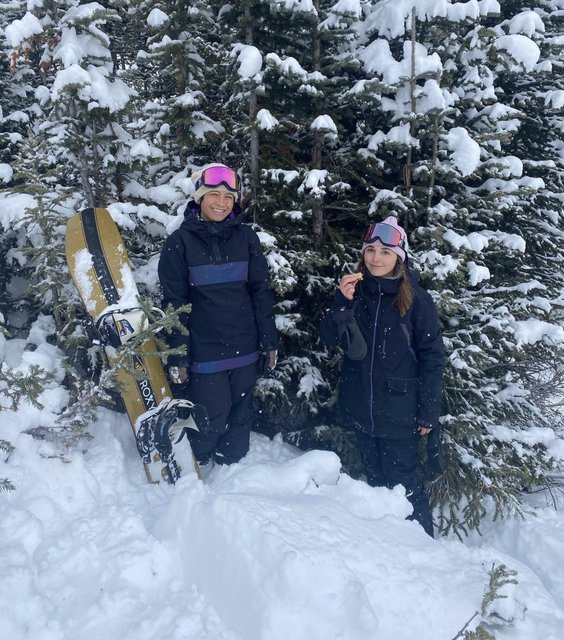 Having two women working in management is also a pretty unique thing, though hopefully, that will change. It's refreshing, and it is important for people, especially women and anyone who doesn't identify with the 'straight white male' persona that dominates this industry, to see that there are multitudes of paths that one can take to work in the outdoor industry that aren't the path of becoming a pro athlete. There are roles in team management, roles in film making and photography, roles in brand involvement or even just grassroots activism, and those roles are just as important as the ones being played on our screens. It's also beneficial to the women on the team, as it eliminates the factor of being compared to male counterparts as it often happens when the team manager is male.
The structure of Roxy gives an element of representation for women in the industry, but the brand's goal of creating community was the biggest takeaway from my time in Copper. All in all, it's about using what channels you have to create space for what is important, which at the end of the day, whether it's skiing, surfing, skating, snowboarding, or whatever, is the growth of the community. Roxy is doing just that in big ways and small ways, and that's really cool to see.