Words & photos courtesy of Boreal Mountain Resort
Boreal hosted the first of four Expression Sessions on Friday night (January 13, 2012), which drew competitors from all over the Tahoe region and as far and wide as Canada and New Zealand. In fact, almost 90 contestants registered for the event – making it the biggest Expression Session turnout in the event's rich fifteen-year history.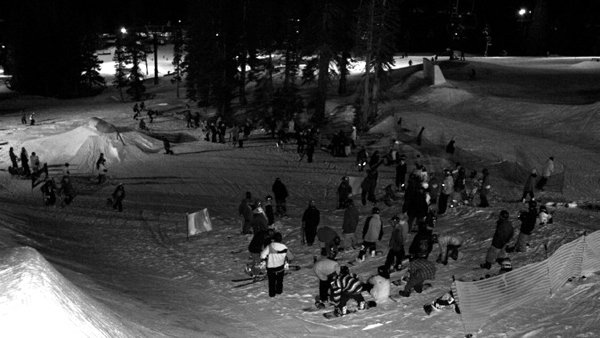 The first Expression Session of 2012 broke a record with nearly 90 registered contestants.
Boreal's Expression Sessions are a homegrown event series as well as a refreshing change from your everyday rail jams.  This year's theme – Junkyard Jams – means the features will have been recycled from a past life off the snow and modified for our shredding pleasures. This event introduced an old 1,000-gallon propane tank that was tricked out with a shiny new paint job, tagged with the Boreal logo and set-up on the hill with multiple approaches, including a pole jam for the bravest of souls. After each Expression Session the recycled features are given a permanent new home in Boreal's world class terrain parks.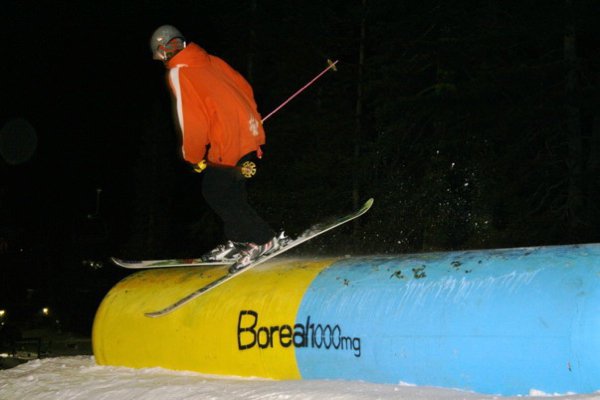 Just before the competition kicked off the riders were assembled above the feature for a brief meeting and to discuss the contest format. The rules were simple: the event would begin with an hour-long jam session while the all-star panel of judges narrowed each division down to five finalists.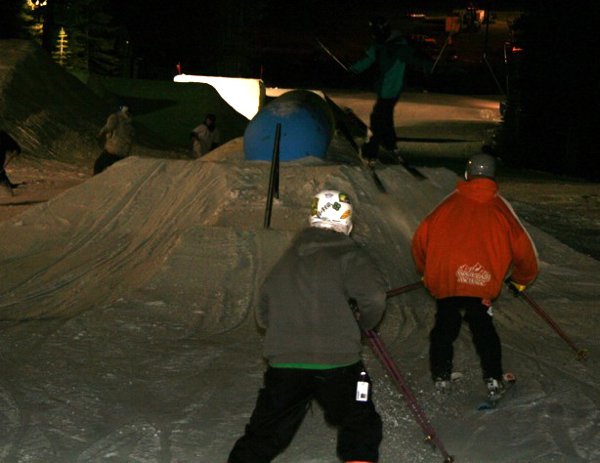 Chaos at Boreal!
After the meeting the riders were given the word and complete mayhem ensued. Skiers, riders and snow skaters dropped from every angle with no particular method to their madness. The skiers came out of the gates hot with a variety of spins on and off the tank, but with such a unique feature, everyone was challenged to find their own creative approach. As the event progressed, so did the tricks. Before it was all over, those lucky enough to be in attendance witnessed multiple crashes, collisions, one-footed attempts and a dizzying array of inverts and spins. After a little over an hour, the all-star panel of judges, including recent Dew Tour participants Raelynd Tarnove and Jason Arens, were able to sort out the chaos and select the best of the best from all five divisions.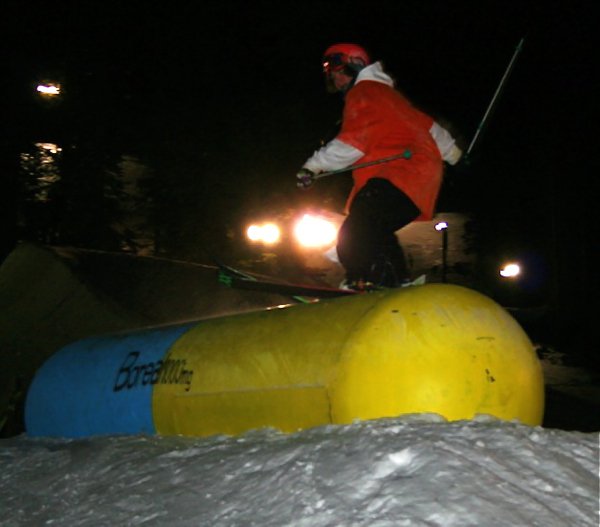 In the final round, athletes were given an additional 20 minutes of jam time to battle it out for podium positions as well as a smorgasbord of awesome prizes from Expression Session sponsors like Lib-Tech, Moment, Arnette, Volcom, Heckler and GNU. The trick of the night came from skier Pete Arneson, who used the pole jam to butter a 450 on before spinning a 270 off.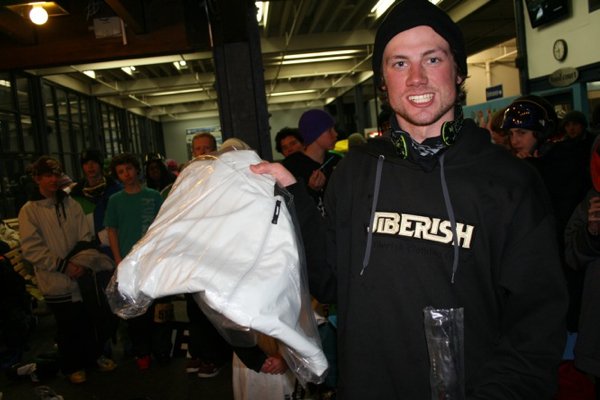 Pete Arneson took home first place in the Men's Ski division and some fresh Moment gear for his efforts.
The top three finishers from each division were given their moment in the spotlight during a pizza feed/award ceremony that took place in Boreal's lodge after the competition. Prizes included new poles, goggles, jackets, hoodies, gift cards and much, much more. The ceremony concluded with a massive prize toss to the crowd and a frantic scramble that could be compared to a PG-13 mosh pit.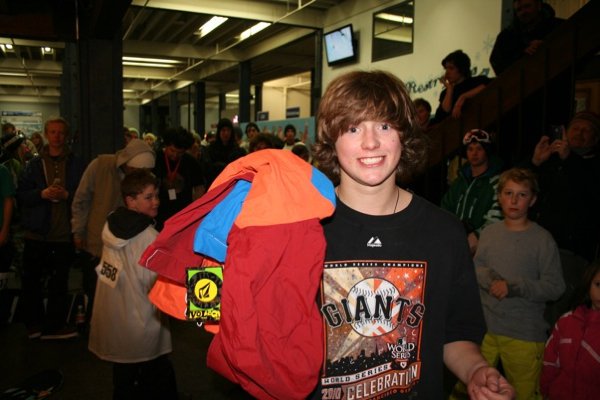 Mike Jones, age 14, took first in the Under-16 Ski division and was rewarded with some Volcom gear.
With a successful event in the books, it's back to the drawing board for Boreal as they set out to break another attendance record and begin preparing a 'new' junkyard feature for the next Expression Session on February 10, 2012. The next junkyard feature will be unveiled leading up to the event. 
For more information about Boreal Mountain Resort visit http://www.rideboreal.com or http://www.facebook.com/borealmtn, and be sure to visit http://www.woodwardtahoe.com for all the details on Woodward Tahoe, opening June 2012.