Words by Anders Isaacson
Photos by Paul Heran & Tucker Norred
On the night of Friday, January 11th, the first event of the annual Expression Sessions Series went down under the lights of Boreal Mountain. The Expression Sessions are a homegrown event series as well as a refreshing change from your everyday rail jams. This yearís theme Ė Terrain Park Expressions Ė looks to unleash the creativity of Borealís killer terrain park staff to come up with some crazy feature/setup that youíve probably never seen before. This event included a down donkey rail (for the lilí tykes) and a propane tank bonk to down bar which were located uphill from an elevated up-down double barrel rail that had never touched snow.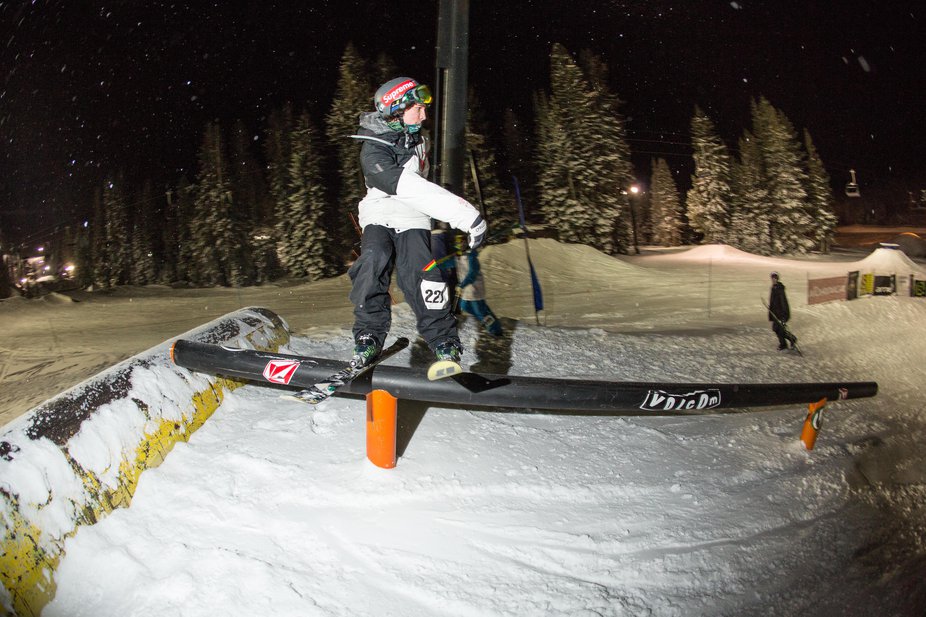 Charlie Ingalls used every feature to earn his 1st place finish in Teen Ski.
NOAA forecasted a 20% chance of snow showers throughout the day, which was technically correct, but that sure went out the window as soon as the sun began to set. Despite the on-and-off torrent of snow, the 9-degree temperature and a very inconvenient chain control stop on Interstate 80, more than 65 competitors turned up to battle it out across 8 divisions (Grom, Teen, Men and Women for both Ski and Snowboard). While a decent sized crowd of 20-30 spectators braved the conditions and made the 100-yard trek up the hill to the venue, another 10-20 people took in the action from the warmth of the Boreal Lodge.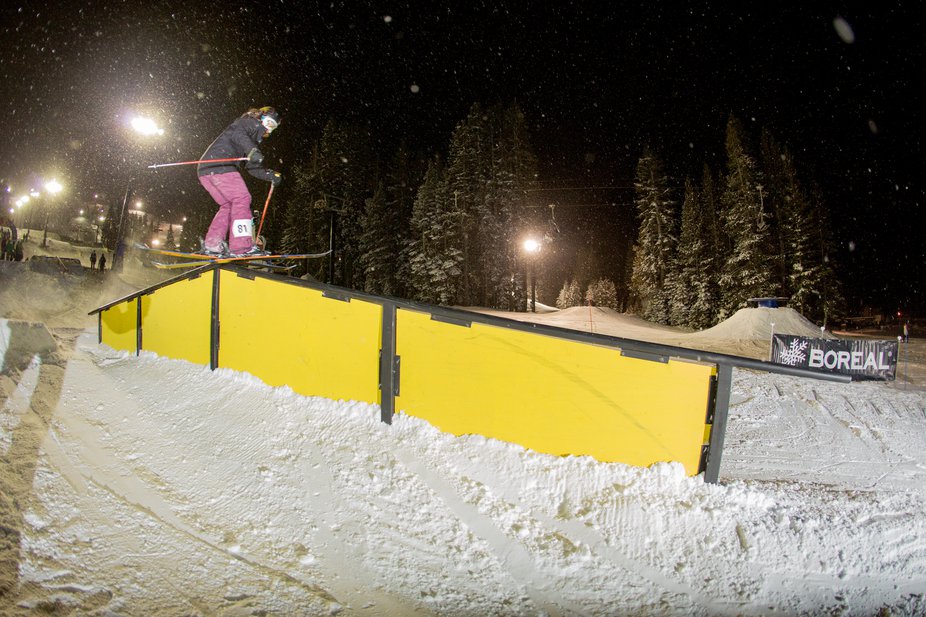 Rebecca Roberts representing the women skiers.
Meanwhile, as soon as the competition was underway the action was anything but cold. The skiers had to wait their turn until the second heat but it was well worth the wait. I donít know what they put in the water up there on Donner Summit, but the skiers WENT OFF. I saw front flips, back flips, 450ís on, 450ís off; you name it, it probably happened. Pete Arneson led the charge with complete disregard for body and mind. In addition to a dizzying array of spins on and off the up-down rail, he was one of the only skiers to conquer the propane tank bonk to down bar when he threw a rodeo 450 on and a 270 off. It almost goes without saying that Mr. Arneson took first in Menís Ski, bringing his impressive win streak to four out of the last five Expression Sessions (his only blemish came when he was on the East coast and unable to attend). Other highlights included Jaime Meltonís laid out back flip over the up gap and onto the down rail and Charlie Ingalls impressive arsenal of tricks spins and flips.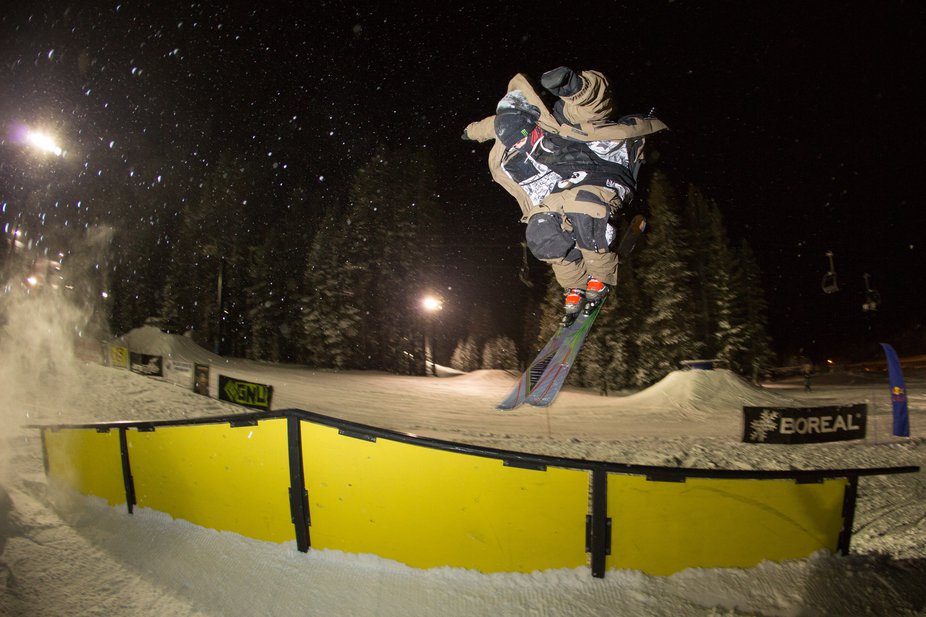 Pete Arneson en route to a 1st place finish in Men Ski.
With what has become a tradition, the night wound down with a free pizza feed and award ceremony in the Boreal Lodge followed by a swag toss with everything from hoodies and beanies to wax and DVDs.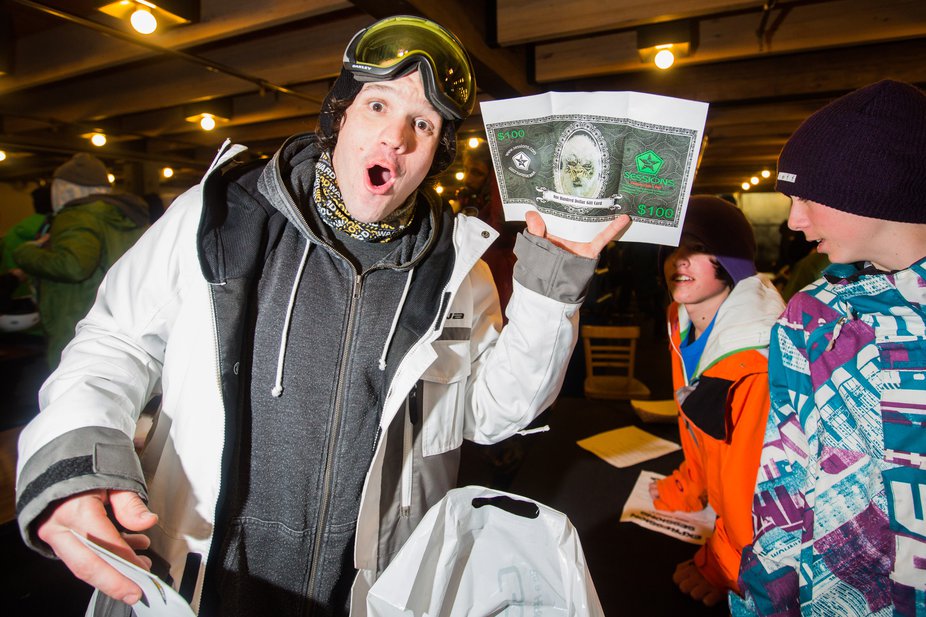 Jaime Melton stoked on his 2nd place finish in Men Ski.
The second Expression Session is on the calendar for February 8th at Boreal Mountain and will once again be fueled by a full roster of sponsors, including Woodward Tahoe, Sessions, Moment, Nordica, Black Strap, Arnette, Nixon, Burger Me and Blue Coyote Bar & Grill. Registration is from 5-6pm; action kicks off at 6:30pm!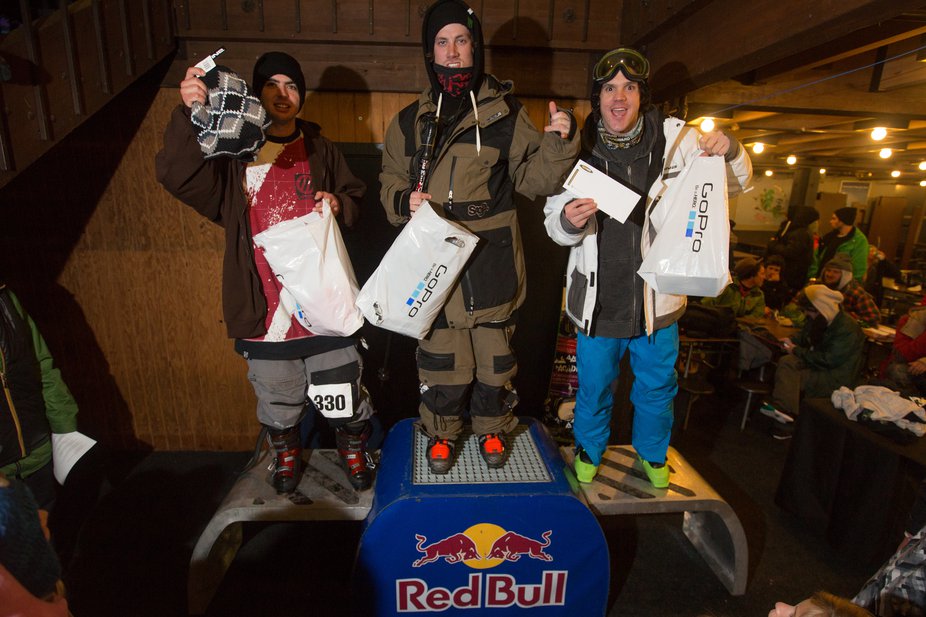 Men's Ski Podium: Dylan Curry (3rd), Pete Arneson (1st), Jaime Melton (2nd)
Results
Menís Ski
1) Pete Arneson
2) Jaime Melton
3) Dylan Curry
Teen Ski
1) Charlie Ingalls
2) Mike Jones
3) Mattie Boaz
Grom Ski
1) Reece Rule
2) Wilder Sherwood
3) Peter Raich
Womenís Ski
1) Becca Roberts
Burger Me! Best Crash
1) Garrett Jurach
Sorry everybody, snowing too hard to bust out the video cameras. Next time.