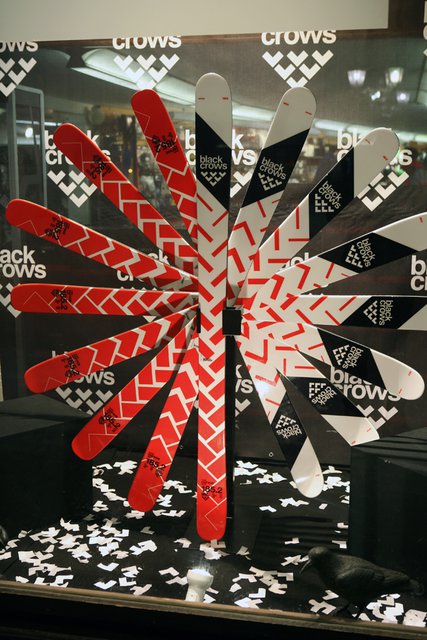 Image Courtesy of Black Crows Skis
Continuing with our goal to provide unique gear to the skiing community, Skiershop is excited to bring in Black Crows Skis for 2011/2012. Black Crows are an independent ski brand (just 5 years old) from France and developed by riders Bruno Compagnet and Camille Jaccoux. And while everyone right now is drooling over next year's gear at SIA, here is where you can learn about Black Crows in addition to buying a pair…
Corvus: 135-105-126 / 175cm, 185cm, 196cm

Via Black Crows: Developed to allow a wider range of skiers to benefit from the Corvus 196 technology, it was necessary to adjust the ski in terms of construction, width and flex distribution. With a slightly less raised tip for better rotation, an increased sidecut for a more compact ski and a lightweight wooden core, the Corvus 185 meets our high standards of versatility and performance. For this 2012 edition, the flex has been even more refined on the front part of the ski.
Freeride, piste, ski touring, telemark, these red Corvus are the skis that can do it all, whatever the conditions. Both a formidable weapon for high speeds and a disciplined partner for short turns, they also show their full potential in rough uneven snow.
Sevun: 146-117-136 / 191cm

Via Black Crows: Intimidating on paper, the Sevun provides an incredible feeling of lightness and ease of use. With a turn radius of 25 metres, remarkable for a ski of this size, the Sevun perfectly reflects our vision of skiing: instinct and creativity in every kind of terrain.
Extremely agile in powder snow thanks to its floating capacity and an exclusive shape, this ski is also capable of carving through hard snow and will allow you drive it with high precision. And when one of those rare days that the powder seekers live for occurs; those magical days when floating means happiness, the Sevun can show the full extent of its potential: unlimited.
Nocta: 146-125-140 / 176cm, 188cm
Via Black Crows: The latest addition to the collection and the first Black Crows ski to use the rocker technology, the Nocta was designed by Julien Regnier a pioneer in reverse camber development. The modern sidecut makes the Nocta a powerful weapon for powder skiers, while its soft and dynamic flex allows for great handling in any snow conditions. With its 18 meter sidecut radius, the Nocta also carves well on hard snow.
Double Rocker: its front rocker, long and gradual, allows the Nocta to be very effective in deep snow and its back rocker, more moderate, provides an excellent stability at high speed. The volume distribution also ensures a maximum efficiency in powder snow, notably due to its floating and stabilizing tail. Lightweight and well balanced, centre mounted, this master of freestyle backcountry is the weapon for big jumps and switch run-ins.
Navis: 133-103-124 / 175cm, 186cm

Via Black Crows: The 2012 version of the Navis range benefits from a new flex for even better handling and an increased precision in all disciplines.
Its easy rotation, its stability at high speed and the incredible confidence that it provides in every type of snow makes it the ideal tool to play with the terrain and gravity. A simple and precise ski which inspires complete confidence, whatever the conditions, including in the air.
Ski to do everything and go everywhere, the reputation of the Navis was built on the combination of comfort of use and precision.