Photos: Jamie Walter
The town of Banff sits low in a valley, surrounded by the kind of peaks most people only see in screensavers and motivational posters. A far cry from the hustle and bustle of other famous Canadian skiing destinations like Whistler, the quaint mountain town was Canada's first to be incorporated within the boundaries of a national park. Nestled in the surrounding peaks is SkiBig3; Mt. Norquay, Sunshine Village, and Lake Louise who together boast almost 8,000 acres of skiable terrain. So far, this is all very travel brochure though. We wanted to find out what really makes the skiing and setting so special, so we asked three of our favorite skiers from the area to tell us more.
https://www.newschoolers.com/videos/watch/911572/SKIBIG3final-mp4
_
First, the local, Tatum Monod, whose family has deep roots in Banff and the Bow Valley. Next, the transplant, Alexandra Armstrong, an up-and-coming shredder who moved west and never looked back. Finally, the longtime visitor from his home in nearby Calgary, Rob Huele, who has been coming to these mountains and working on film projects there for years. From these three, we got the insider tips on Banff and SkiBig3 so you can pick up some tips for planning a trip to the Canadian Rockies.
The Monod family has deep roots in Banff. Tatum's grandfather was a Swiss mountain guide, and her dad, two uncles, and one aunt were all on the Canadian national team at some point. Founded by the same grandfather, Monod Sports is one of the oldest ski shops in North America. These roots are deep.
Despite a family that lives and breathes skiing, Tatum Monod's parents didn't force her to follow in their footsteps - she didn't actually start skiing until 12. Growing up Monod says she took Banff and this access to skiing for granted, with the wealth of the area and it's community truly coming to light when she got older and begun to travel more, saying "nowhere else I went compared to Banff."

Sandy Boville
Monod breaks down the mountain like this, and there are few who know them as she does. "Sunshine likes to party, there are always fun events and live music going on. There is terrain for all levels. Lake Louise is the biggest badass, incredible steep terrain, you could ski there for years and hardly scratch the surface. Norquay is the strong silent type. Underrated yet offers everything from immaculate groomers to a fun little park with lots of rails."
Quick Hits:
Where's your favorite spot to head on a powder day?
Lake Louise because the terrain is endless.
Best Apres: Sunshine
Best Sidehits/Playful Terrain: Norquay
Best Park: Lake Louise
Shortest Lift Lines: Norquay
Scariest Run/Line: Delirium Dive. Sunshine
_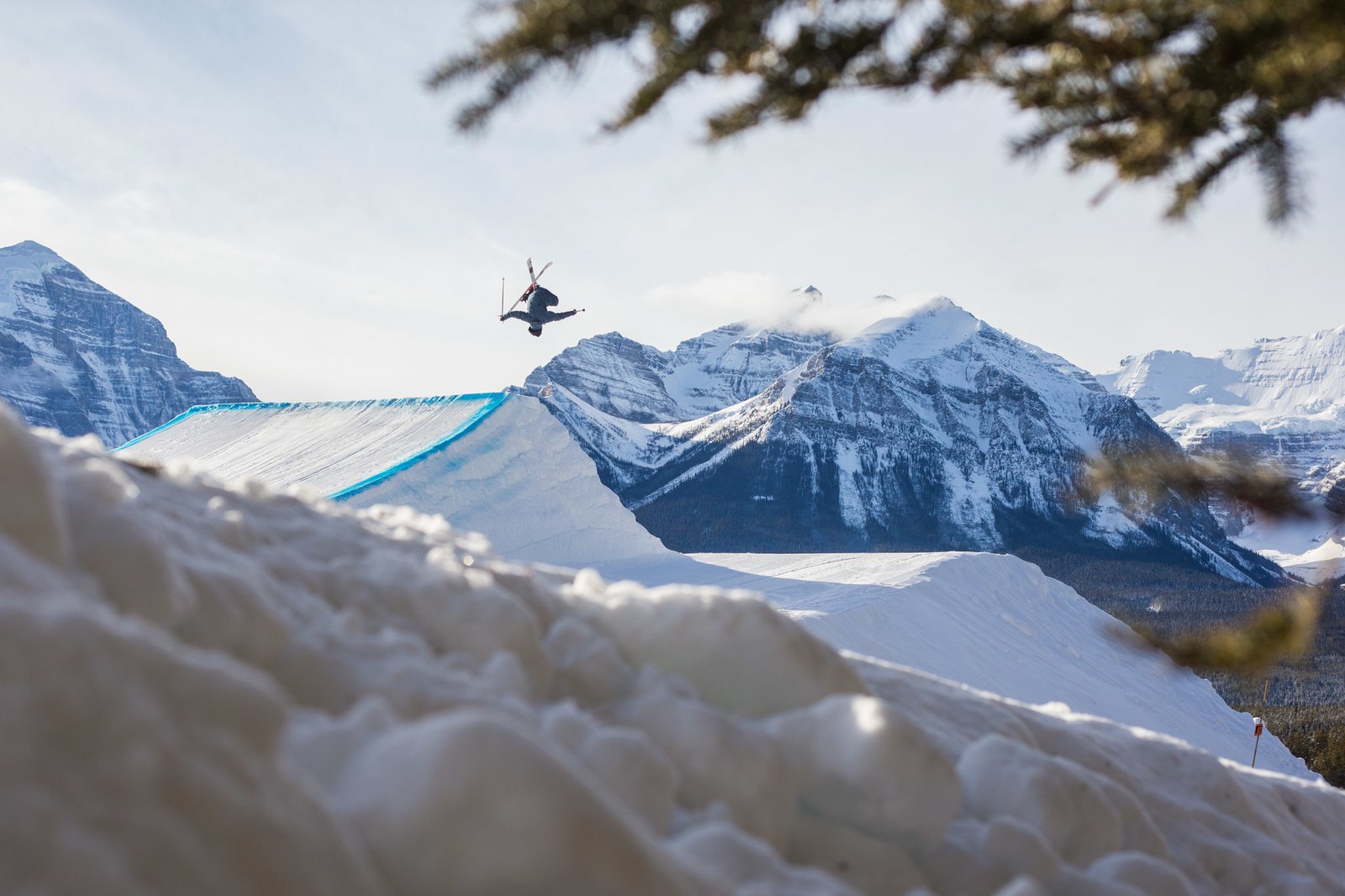 Nicky Keefer at Lake Louise
Alex Armstrong grew up a racer in Ottawa, Ontario - for the uninitiated, this means small hills and bulletproof ice. She came out to Mt. Norquay, one of the three areas of the Big 3, for a coaching clinic and never left. Banff opened her eyes to a whole new side of skiing, or as she put it, "I was super passionate about ski racing. I thought it was the end all be all of skiing. As soon as I moved to Banff and saw the endless steep terrain, it changed my perspective completely." She still coaches in the area and has recently appeared in the incredible edits from the all ladies group The Blondes. Here's what she had to say about the mountains:
Talk to us about the "personalities" of the different mountains that make up SkiBig3.
Lake Louise serves up some of the most challenging freeride terrain in the area and is where pros like Chris Rubens and Eric Hjorleifsson cut their teeth. It has a long steep fall line runs on the frontside including the World Cup Downhill course. The backside is a long series of a variety open bowls and tight chutes.
Sunshine has a large variety of terrain ranging from mini golf lines to playful gullies to The Dive and The Wild West; big alpine bowls where you need avalanche gear to access them. It has a little bit of everything here. Big mountain skiers and their moms alike would be able to find their jam here.
Mt Norquay is the closest hill to Banff and has a lot of history surrounding it. It's the oldest hill in the area and going up the two-seater North American chair that accesses some steep fall line off-piste runs and gullies, there are these old ski jump towers and the old downhill run that goes all the way to Banff from the Banff Winter Carnival in years gone by. It's got more of a cozy family vibe during the day with there being a lot of groomed terrain. But they're the only hill in town with night skiing so a lot of people go up to use the park and drink a few beers at the Lone Pine.
https://www.instagram.com/p/BiZ5P7GgF5R/?taken-by=alxarmstrng
What does SkiBig3 have to offer the typical Newschooler member? What about these areas would make them want to plan a trip?
The Big 3 have some of the most challenging in resort terrain… period. Between the back bowls, chutes, pillows and the parks they build for media shoots, the terrain here will put even the best through their paces. Plus Banff being the main hub of the area, there's a pretty fun nightlife.
Quick Hits:
Best Apres: Banff Brew Co
Best Sidehits/Playful Terrain: Standish Laps at Sunshine
Best Park: Lake Louise
Cheap/Good Breakfast: Bruno's
Shortest Lift Lines: Mt Norquay
_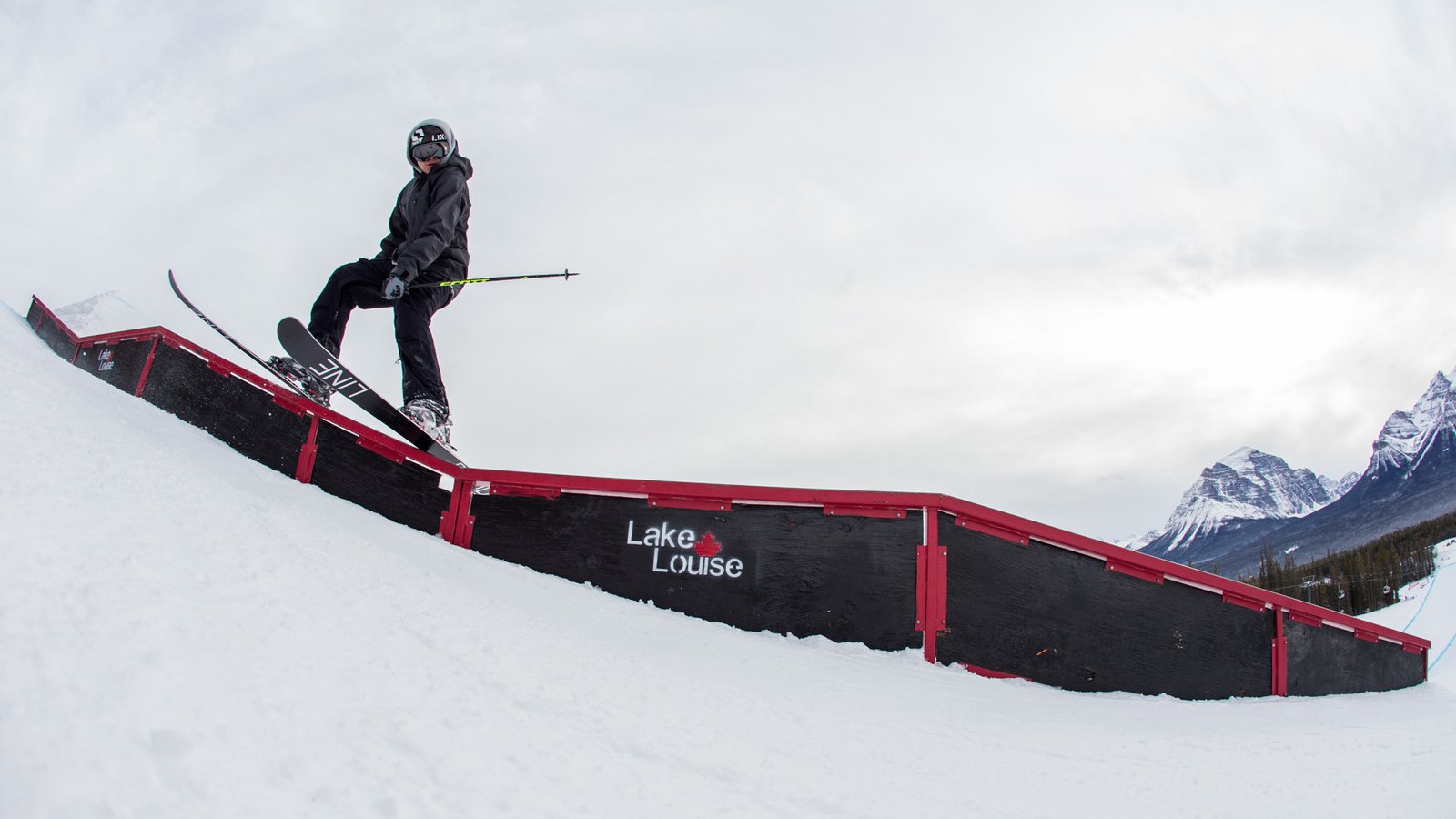 Will Wesson at Lake Louise.
Rob Heule is well known around Newschoolers, with his poignant style, great transition riding, and unique approach. He grew up in Calgary, a 90-minute drive east of SkiBig3, and the city most visitors to the Banff area fly into. Recently Heule has spent more time in the Bow Valley working with the Sunshine park crew to build features for events and movie shoots, like the pump track featured in Level 1's Habit. Backcountry Bert as he's come to be known also loves to explore the chutes and couloirs, saying "I find myself spending most of my time outside the park these days. I'm a lot more inclined to ski terrain that dictates the way you have to ride it based on the natural shapes of everything. It's really satisfying, and simple to interpret. You see a windlip, and immediately in your head, you're like, 'I need to put a turn on that!'" Here's some more intel from Heule.
Talk to us about the "personalities" of the different mountains.
Sunshine has a super dedicated park crew that works so hard to build the best park terrain park in the Bow Valley. Lake Louise's park is a close second and has my favorite all mountain terrain. From steep couloirs to big cliffs, to really cool wind-sculpted terrain on the back side. Norquay is awesome because they have night riding and cheaper lift tickets. It's super close to Banff, so you can go spin hot laps, and tire yourself out in an hour or two.
What do these mountains have to offer a skier that enjoys spending their time in the park?
They offer one of the longest ski seasons in North America, which is always nice, along with variety. You can choose where you want to ski depending on how you're feeling that day. Each hill has unique parks. If you feel like hitting big jumps, head to Louise. If you want a long flowy park lap, head to Sunshine. If it's after 4 o'clock, well then you've really only one option, and that's to head to Norquay for some evening ripping.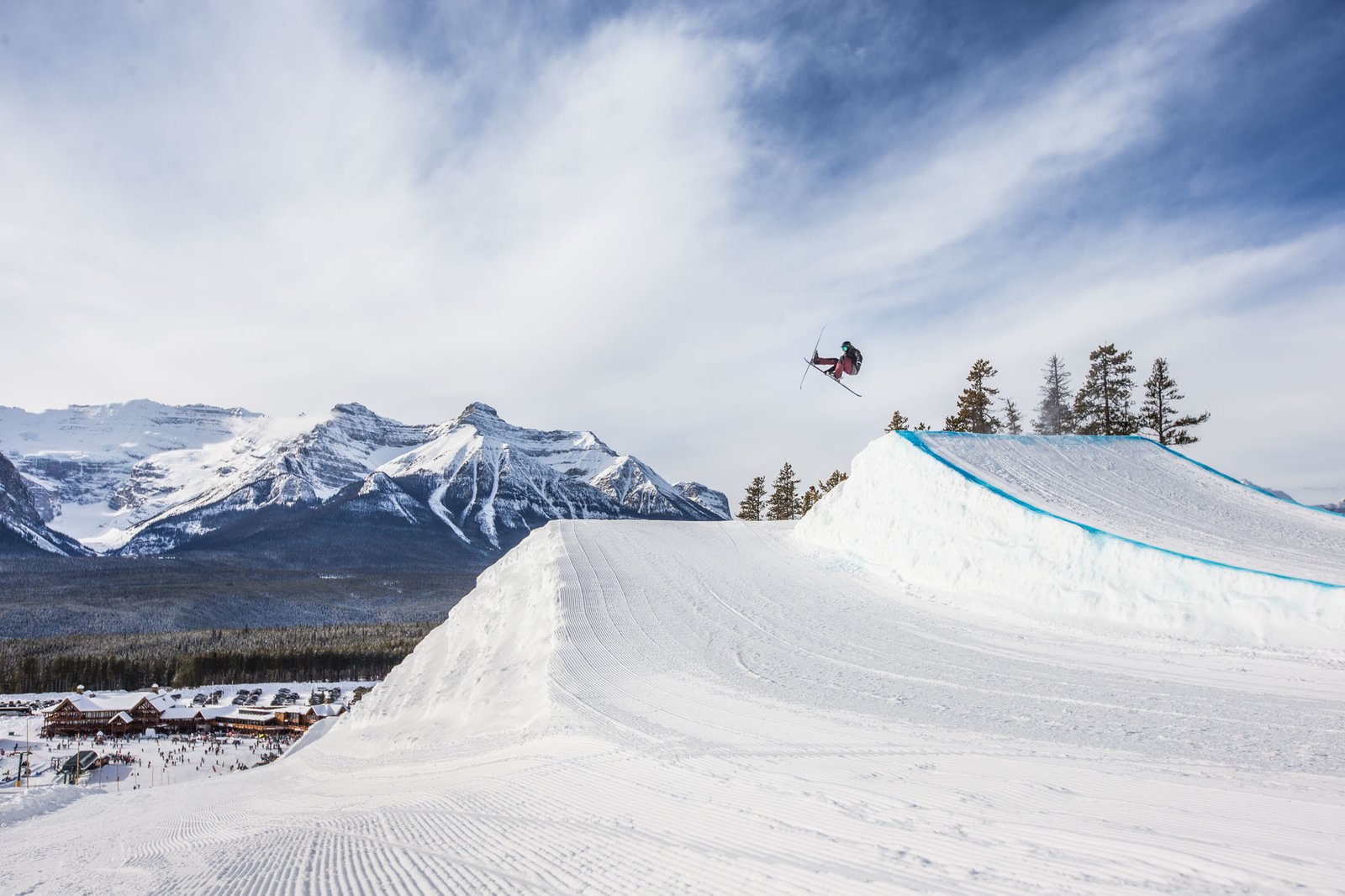 Shay Lee
Where is the best park at SkiBig3? What do you like about it?
Oh that's tough. I think I'm probably obligated to say Sunshine because they have been so awesome to work with in the past years, and all the kids that work for park crew up there are cool dudes who also rip. Ben Surrallik is the head cat driver up there, and he is really amazing at what he does. Louise's park is also super fun! There are some really unique transitions and options for some really fun skatepark style gaps that you can find amongst the terrain. They also held snowboard superpark events way back in the day, so there's a lot of terrain park building history up there.
https://www.instagram.com/p/BYTrAxbhV9l/?taken-by=robheule
What are some of your favorite spots outside of the park?
Hot lapping the backside chutes and bowls at Lake Louise in the springtime when the speed is still fast, but the snow is starting to soften. That's pretty all time.
---
The ski areas of Canadian Rockies and their west coast brethren all make a compelling case for a powder pilgrimage - Banff and SkiBig3 offer a unique perspective, however. The high peaks and light powder make for deep days and big lines. Once settled, this snow is shaped by expert terrain park crews into fun lappable parks that stay open deep into the slushy spring. Topping this off, the town of Banff is a welcome home base. Don't just take our word for it, take it from skiers like Monod, Armstrong, and Heule, skiers who are lucky enough to travel the world and still keep coming back year after year.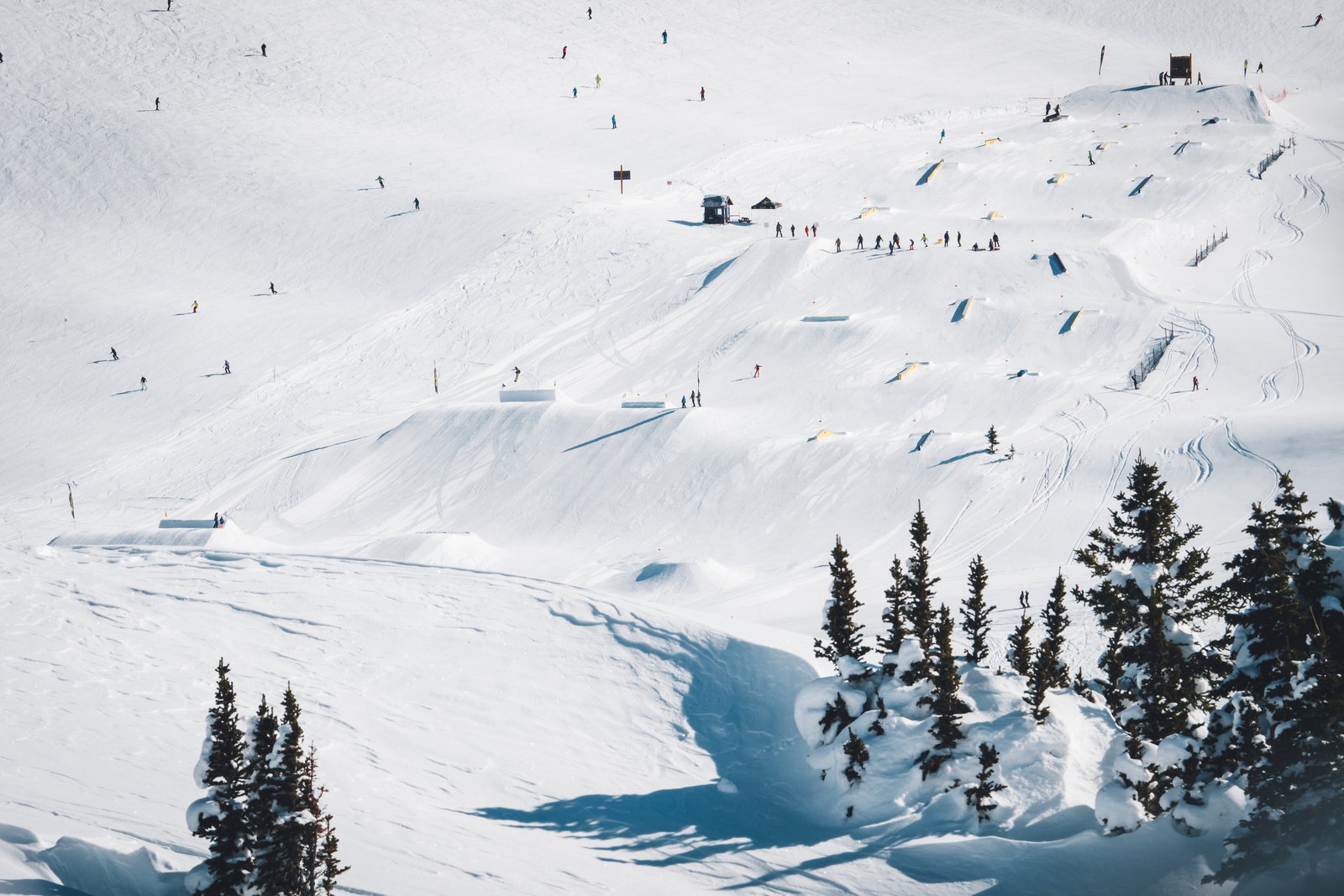 Sunny Park at Sunshine.
_
Sponsored Content