Best Job in the Ski Industry - Dave Brownlie, Whistler Blackcomb CEO
When it comes to jobs within the ski Industry alot of people will think about jobs like ski manufacturing, making the products we use to ski, but where would we be without the resorts we all ski at. Running a resort of any size is a challenging task but managing a ski resort the size of Whistler Blackcomb is a task most people could not even imagine, but that is exactly the challenge Dave Brownlie faces on a day to day basis. Find out how a newly graduated accountant, worked his way up to CEO of North America's largest Ski resort.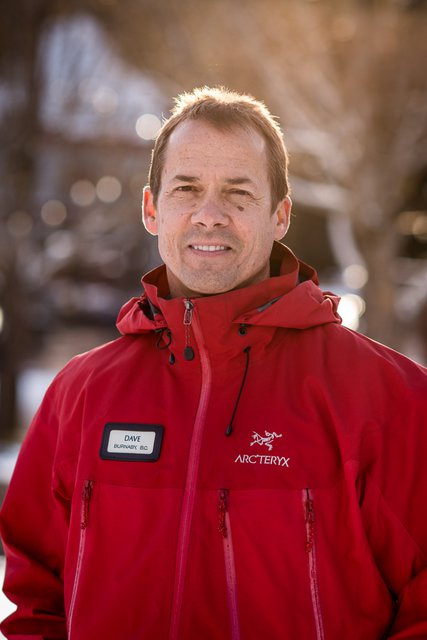 Larger skis resorts can sometimes receive some pretty harsh criticism from the newschoolers community. Ask the average newschooler on their thoughts of Vail and its quite likly their response will be less then positive. There is often the perception that as a resort grows and begins expanding, the core values of the original resort can be lost and instead a money grabbing culture can develop. Although I cant say for sure that this is not the case everywhere, I am confident in saying that most of the time this is not how the larger resorts are run.
Whistler Blackcomb, and in particular it's current CEO, Dave Brownlie, are a perfect example of this. You may expect the CEO of one of the largest resorts to be some business man only interested in figures but this is not the case with Dave. Yes he is by trade an accountant, so I'm sure he still has some interest in the figures, but more importantly he loves both sport and the outdoors. An avid hockey player and skier, Dave can be found out and about on whistler mountain regularly throughout the season both enjoying the mountain and ensuring his thousands of guests are having the best time possible.
Dave grew up in Vancouver, less then 2 hours drive from Whistler, so I began by asking about his early memories of skiing growing up.
Tom: When was your first experience of Skiing? Was it something you did as a family?
Dave: In Junior High school a bunch of my friends were skiing so I decided I wanted to try. I spent $25 on some old skis and boots, headed up to Seymour Mountain and skied on the Goldy rope tow. As a hockey player I was able to figure it out pretty quickly and started skiing from that day forward – Grouse, Whistler and then a Grade 12 Spring Break trip to Big White got me hooked.
Although starting some what late with skiing, it quickly became a big part of Dave's life but it was not all he was interested in. Like many Canadians, hockey was a big part of Dave's life but so was getting a good education. Dave found he had a passion for math's and decided to study accountancy at the University of British Columbia (UBC). For some people maintaining both good grades and finding time for hobbies can be hard and I wondered if this was ever the case for Dave.
Tom: I understand you played hockey while at UBC. Did you find it hard to balance your studies and other activities such as hockey?
Dave: Yes, it was a difficult balance. My life at UBC revolved around lectures, studying and hockey. It required discipline, but it was an amazing experience. For hockey, we would play a weekend at home and a weekend away. The away games were in Western Canadian cities that included; Edmonton, Calgary, Saskatoon, Lethbridge and Winnipeg. I had the opportunity to play in Japan, Alaska, Colorado, and North Dakota, as well. There is a bunch of us former teammates who still get together for a tournament every year in Whistler.
Tom: Growing up what subjects did you enjoy most at school?
Dave: Good question – PE and then math.
Tom: Did you ski in University? Were you involved with any ski clubs?
Dave: Whenever I wasn't playing hockey, I was skiing. One of my best university ski trips was staying at the UBC ski cabin in Whistler over the Christmas holidays.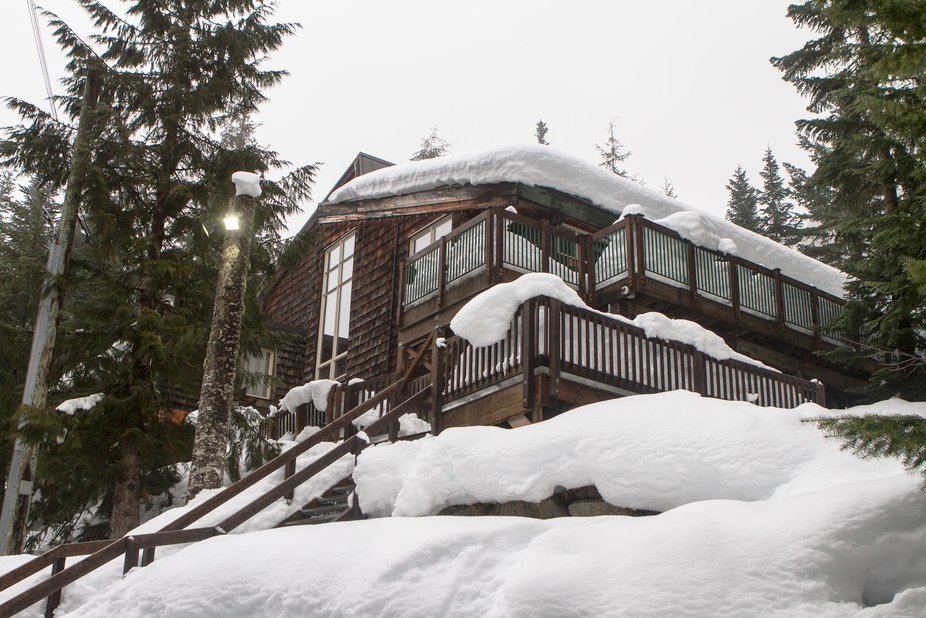 The UBC lodge played host to countless university skiers over the years
Once graduated from UBC, Dave began by working for an accounting firm in Vancouver and I was interested to know how he first got started with Blackcomb mountain.
Tom: You joined the finance department of Blackcomb mountain at the age of 26. What was it about that post that attracted you?
Dave: At the accounting firm in Vancouver where I was articling for my Certified Accountant designation, I was part of the Blackcomb Skiing Enterprises audit team. I loved to go to Whistler in both the winter and summer. There was a lot of building/development happening on both the mountain and in the village. There was a huge energy and many young people working, playing and having fun. I thought Whistler would be a great place to spend a couple of years.
Tom: When you started with the company what aspirations did you have? In your early days with the company did you ever think you would eventually be where you are today?
Dave: My first goal was to not get fired.......I was definitely in over my head! I worked my tail off, made it through the first year and was lucky enough to be involved with a company that was growing, both in Whistler and elsewhere in North America. There was a great deal of opportunity and I just got involved wherever I could.
Tom: Can you briefly explain how you worked your way up to your current position?
Dave: I always said "yes" when work came my way and I tried, not only to deliver on what was asked, but also to add more value where I could. I became involved in so many different projects, from building business plans for new lifts through to evaluating, buying and operating rental management companies, retail stores and resorts.
Yes, a phrase managers always like to hear, but as Dave shows it works. Although not everyone will work their way to the very top, I think it's really inspiring to think that Dave started out in a rather low level job and has still been able to achieve what he has. So if you are a liftie and your stood out in the cold, just think maybe one day you could be running the whole resort, just remember to say yes. But what does running a resort actually involve?
Tom: Can you explain what your day to day work involves?
Dave: On a good day, two to three hours on the mountain! It can be all over the map from our weekly operation meeting, individual one-on-one meetings with senior leaders, employee presentations and working through new business opportunities through to quarterly meetings with our board of directors, earnings calls with our investor analysts, meetings with tourism and industry organizations, as well as, staying connected with all levels of government.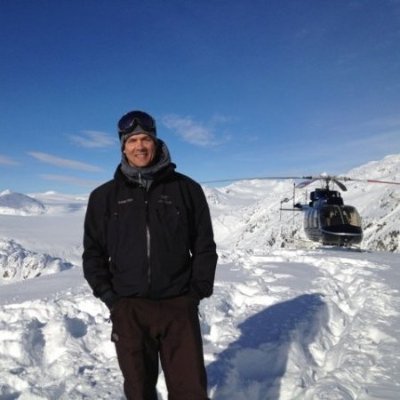 "Having" to test out the resorts heli skking operations, is just one of the perks to the job.
Tom: What is the best part of your job ?
Dave: We are in the business of delivering great experiences for our guests ....... what could be more fun! I love being on the mountain, working with our employees and talking to our guests. Developing business plans to buy or build new things and then being able to buy or build them is very satisfying.
Tom: What is the part of your job you most dislike?
Dave: The most challenging aspect of the business relates to the safety side of the business. People love to come to the mountains for adventure and exhilaration whether that be on skis, a snowboard or a mountain bike. Unfortunately, individuals can extend themselves beyond their abilities with devastating consequences. That is the most difficult side of what we do.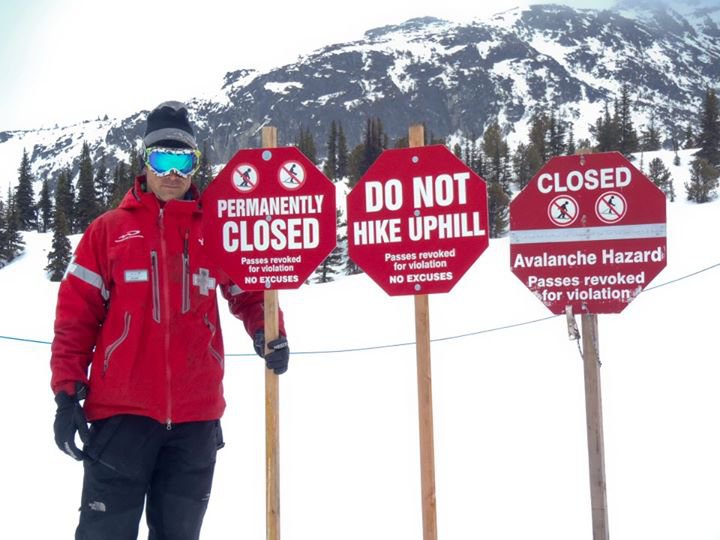 The saftey of guests is the top prioriety, so when you see these signs just know they are there for your own good.
Whistler has seen a massive amount of development over the years and Dave has not only seen these changes but in many cases he has been at the forefront of implementing the changes. So throughout his time with Whistler Blackcomb what is he most proud of achieving?
Tom: Are there any events or projects you are particularly proud to have been involved with?
Dave: In Whistler I have had the opportunity to be involved in so much! We have installed 12 new high speed lifts, opened new terrain, built or renovated 4 on-mountain restaurants, were the host venue for the 2010 Olympic and Paralympic Games and I have watched the revitalization of Whistler Creekside and the evolution of the Whistler Mountain Bike Park.......not bad. The three biggest accomplishments at Whistlet to date for me would be:
1) Leading the successful merger of Blackcomb and Whistler mountains in partnership with Doug Forseth in 1997
2) Securing approval of and then building the Peak 2 Peak Gondola (opened in December 2008)
3) Leading the transition of Whistler Blackcomb out of Intrawest and into a successful Canadian public company traded on the Toronto Stock Exchange, in which we can all be owners.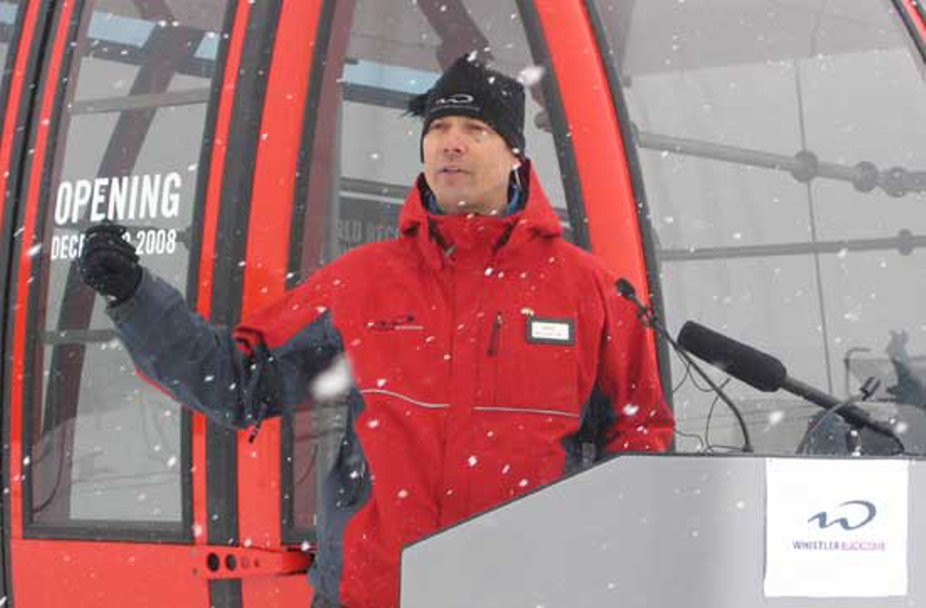 The Peak to Peak gondola is a big deal for Dave in two ways. Not only was he involved with the opening of the lift itself, but it could never have happened unless Whistler and Blackcomb joined forces, which again was partly down to Dave.
Now the big one, how much snow time does Dave actually get?
Tom: In your current role how much time do you get to spend on the mountain actually skiing?
Dave: Last year I was on WB over 60 days in the winter and squeezed in a bench-marking trip to Japan to test out their ski resorts!
60 day's is good for most people and I doubt there are many CEO's who ski more. I certainly like the fact that the man making the ultimate decisions is out in the mountains just like I am. Not so much the big face less corporate monster, more so a passionate skier who has worked hard, so what advice does he have for those wanting to follow his path?
Tom: If you could give one piece of advice to people interested in following in your footsteps, what would it be?
Dave: I hope you love your work, because you will be spending a lot of time at it!
Tom: If you were not in your current job, and could have any job in the world, what would it be?
Dave: I guess I would have to go back to my hockey roots and be the President and CEO of the Vancouver Canucks or maybe a heli ski guide.
I think Dave's story is pretty inspiring. Yes he got a good education, but from then he just worked hard, something everyone has the potential to do. I have not spoken about income yet in this series, as based on a thread I made in the forum's, a lot of you claim to not be as interested in income as much as having fun in your job. Although a great outlook to have, income is always important, and although I'm not going to say exactly what Dave earns, I can guarantee you he does well but perhaps more importantly he clearly enjoys what he does. If you were ever to meet him in Whistler, and he was out of uniform, I highly doubt you would ever guess he actually runs the entire resort, and this attitude has no doubt helped him get to where he is.
There has often been talk in the forums of a Newschoolers mountain, well maybe someone reading this right now will be the next CEO of a local resort, who is to say you can't do exactly as Dave has done.
Thank you to Dave for taking the time to answer my questions and also to Mike McLeod for helping to organize the interview.
Next week I look at the job most people probably dream of the most, Pro Skier. Check out what Vincent Gagnier has to say about the life of a pro.
Missed last weeks article featuring Matthew Manser (onenerdykid)? Check it out here: