words by Dave Pires
Inspiring a cult following and a posse of trigger-happy critics, the Surface Ski Collaboration has always dealt with resistance. After arriving on our scene a few years ago, the collective has persevered through the tough times mandatory for any startup company and are ready for more. Forget tight pants and forget emo; stereotypes are for the ignorant. It's time to get familiar with skiing's next contenders.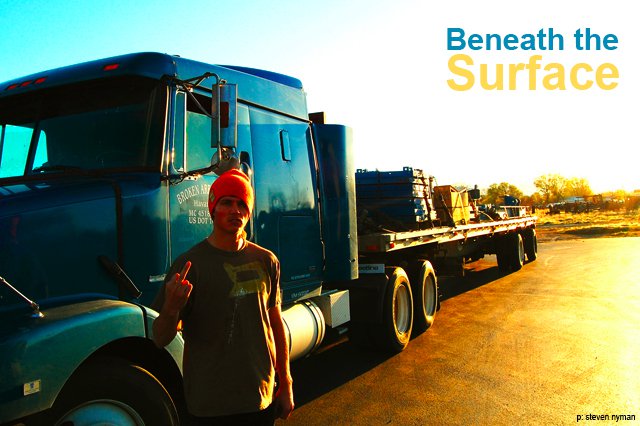 Surface is the brainchild of Mike Schneider, a Utah resident who started living the dream at age 20, doing laundry in the evenings at the storied Alta Ski Area. After skiing the surrounding Little Cottonwood Canyon for a few years, he got married and started working in the marketing department for a large trucking company. Fortunately for us all, an addiction to skiing had already taken hold. Mike was 25 when he created Union Board Shop, one of Utah's original snowboard and skate specific shops, and in a unique and risky move he decided to carry skis.
Currently the carcass of snowboarding vs. skiing has been relegated to a corporate marketing gimmick for easily amused baboons that need to be convinced what they're doing is cool. But it was a bold move for a core shop at the time, especially with skier-only Alta nearby. Throughout this process the idea of starting a ski company had been brewing, and in 2003 Surface emerged. After juggling responsibilities for a couple of years Mike sold the shop, and with his full energy focused on Surface, the company began to take off.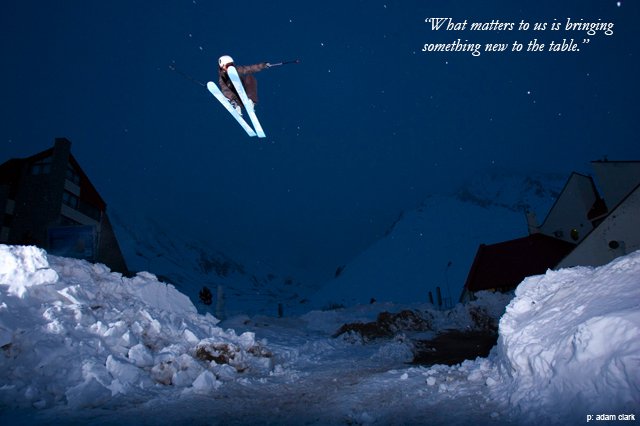 Surface rose to prominence at the tail end of the independent ski company boom that began with the founding of Armada in 2002. Since then, many of the companies founded during that period have struggled behind the scenes, and as a result have been forced to rely on traditional ski manufacturers to ensure their survival. Financially, starting a ski company in this day and age is as good an idea as starting a magazine, and because freedom plays such an important role in Surface's ideology, balancing independence with survival is an interesting task.
"Surface is in our hands," explains athlete and unofficial spokesman Blake Nyman, "We have full control and that's something that we're very careful to maintain. As far as being an independent ski company, it's kind of a cliché and something we aren't very vocal about. What matters to us is bringing something new to the table. We're very independent and we don't have to worry about an outside voice making decisions for us. It's completely us, and we can do what we want which is great."
The trail other independent ski companies have blazed for Surface is important because they have the opportunity to learn from the mistakes those companies have made. When asked what they have done to avoid those same missteps, Blake cites biding their time as the most important decision.
"There are a lot of companies putting out a front, and there's always trends that come through like the artsy trend or the gangster trend, but we're just doing what we want to do. We want to play our cards right rather than just creating a brand and having a bunch of backing and buying out athletes. We realize we have to make legit product and be a legit brand and we want to take it step by step and build it to a point where it's a lot more than money. If that day comes we can bring on some bigger guys. We want to make it work rather than just be like, 'Here's a cheque. Our product doesn't work, our branding isn't working, our company's falling apart, but here's your pay for the year."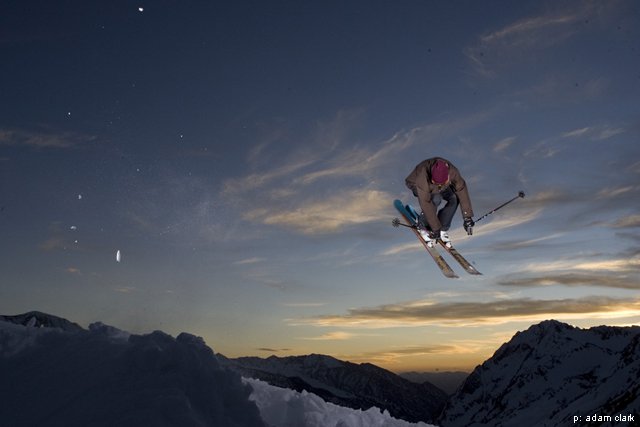 Many independent ski companies have relied on explosive initial growth to propel their success, choosing to build the foundation for their survival on a catch-up basis. Surface has taken things slowly, and you won't find them in expensive magazine ads or a costly trade-show booth. Instead, the company is built on a unique foundation of businesses and projects that all interact and support each other.
In addition to the Surface Collaboration, Mike runs Finseven, a clothing company that, according to Blake is, "not marketed towards skiers. It's more so something to have fun with." Also supporting Surface and Finseven is the newly birthed Autumn Garage, Mike's store in Salt Lake City, which serves as a retail location, Surface office, Finseven office, and warehouse for both brands. It's also a place for everyone to meet before and after skiing, with the infamous Lone Star Taqueria conveniently located right across the street.
"We've had ideas bouncing around our heads for projects we want to do, whether they're marketing projects, something that's completely a creative process, or just something for fun," Blake says, "Autumn Garage is what those ideas have kind of blended into."
"To go along with Autumn Garage another major idea we have been bouncing around, and another part of Autumn Garage, is a magazine. Just a free publication also called Autumn Garage to be distributed in the area. With magazine ads these days, you place an ad for ridiculous rates, so we figured instead of spending that money on placing one ad in one magazine for one month, we would take that money and apply it to creating a publication of our own. It's going to start small, and it's going to be a learning process and a marketing outlet for us."
In addition to Surface Skis, Finseven, and the Autumn Garage store and magazine, the Collaboration recently completed a short ski film titled Distribution In Japan. It's only six minutes long and has not been widely distributed, but there are copies floating around if you want to get your Carmen Sandiego on.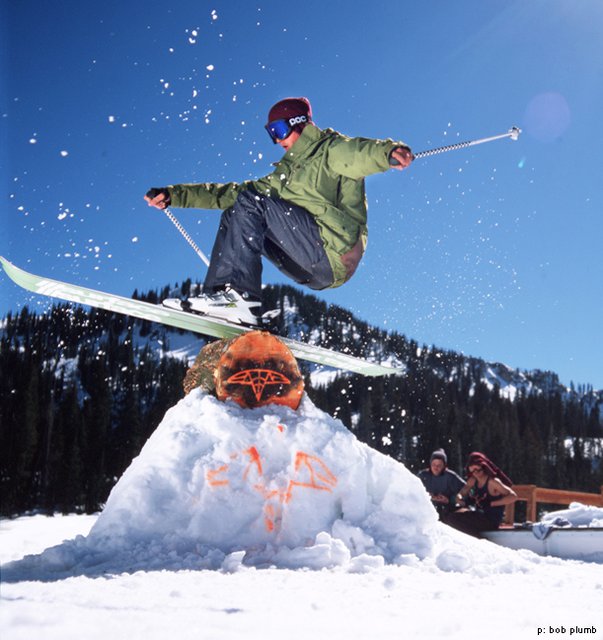 One thing that is obvious about Surface is their emphasis on collaboration. The C-word (no, not core) has already been used five times in this article, so you're probably getting the point by now. Which begs just one question: Who are the collaborators in this operation?
Foremost is Mike Schneider, the company's founder who is responsible for making the whole operation tick. Adam Clark, a talented Powder Magazine senior photographer, is the man behind the lens for Surface and is responsible for most of their visual representation. Additionally, current Atomic US Marketing Director Jordan Judd was the company's product manager after he left Line Skis. While Mike, Adam, and Jordan grew up together in Utah and have played a major role in shaping the company, they are far from the only contributors.
"It's hard to say who does what in the collaboration," Blake explains, "Everybody has their own little piece. We have our part as athletes, but then my involvement totally crosses over into the business side of things. Because I've been with [Mike] since day one, he's involved me in the marketing and the knowledge of everything that's going on. From the investors that are involved and the whole financial situation, to every little project aspect, ads, posters, design, graphics, pretty much everything. The door is definitely open for people to contribute what they want. Whoever wants to be an athlete, and that's all they want to be, great. But there's the knowledge that if they want to take that further they can."
A reflection of that, Mike considers the team a family and explains, "Everyone on the team believes in the brand so much and have been extremely patient. Especially Blake Nyman and Jordan Seldin who have been with us from the start. Hard times, no skis, no financial support etc. However, things are coming together now. This summer we added some new members to the family, first being 16-year-old Paco "Sid" Garcia from Alpe d'Huez, France. Sid had some clips in the recent Poorboyz movie. Also new to the crew this year is Kevin Malone from Mammoth Lakes, and Landis Tanaka from Anchorage, as well as Ian Wade from Salt Lake City."
Explaining the group's dynamic, Blake adds, "We're a group of likeminded individuals, but at the same time we're all extremely different, and we're all adding our own little piece. Everybody has their own little thing, but we're all like-minded with the outcome of the product and the outcome of the brand."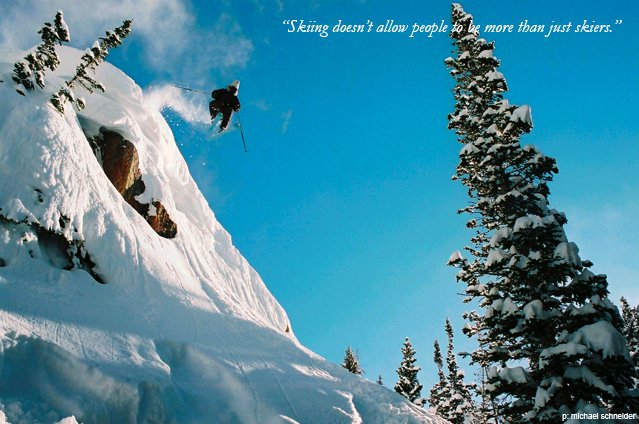 Every company struggles with their image, and it has been an especially difficult battle for Surface. While many manufacturers flounder in attempts to be everything to everyone, Surface has cultivated an image that is more specific than most, and while they have been labeled many things, Blake says, "If I had to put a word to that image it would be creatives. We're just a group of creatives and we all add our own little piece."
"Emo has been [a label] that's definitely been floating around, but we're not an emo company. I may have somewhat of an emo image, but that comes from tight pants. People have this extreme of tight being emo and baggy being gangster, and there's no grey area. There definitely is a grey area."
The ever-present stereotype of Surface being "emo," seems to hit a sore spot, and Blake continues, "Emo is such a poor term. All we want to do is provide more diversity, and all we want to do is add more to something that we love and so many people don't accept that. The whole tight pants thing has created a stigma about us, that we may be exclusive and to be involved with us you have to be like us, and if you're skiing on Surface you're a certain type of person, but that's not it at all. We're not one type of person, we're not one type of demographic. We're just wanting to stimulate and add more, so don't judge someone strictly on their clothing."
"Skiing doesn't allow people to be more than just skiers. There are very few people in the industry who express themselves as more than just skiers, Anthony [Boronowski] being one of them… It motivates us to bring more to the table. There is a lot of stuff out there that we don't like and rather than complaining about it we're just going to provide the stuff that we want to see."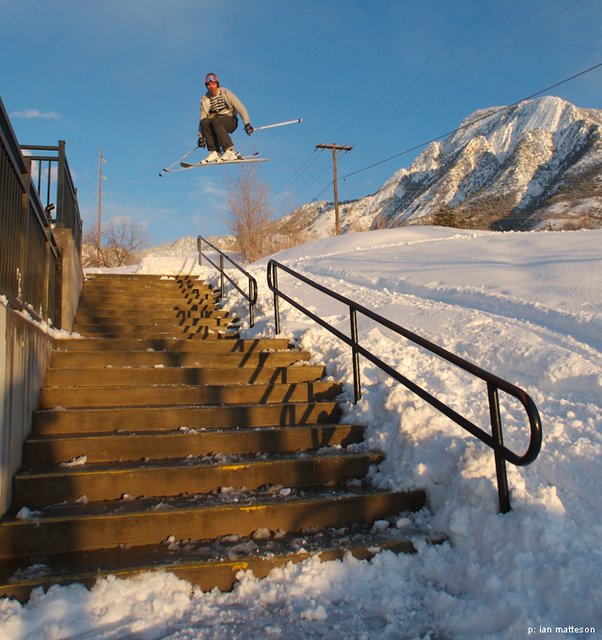 Surface has big plans when it comes to providing what they want to see, and one major goal the crew has is closing The Gap, "There's skiing, and then three years ahead is snowboarding, and then three years ahead of snowboarding is skateboarding. We want to try and close that gap. I'm pretty excited for this year because three years ago in snowboarding is kind of where we're at right now, so I'm excited to see the different directions skiing might go and the new things that are offered."
"Surface is continuing to grow, develop new skis and new concepts. One of them being the Photos Not Firearms contest, we also want to develop an event, we're developing the magazine, and everything is taking a step up. The product is going up, the company is growing, more people are getting involved, and we're trying to create an event. Same thing as usual, just taking more steps. We're excited because we've had a great reception and it's alive and a learning process. We feel like we've created a great foundation and can go nowhere but up."
thesurfacelab.blogspot.com