It all started 3 weeks ago with a phone call from Guerlain Chicherit …
G:"Hi man, what are you planning for next week?"
Me:"Nothing sure, but I will probably be in Tignes, I have to fix things in my flat before the winter season"
G:"Ok, you're right, fix you apartment" and he hang up…
I've known Guerlain for a while now, apart from being a good friend and a skier I often take photos with, he's a top athlete (4x Freeride Ski World Champion, 2009 World Champion of Car Rallye Raid), and the General Manager of the ski Company CoreUPT …
So I knew he was on a joke and immediately called him back:
Me:"Ok, so where do we go??"
G:"Patagonia! I just received an email from a heliski company in Chili (Andes Heliboarding ), they invite us onboard this boat for a week of heliski photoshoot on top of volcanoes, are you available? We're leaving next week! »
Hell yeah I'm available !
A few phone calls and emails later, with the trip reportage pre-booked on several big magazines (print and online), we left with Guerlain and Antoine Frioux (the man behind Mad in France, the latest video from SVP Production , and who also does the videos for CoreUPT ) to what sounded the dream assignment.
Indeed it was … but it didn't turn out exactly as we first thought it would. Mother Nature just showed us what amazing Patagonia looks like with bad weather.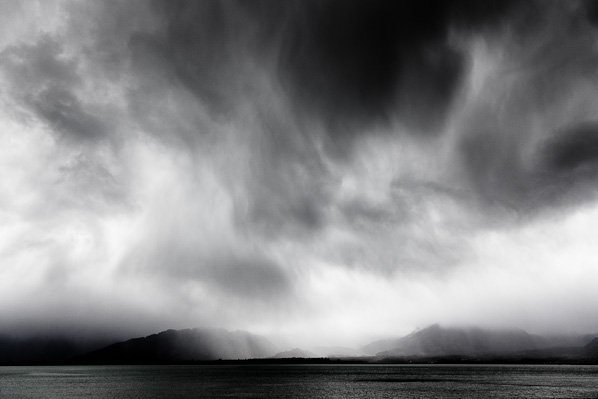 We didn't see the sun at all during our 7-days-trip in Patagonia with a heavy cloud coverage – so it was impossible to reach the summits with the helicopters to ski.
Nevertheless, the boat was truly incredible, one of the 10th best exploration vessel in the world, with very luxury equipments, a top chef who made our food experience unique, an incredibly warm welcoming crew, tons of toys onboard and 2 helicopters on the roof deck.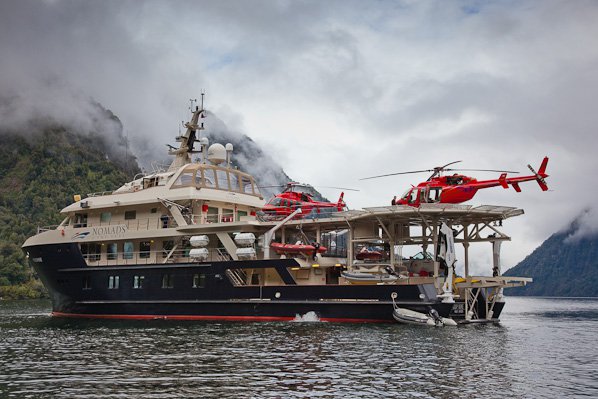 The crew did their best to entertain us … and we have been very well entertained!
Doing excursions with their Navy Seals Zodiac (these boats can go up to 120km/h with seats featuring independent shock absorption system), heli kayaking on remote rivers (the helicopters drop us with inflatable kayaks equipments and come back to pick us up), heli gourmet dining (same principle, the helis drops the Chef and the crew in remote places before us so when we arrived tables and fantastic food is awaiting us in amazing wild locations), fishing, hot springs swimming, local cocktails making…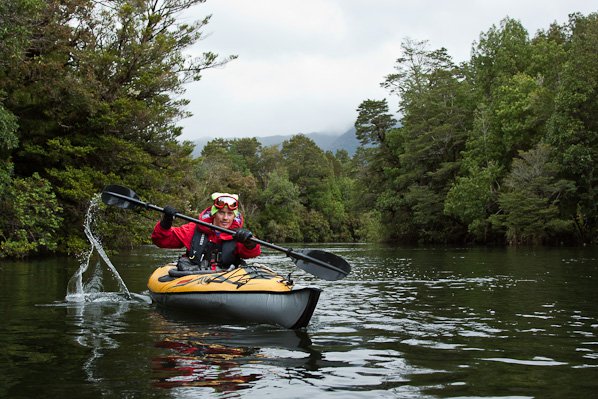 Thanks to the exploration vessel and the helicopters we were discovering some of the remote Chilean Patagonian Fjords – nature and forest are so dense there that very few people have reached those spots. The boat was sailing overnight, so we were getting up in a new place every morning. Landscapes were breathtaking, even if it was raining everyday and we just had glimpses of the fantastic possibilities… It has been a tease all week, and we finally saw the sun on our last day, when we arrived back at our boarding port, Puerto Montt – just 1 hour before catching the flight back home.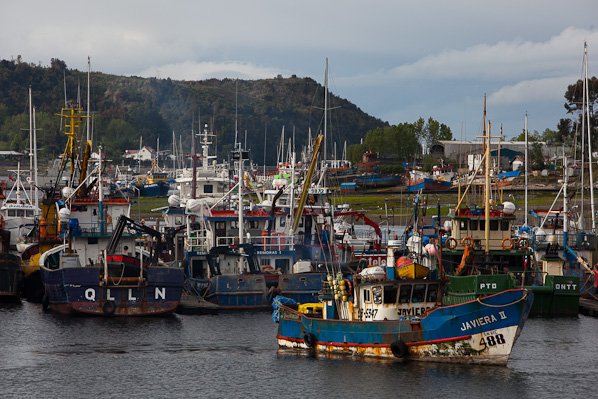 Despite coming back empty handed on the ski photo side, we had a fantastic experience, and flew back home with big smiles. We really liked what we saw from Patagonia, it reminds me a lot of the incredible beauty of New-Zealand.
When the sun is not available, you can still be photographically creative on rainy days. Click on any of the above photos to see the gallery.
On a tech side, only 2 photos of this gallery went through post-production – I really needed to maximize the available light on those ones, will you guess which ones?
Tristan