words by Mike Rogge
photos by Dan Brown
video by Brandon Lonstein
This past weekend Loon Mountain played host to the second annual Three Eight Two Battle My Crew, March Mayhem, NS Hostile Take Over, AND our very own Mr. Douglas Bishop's 29th birthday. That's more fun packed into one small space than…well… use your own analogy for packing fun into tight spaces.
Friday night the festivities started with a small get together in a hotel room at the Woodward Hotel and Resorts, who graciously dealt with over 50+ NSers packed into a few rows of rooms. That night sponsors, athletes, and event coordinators enjoyed cheap beer and one of Mr. Bishop's two birthday cake surprises. Some turned in early while others stayed up late catching up with old friends and swapping stories from the great winter that is sadly coming to an end.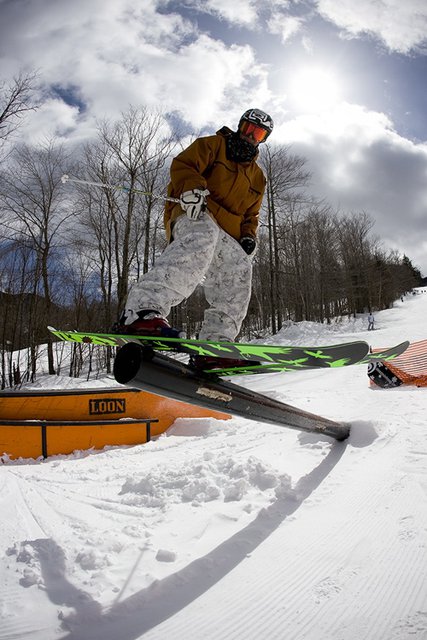 Giray Dadali showing some N-Y love to Loon's up rail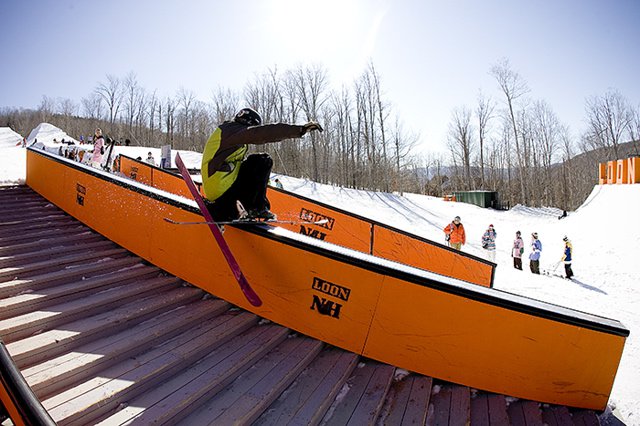 Andy Perry getting creative
The next morning we arrived to chilly weather at Loon but an amazing slopestyle course. The March Mayhem event was a bit hectic to keep track of with the bracket style judging but the overall positive vibe kept both athletes and spectators alike entertained. Taking home the first place prize of straight cash was Lil' Jon Strenio, who was on fire all day with his impressively large bag of tricks. Little did he know later on he would be laying in middle of an ice-kicking storm, half naked for $60 bucks. More on that later. Let's get back to Loon's set up which featured extremely unique jibs and rail set-ups that IHateNY alums Andy Perry, Will Wesson, and Giray Dadali destroyed all afternoon. Also putting on an impressive show all weekend was front flip nose grab owner Parker White. Parker showed off some impressive rail skills in Loon's park while also throwing his now signature front flip double tip grab tweaked to the helmet, made famous last weekend at the Mt Snow Open. Keep your eye on this kid!
Bishop + Cash + Megaphone = NS Hostile Take Over!
After the March Mayhem results were announced, Mr. Bishop immediately took over the show asking the crowd, "You wanna make $20…the hard way?" and the NS Hostile Take Over was officially on! The only thing Doug Bishop loves more than America is his megaphone. He started off things with a bang by asking participants if they were willing to strip down to their boxers, lay facedown in the snow, and let everyone kick snow on them for thirty seconds. Let the bidding begin! $20? Nope. Not nearly enough. $40?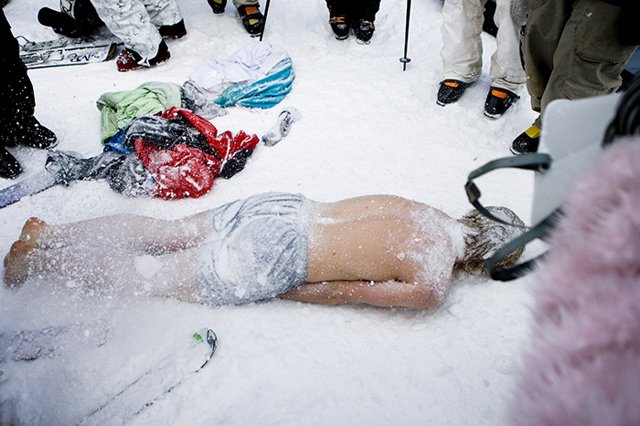 LJ getting a nice taste of frozen hell for $60 bucks!
To everyone's astonishment, LJ eagerly raised his hand and received thirty seconds of massive frozen hell that would have made an Alaskan sled dog shiver! Feeling in a kind mood, Bishop forked over an extra $20 and the group skied away leaving Lil' John to enjoy being $60 bucks richer and a whole hell of a lot colder.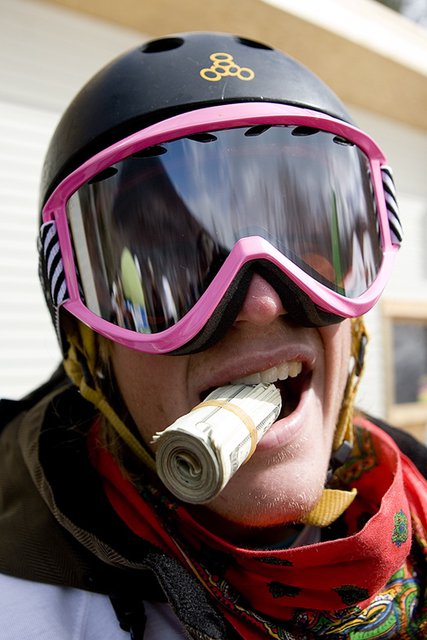 ESPN's College Basketball analyst Dick Vitale says, "LJ's
Awesome BAAABAAAAYY!"
Hostile Take Over is one of those events everyone can participate in and participate they did. Bishop asked the crowd of skiers to do everything from switch tail 270 onto a box (which claimed the lives of several skiers) to best trick with a rocket air grab to a Small Air contest to who could do the most spread eagles on a jump in the mini park (someone did four)! By far the most popular events of the day were the smooth 180 for $180 contest. Style is Mr. Bishop's soft spot. He loves and lives for it. The 180 contest featured 180 screaming seamens to double shiftys to big, lofty, floaters taken to the bottom of the landing. The group battled it out for a solid fifteen minutes until Bishop called the contest due to his own boredom and gave it to his favorite 180. The most impressive show by far happened during the last challenge of the day, the tandem air show. Skiers were told to partner up and throw their best, synchronized tricks. Holy smokes, was this awesome! One group popped off the take off together, spinning a clean 360 liu kang and then slapped hands in the air and stomped it. Next was a group pulling off switch cork 7 liu kangs while crossing paths in the air, nearly colliding but riding away smoothly. The amount of liu kang grabs thrown this weekend was great to see and I want to personally thank all the skiers for their commitment to bringing back this once virtually extinct grab.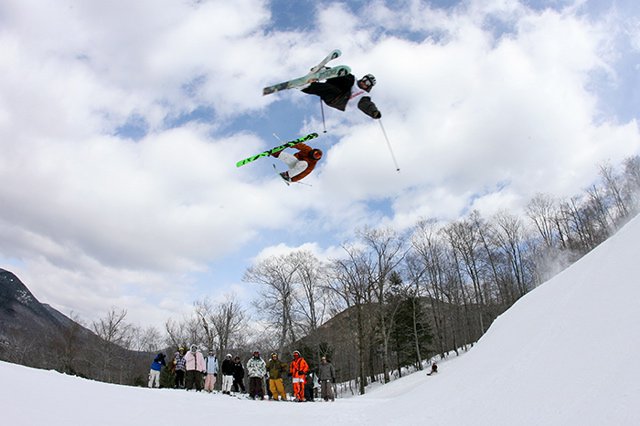 Tandem Switch 7 Liu Kangs? Yes, Please!
Those two tricks were too close to call as both were equally impressive so Mr. Bishop did what anyone would do in a tie situation and conducted a scream off. Whoever could scream the loudest and most like a little girl would walk away with $120 for themself and their teammate (names have been left out in order to protect the girly screamers from years of torture in the forums). The screaming was an embarrassing ordeal for two competitors and a good laugh for the entire group. Bishop awarded the winner and with that the NS Hostile Take Over came to a close and it was onto the party!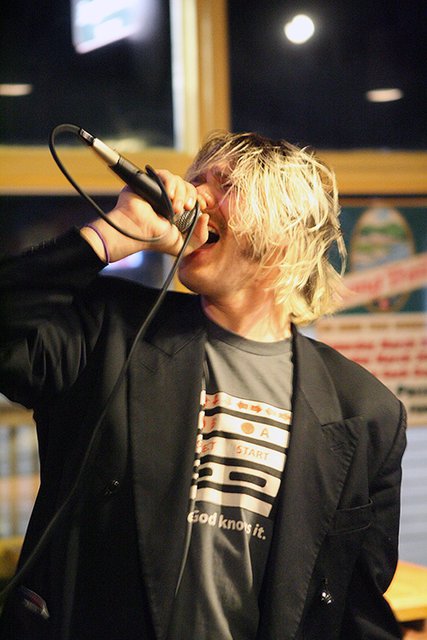 Bishop tears a Nirvana song a new one during the karaoke jam
The party thrown for Doug's 29th party started innocently enough with pizza, a surprise cake from the Loon Mountain staff, Guitar Hero, and everyone again discussing what skiers tend to discuss when put into large groups of skiers. After the Guitar Hero became played out the karaoke began but first Mr. Bishop took the stage to thank everyone for coming out and participating in the Three Eight Two Weekend as well as his birthday. Two lucky crowd members walked away with a pair of Fischer Addict Pro's and Liberty Jinx's. Just when we thought Bishop was leaving the mic he did something completely unexpected and broke out into a rendition of "As Long As You Love Me" by the Backstreet Boys. The crowd went wild as Bishop told everyone he didn't care who we were, where we were from, as long as we loved him. This act single handedly set the tone for what would be a night full of embarrassing renditions of songs we all love to hate. Some promising performances were LJ and Giray belting out the Ghostbusters theme and the entire Three Eight Two crew rapping to "99 Problems" by Jay-Z. Our birthday boy called it an early night (n00b!) and the party raged on till the early morning. Dance offs were had (There's no way Brandon Lonstein isn't a professional dancer), drinks were downed, and fun was the name of the game.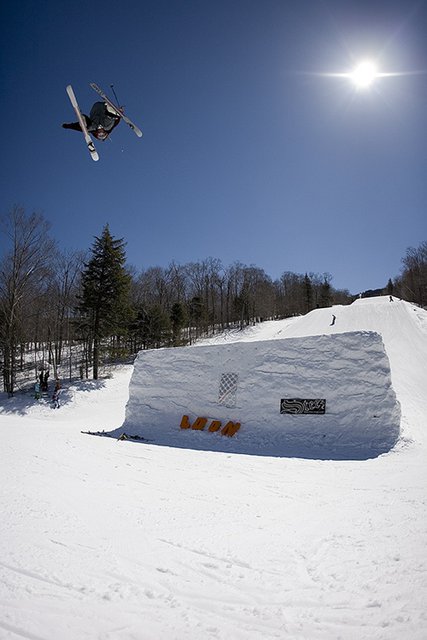 "Battle My Crew? How about this cork 3?" says Martini
The next morning came the big event, Battle My Crew. Crews sent in their videos months earlier and battled it out all day to take home a butt load of cash and the satisfaction of knowing their crew is better than the rest. All crews churned out creative and impressive performances but the final two crews came down to last year's champion, $ki Block and the challenger, Stept.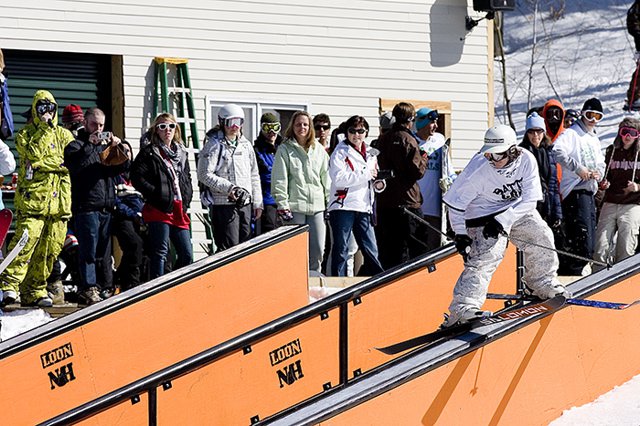 Crowd watching a member of Stept destroy the staircase rail
They battled for an hour in a jam format. Requirements included hitting Loon's massive hip and all four members of the team jibbing the L-O-O-N wall stall simultaneously. A tough competition ensued as members from both teams killed the stair feature. $ki Block's creativity was impressive but taking home the bundle of cash was Stept who displayed great teamwork and best overall skill. As always these things don't happen by themselves so thanks to Brandon Lonstein, Pat Melvin, and the entire Three Eight Two crew for putting on one of the most fun events of the season!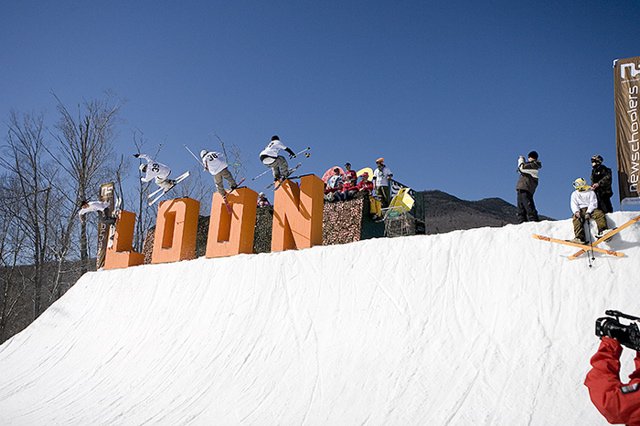 Stept says hello to the L-O-O-N
382 was also nice enough to hand out mixtapes to participating members of Battle My Crew but that wasn't good enough for them so they're allowing YOU to download the mixtape for free by visiting: http://t.ymlp34.com/emavauuqagauyymanajh/click.php
And for more Battle My Crew Weekend photos log onto http://www.kapitolphotography.com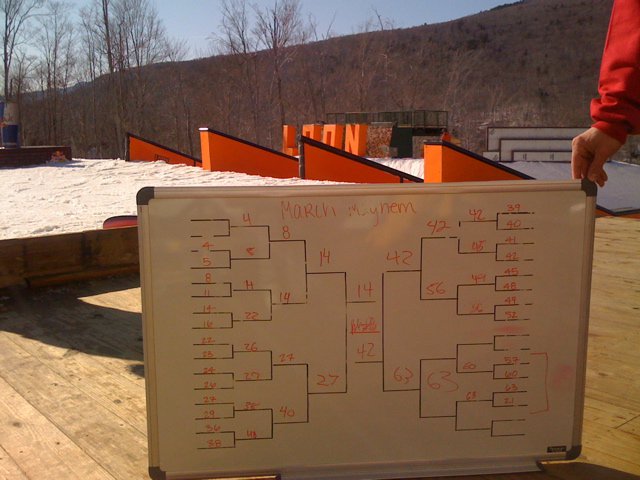 Results
March Mayhem
1) John Streino
2) Nick Miles
Battle My Crew 2
1) Stept
2) $ki Block
3-4)  Peacecoast/NIG
5-6)  Struggly B/pbbnj
Battle My Crew 2 from threeightwo on Vimeo