THE END OF YOUR PUNY WORLD HAS ARRIVED, YOU HORRID SPAWN OF NEWSCHOOLERS!
THERE IS NO ESCAPE! THE WORLD CRUMBLES FROM UNDER YOUR FULL TILTS WHILE YOU SLIDE BELOW TO ENDLESS SUFFERING AND PAIN WHILE CLINGING ONTO FALSE HOPES AND CHERISHED MEMORIES!
THE MORE YOU FIGHT IT, THE MORE YOU SINK IN TO THE TERRORS CREATED BY YOUR OWN WICKED MINDS! YOUR FAVORITE TALL TEES WRAP AROUND YOU AND YOU STRUGGLE TO BREATHE WHILE YOUR PRECIOUS GOGGLES SINK INTO YOUR CRANIUM, INDUCING HORRIBLE PAIN!
YOUR DEMISE WAS CALCULATED BY YOUR OWN DEVIOUS DEEDS! BY WORSHIPPING FALSE GOD, YOU HAVE TURNED YOUR HEROS INTO EXEMPLIFIED ANTI-CHRISTS! BEHOLD AND SEE WHAT YOUR BELOVED IDOL HAS BECOME DUE TO YOUR WRETCHED ACTIONS!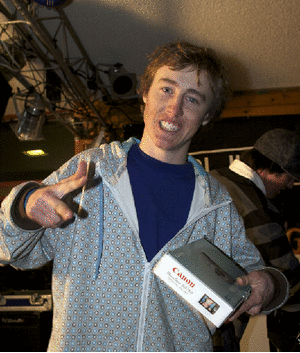 THOSE WHO WERE ANGERED BY YOUR WORDS, THOSE WHO ALWAYS GAVE AND RECEIVED RESPECT WITH VERY BIG WORDS WILL NOW SCREAM UNTIL TIME ITSELF STOPS PASSING! FOR MILLENIA TO COME, THEY WILL UTTER NOTHING BUT VILE SHOUTING OF ENDLESS DEGREES!
THE DEEP DARKNESS WILL TURN YOU ALL INTO SCAVENGING WRETCHES THAT CONSUME EACH OTHERS FLESH LIKE THERE IS NO TOMORROW, INCESSANTLY AND FURIOUSLY CHANTING THE NAMES OF THE OLDS ONES, YOUR TRUE GODS OF MACHINATION: "SAGA, OAKLEY, NINTHWARD, N'GATHH CTHULHU RLLYEH!!!"
YOUR PRECIOUS GIFTS OF THE EARTH, THE SUBSTANCE CHICH YOU CRAVE – SNOW. IT WILL MELT AND BOIL AND SCALD THE EARTH AS THE MOUNTAINS YOU ONCE KNEW AS HEAVEN BECOME SEARING TORNADOS OF MAGMA, THUNDER AND LIGHTNING, NEVER TO RETURN TO NORMALITY, FOREVER LOST IN THE OCCUPATION OF THE ONE YOU FEAR THE MOST – THE RULER OF THE NINE LEVELS OF HELL, MARC FRANK MONTOYA! YOU CHALLENGED HIM BY CROSSING HIS TERRITORY IN ALTA AND NOW HE WILL TAKE AWAY EVERYTHING YOU EVER LOVED!
NOTHING IS LEFT BUT SUFFERING. YOU MADE THIS HAPPEN. YOU BROUGHT THIS UPON YOURSELVES. YOU WILL SUFFER FOR ETERNITY.
6666. The Number of Mike-O.