Words by Gerti Ring
Photos by Matthias Rhomberg
With clear blue skies, a perfectly prepared slopestyle course and an excellent riding level, the Austrian Freeski Open presented by Atomic celebrated its 10th birthday this Saturday at the Kitzsteinhorn Snowpark in Zell am See-Kaprun, Austria. Reigning champion Andreas Hatveit successfully defended his title, with Gus Kenworthy in second and Øystein Bråten in third, while Toni Höllwarth became Austrian Champion.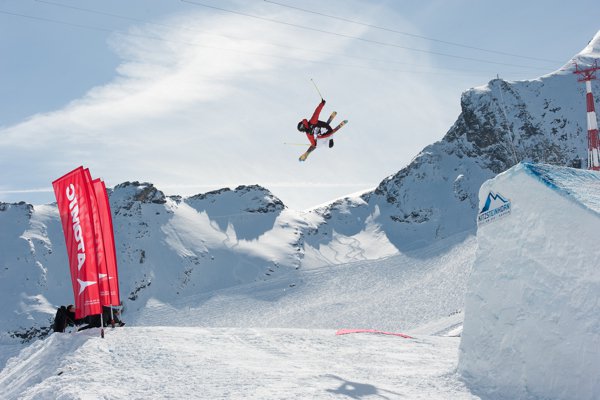 Toni Höllwarth
More than 200 riders from 16 nations took part in the event, with 15 riders qualifying for semi-finals, where they met the 15 seeded pros. From there, the top 10 athletes battled it out in the finals at Kitzsteinhorn Snowpark, where the athletes displayed their skills on a slopestyle course that contained six features, including a down rail, hip gap, barrel rail, and two 20-metre kickers.
Austrian Freeski Open Qualifiers Highlights
Thanks to the perfect conditions, the riders impressed the crowd with top-notch performances, and in the end, last year's winner Andreas Hatveit from Norway threw down a precise and clean run that included a right side double cork 1260 and switch left side 1260 to pick up the win for the second year in a row. "I'm so happy about this victory," said Håtveit. "Though I had hoped for a place on the podium, I didn't expect to win here. The park was awesome, especially the kickers. And with weather like this, it's even more fun for sure."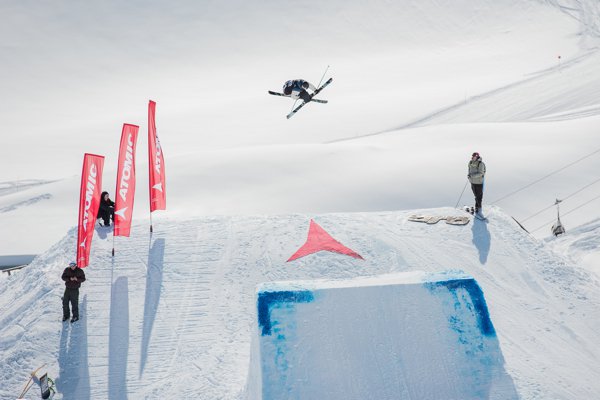 Andreas Håtveit
In second was Gus Kenworthy with a switch left side double cork 1080 japan and switch right side double cork 900 japan, followed by Øystein Bråten in third, who's run included a switch left side double cork 900 safety to left side cork 1080 blunt.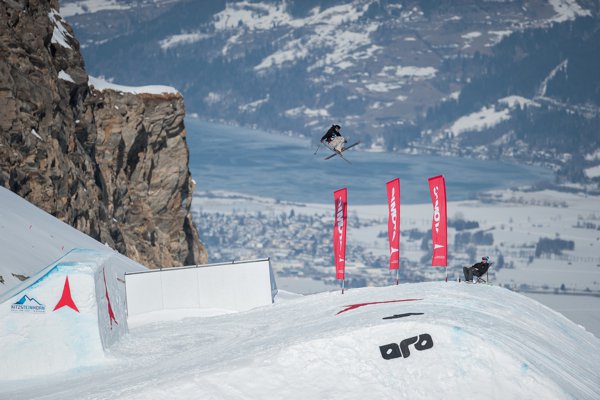 Gus Kenworthy
Event organizer Martin "McFly" Winkler was very happy with the event. "Today, all elements that make a good event came together," he said. "The tricks we saw today were at the highest possible level. This edition was definitely the greatest in the 10 years of the Austrian Freeski Open."
Austrian Freeski Open Finals Highlights
Due to heavy snowfall and high winds, the women's and rookies' contests had to be held on the abbreviated medium line of the Snowpark Kitzsteinhorn when the Austria Freeski Open kicked off on Thursday. In the rookies division, Markus Fohr took home the top spot while Eetu Rintama placed second and Tyler Harding grabbed third. Daniel Walchhofer, who finished 4th, became Austrian Rookie Champion. "I was really nervous during the contest and hadn't expected to win here at all," said Fohr. "I enjoyed the contest very much, and the weather didn't bother me at all."
Austrian Freeski Open Rookies and Women's Highlights
On the ladies' side of things, Nina Rusten Andersen took the win with Linn-Ida Murud in second and Sabrina Cakmakli rounding out the podium in third. Nina Rusten Andersen was stoked about her win, saying, "Wow, I'm so surprised I won here. I had so much fun and there were so many strong competitors, I'm so happy."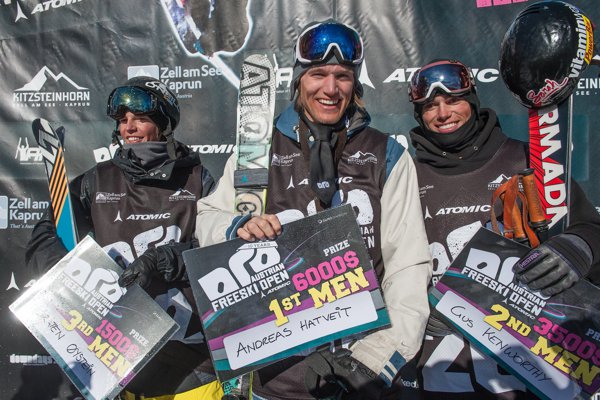 Øystein Bråten (3rd), Andreas Håtveit (1st), Ges Kenworthy (2nd)
Men's Results
1) Andreas Håtveit
2) Gus Kenworthy
3) Øystein Bråten
4) Jonas Hunziker
5) Roy Kittler
6) Joss Christensen
7) James Woods
8) Felix Stridsberg-Usterud
9) Jesper Tjäer
10) Elias Ambühl
Women's Results
1) Nina Rusten Andersen
2) Linn-Ida Murud
3) Sabrina Cakmakli
4) Isabelle Hansen
5) Isabel Salzmann
Rookies' Results
1) Markus Fohr
2) Eetu Rintama
3) Tyler Harding
4) Daniel Walchhofer
5) Jakob Kratzer
For more information on the Austrian Freeski Open presented by Atomic, check out http://www.austrianfreeskiopen.com.