Part 3: Assorted Episodes in the Ecrins: A Backcountry Adventure in the Southern French Alps.
Words by Matt Carr, images by Ken Ezeji-Okoye
With two more days remaining, the weatherman had finally agreed to deliver the goods. Better late than never. A huge low-pressure system was slamming into the Alps from the West, our little corner was right in the bull's-eye and the crew had whipped itself into a frenzy at the prospect of deep powder. Thick flakes were pouring out the sky. Joe was adamant that with its higher altitude providing a better base, we should hit La Grave the next day, and with the storm set to intensify through the night, we should take on the pass before it was too late (the Col de Lauteret is often closed in bad weather). This seemed the right play, and a call was made to Pelle Lang's legendary La Grave establishment Skiers Lodge. They had space for us, it was time to say goodbye to Serre Chevalier.
Kene's soccer-mom 4x4 wouldn't start. Shit. By now we were 5, plus 7 pairs of skis, 3 snowboards, all of our kit, Kene's camera gear and now only "The Coombs-Mobile" Joe's 1985 VW Passat estate that had over 250,000 miles on the clock, having previously been the faithful servant of Doug himself. But it's remarkable what humans can achieve when they put their minds to it however, especially once you add a note of panic and a bit of brute force. We were in. We abandoned Kene's stricken motor and limped up to the pass, now in virtually zero visibility, crept on down the other side and into La Grave, elated. We celebrated with some well-earned beers at the Lodge's infamous K2 bar and crashed out, anxious for the morning to dawn white and fluffy.
I tore open the curtains shortly after 7am the following morning to find... rain. Torrential rain. We shuffled down to breakfast, drank some tea and peered gloomily out of the window streaked with rivulets of unfrozen water. Despair palpable. Then Joe comes bounding in at 8.45 looking like he's just won the lottery, adamant that the rain/snow limit was just at top of P1, 300m above town. Above that there would be 1500m of deep powder and nobody skiing it he insisted, "get your stuff together, we're off" he ordered. Given that a local dog sheltering from the rain was the only living creature showing any interest in the lift station just before it was supposed to open at 9am, this seemed a pretty dubious claim, but with little choice and nothing else to do in town anyway, we assembled our gear and sloped on down to the lift with not a soul around.
Sure enough, as we approached the top of the first leg of the lift, the rain-drops were morphing into giant snowflakes.
Transferring from one side of the lift terminal to the other was like passing from between totally different worlds. A word about the lift itself, as it's the only one of its kind in the world- there will never be another like it. The 4-cabin "pulse" system was built as a prototype but was deemed a failure as its capacity (450 skiers/hour in total) is so low. This limited capacity is of course its great appeal. 4 eggs good! On this day however, the lift's capacity was irrelevant. Apart from us, there were no takers.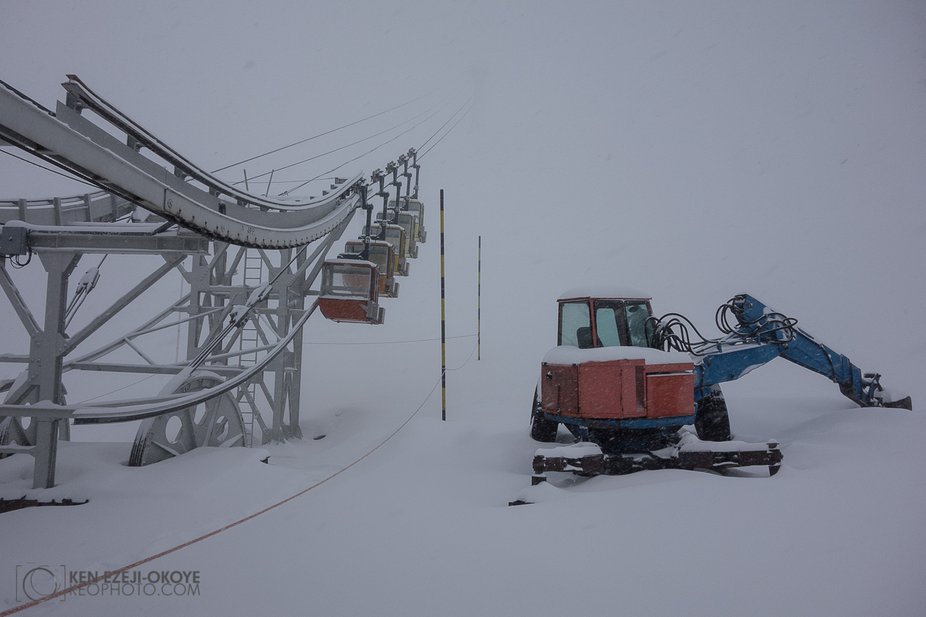 One of La Grave's greatest attributes is its wealth of huge couloirs, whose rock walls afford definition in even the stormiest conditions. So, providing you have a guide who can navigate to the entrance of these in ping-pong-ball-interior visibility, you can still hit the big lines top to bottom on storm days rather than being confined to the trees on the lower mountain. Here Joe opens up one of La Grave's most accessible tubes, the "Banane" in waist-deep powder.
Chipie drops in, and is too busy shredding to notice the spooky rock-face watching him fly by.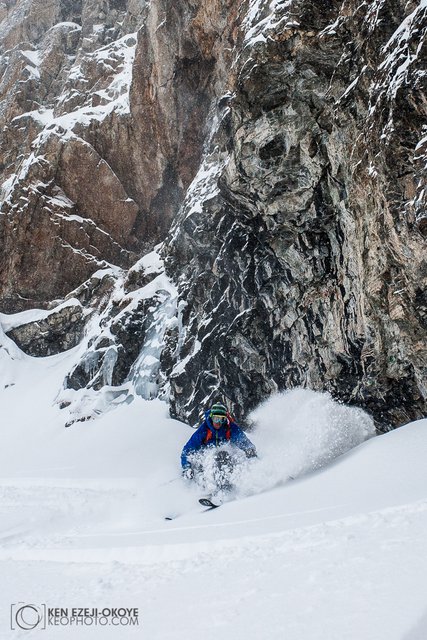 The chute spits you out in some of the world's best lift-accessed tree skiing. Chipie can confirm this, despite struggling to see much of it.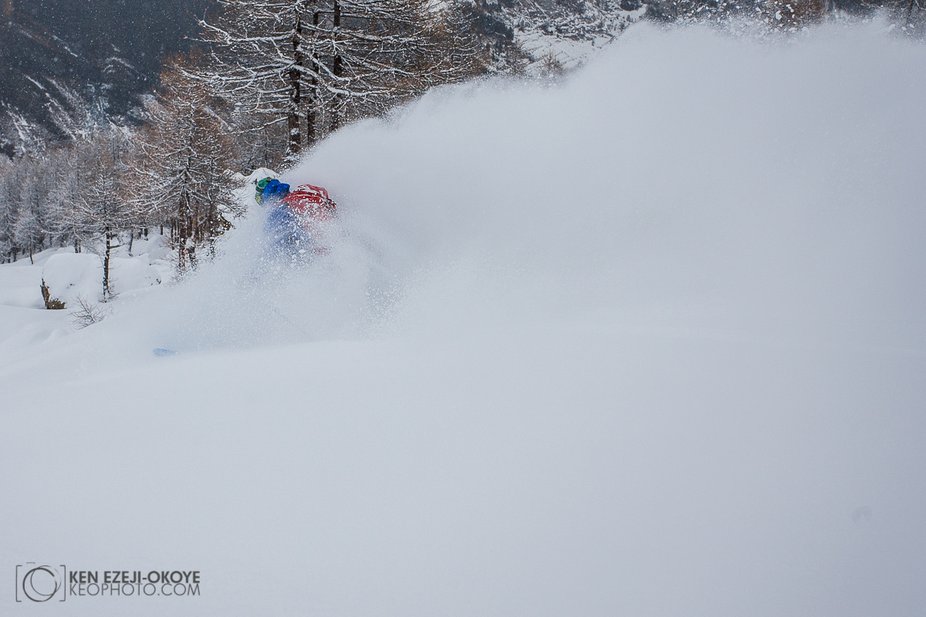 Dave was so excited he started jumping on his bed.
I even made a couple of turns myself, a fact that didn't escape Kene who was hiding in a bush photographing passers-by.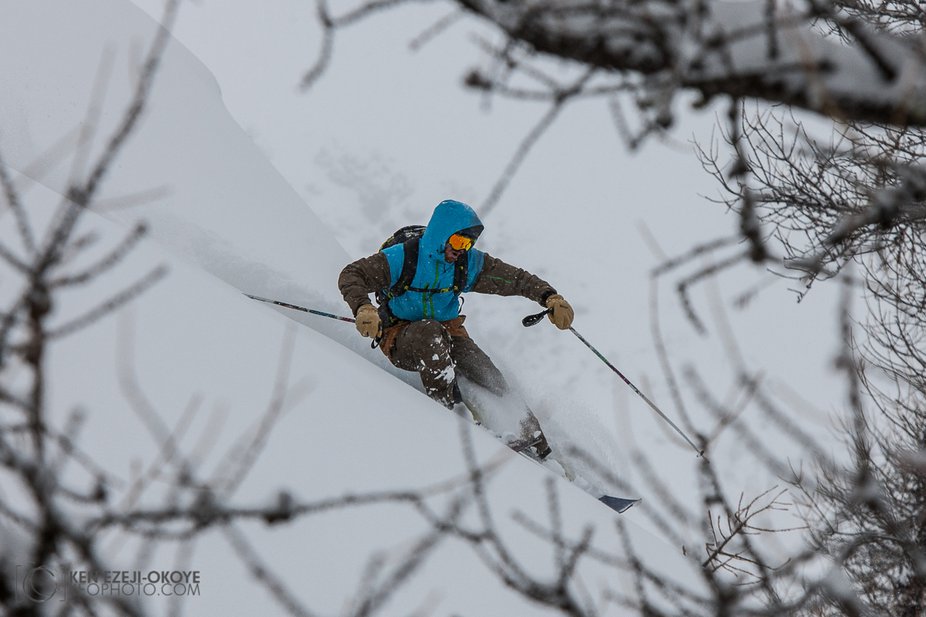 Chipie, still in agreement about the quality of tree skiing.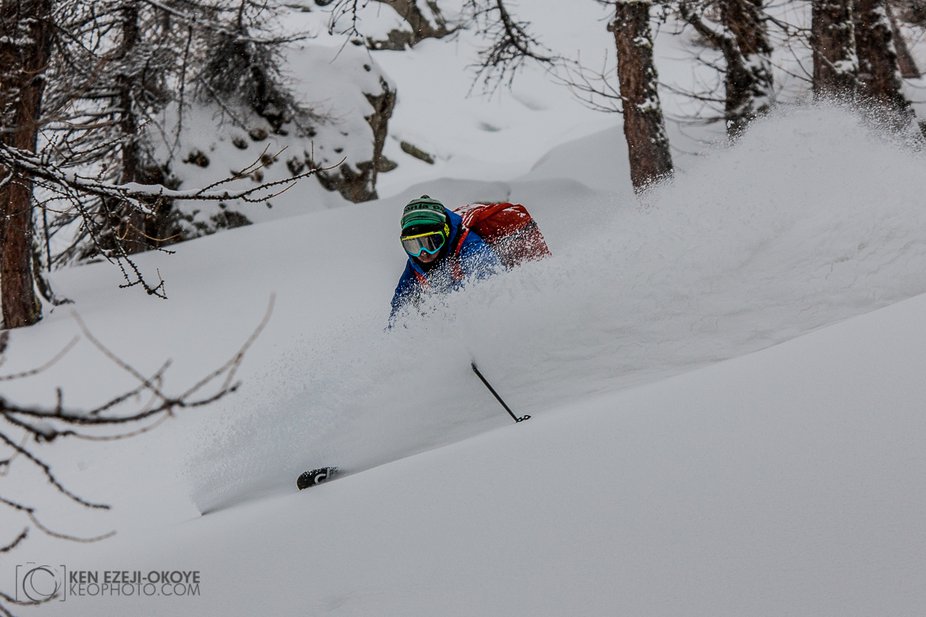 By the time we made it back to the lift, word had clearly got out that it was going off on the top half of the mountain. There may have been as many as 15 other powder party participants by now. When we reached the top, we ducked into the restaurant at 3200m, to learn that our next run would be our last. As the snow continued to intensify, somehow, the objective avalanche danger was rising too, so the lift would be closed. We decided to wait as long as possible up top before our second and last run of the day. The longer we waited the deeper it would be. We enjoyed some more of Philippe's fabulous cooking and drank a few Genepis (the local digestif made from the mountain herb of the same name). The guitar came off the wall, someone was on the spoons and a spontaneous jam session broke out among us and the other dozen-or-so lucky souls. A complete vibe-reversal from breakfast! By mid-afternoon, we could wait no longer, and besides, what's the difference between waist-deep and nipple-deep amongst friends when you've been skiing dust-on-crust all week? The camera was put away and we repeated the same run. Our tracks from the morning session had been well and truly refilled, and then some!
Every Friday, everyone in La Grave (in this case about 60 humans and a handful of dogs) traditionally gathers at Skiers Lodge to eat together, share stories from the week, drink beers and wobble to a live band in the bar after. This Friday was no different, and the usual La Grave male: female ratio (around 26: 1) seemed to be in effect. La Grave is not an après-ski destination.
With snowflakes the size of small mammals still cascading out of the sky, and forecast to continue overnight and into tomorrow, the consensus seemed to be that the lift might not open the following day.
Waking up in the Ecrins National Park to French bread, freshly ground coffee and fresh snow on the roof truly is the breakfast of champions.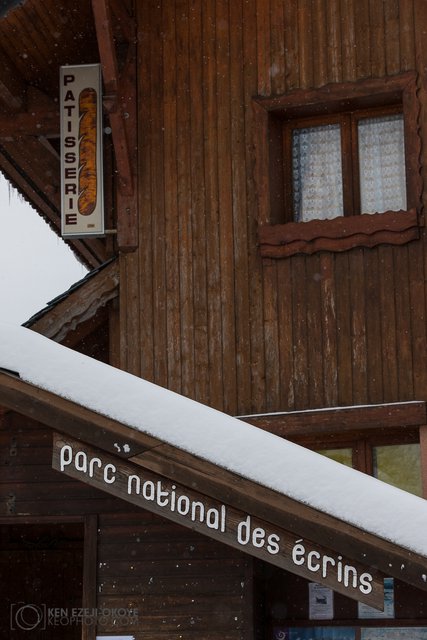 Concerns that the lift wouldn't open proved to be well-founded. Guess who didn't care? We'd just tour up instead enthused Joe, or just run car laps, getting dropped off in the even tinier hamlet of La Chazelet a few hundred metres above La Grave and ski the farm meadows back down to town. We opted for the latter- and mobbed through the meadows shrieking, like a band of Macaques swarming through the jungle.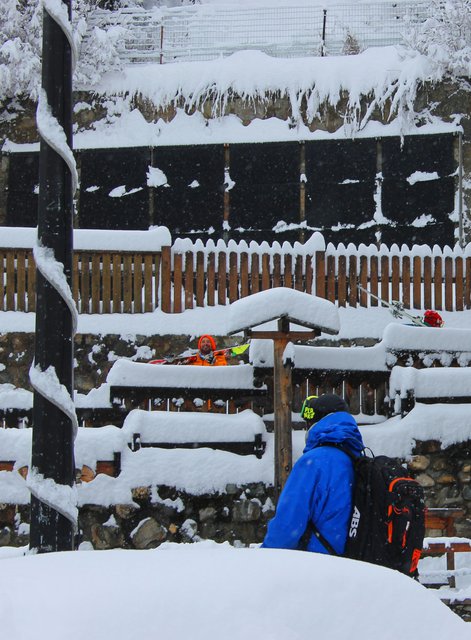 Chipie thought about going to church, but in the end decided to do this instead.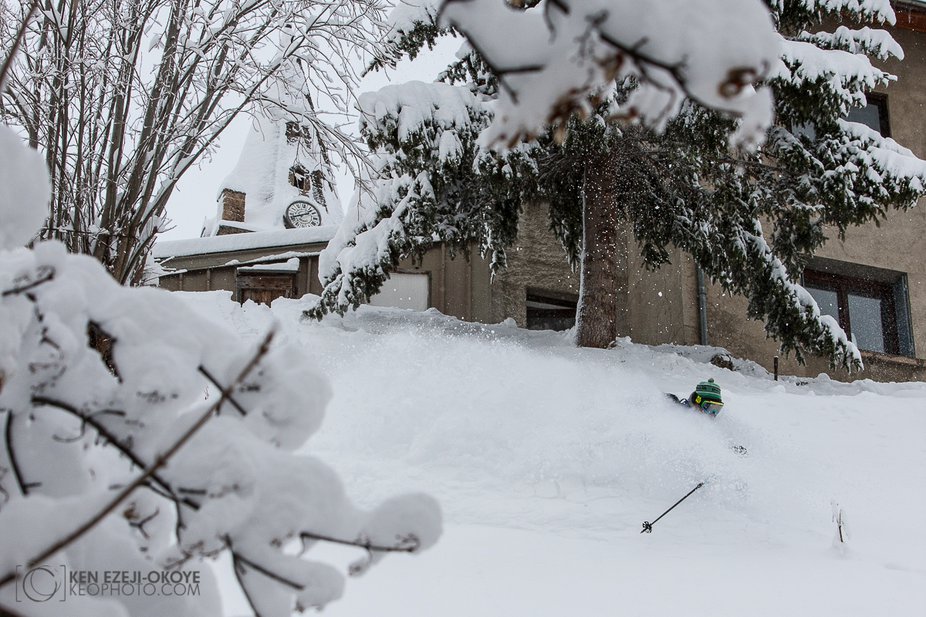 He seemed pleased.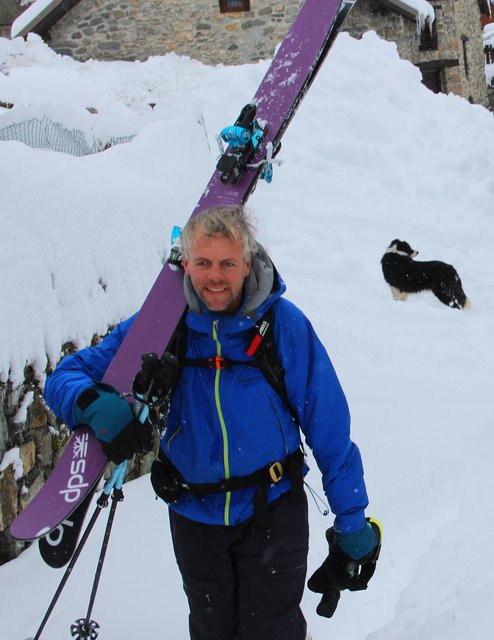 The clouds parted briefly, giving us a glimpse of La Meije, La Grave's real altar, through the trees.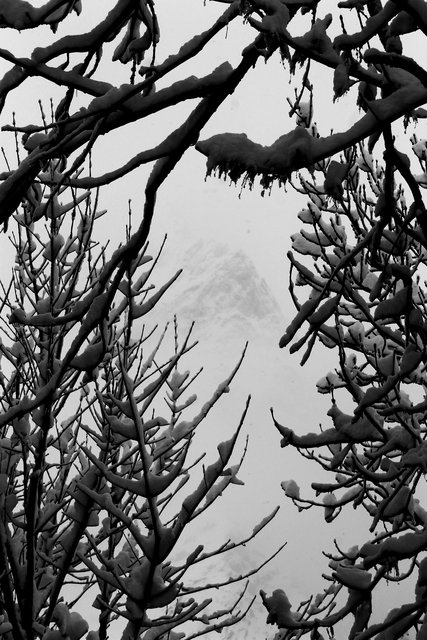 The gospel that Joe preaches is powder.
And with that unusual but nonetheless awesome episode, our trip was at and end. In some ways we were sad not to have been able to experience the terrain of Serre Chevalier and Montgenèvre in better conditions. The forested terrain in Serre Chevalier in particular looked like it would be epic, and I've never seen a ski area blessed with as much ultra-accessible "mini-golf" terrain as Montgenèvre. We'll certainly be back! But the over-riding emotion of the group was elation at having been patient, and had our patience rewarded with epic powder in La Grave at the end of the trip.
For those interested in this unique and special part of the world, find out more at:
In Serre Chevalier we organised the chalet through http://www.eurekaski.com and in La Grave we stayed at http://www.skierslodge.com I highly recommend them both. Geographically it made more sense to us to stay in Serre Chevalier, which also has 250km of groomed pistes and a decent park if you feel like a change of speed. Montgenèvre is also linked to the huge Via Lattea ski area in Italy, linking several more hidden gems full of awesome terrain and nobody skiing it. So many places to ski, so little time!
We travelled from the UK by train. For train connections via Paris, book at http://uk.voyages-sncf.com/en/
When exploring this richly diverse region on skis, look no further than Joe's services as a guide. His knowledge, creativity and enthusiasm were invaluable to us. http://www.provallone.com
Words by Matt Carr