Words & photos: Rocky Maloney
Final day of competition here in Aspen Colorado, and finally some sunshine to warm everyone up. Today's events included Men's Slopestyle Semi-Finals & Finals along with Women's Slopestyle Finals. With 40 plus girls scheduled to compete, many got cold feet due to the bad speed and large jumps. As a result, only 12 girls were out to battle for the title of Aspen/Snowmass Slopestyle Champion. Do to this fact, the organizers decided to forgo having a semi-finals and instead gave the girls a three-run final.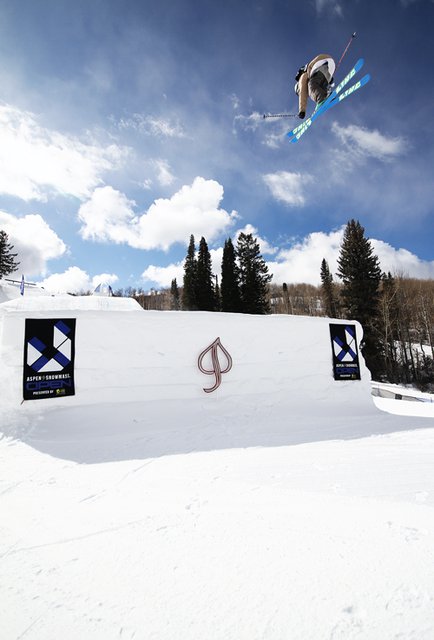 Taylor Lundquist
Fresh off her awesome display of pipe skills the other day, Devin Logan came out gunning for the top spot. With a 270 off the cannon box Devin showed off her rail technique, and as she made her way towards the jumps below she didn't slow down one bit, throwing a big 360 japan into another 360 off the second jump and finishing off her run with a 540 over the "Money Booter". This solid showing put Devin into the 3rd place spot.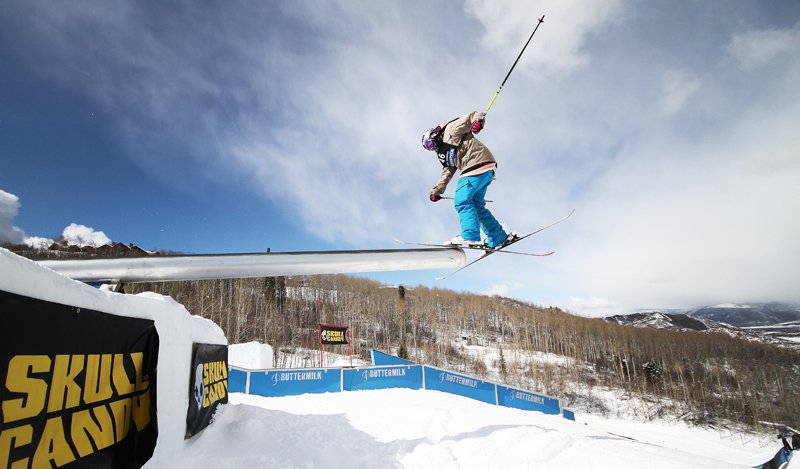 Devin Logan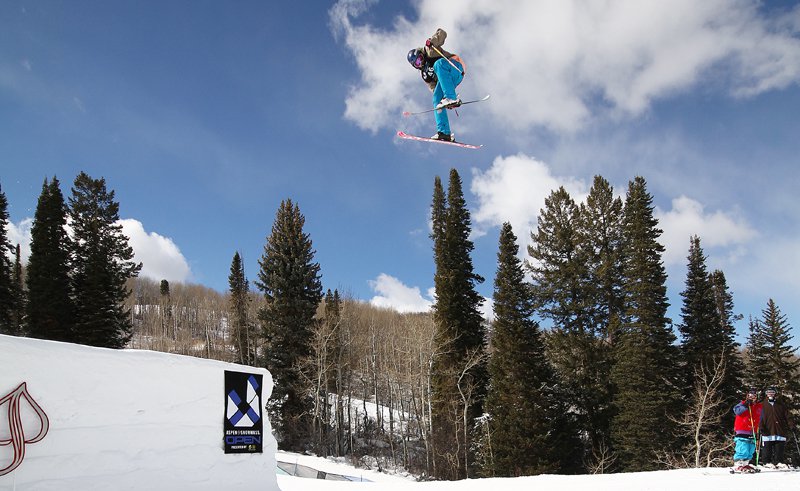 Jessica Warll impressed a lot of folks today. The young lady came into the jump line with a big rodeo 540, and also threw an underflip over the last table. Unfortunately the judges were not as impressed as everyone else, and she finished off in 6th place. Athena Brownson had a pretty gnarly crash off of the first jump while under rotating a 720, and worried about her knee she rode the stretcher down with ski patrol. Vibes to you Athena, feel better soon.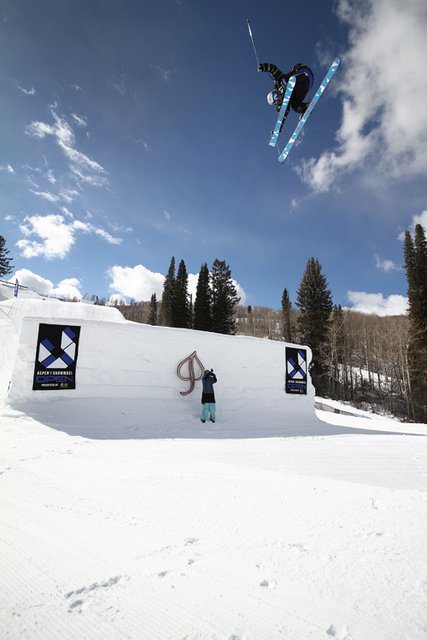 Jessica Warll
The 2nd place position was awarded to Meg Olenick. This lady has been around for a while and definitely knows a thing or two or three about the game. Her rail technique and solid grabbed spins over the jumps got her onto the podium in 2nd in front of her hometown crowd. Maiko Hara also had a huge run, with a 720 over the first jump into a 360 and followed up by a big 900 on the last jump, scoring her 5th.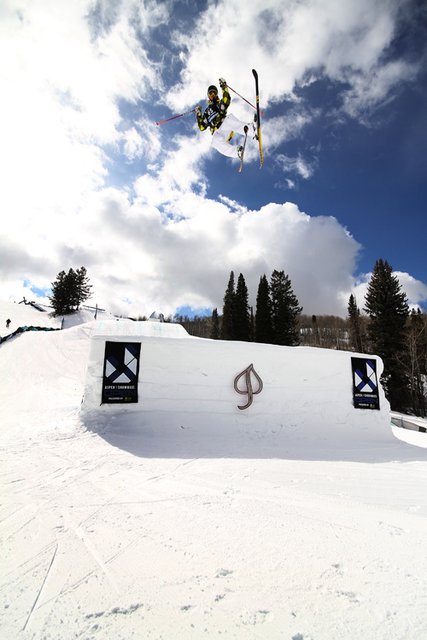 Meg Olenick
But it was Ashley Battersby's day. Ash-B is back and showed up ready to throw down. She has always been known for her super steeze on rails and jumps, and today was no exception. Launching a stylish 450 off the launch box she continued into a switch 540 over the first jump, into a 360 over the "Down-Payment" and finished off her run with a stomped 540, proving she knows just what it takes to bring home a big cheque after a competition like this. Big ups to the top three ladies and everyone else who competed.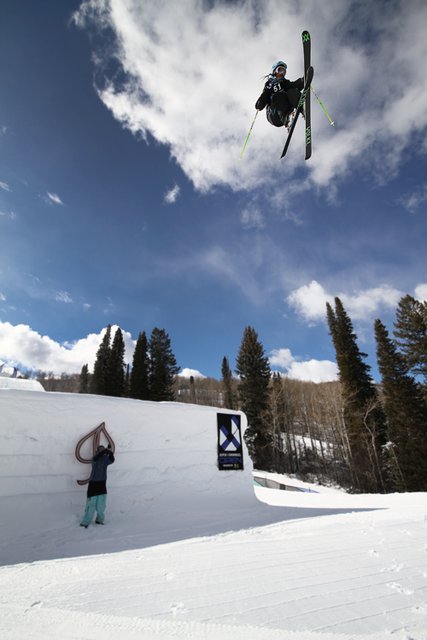 Ashley Battersby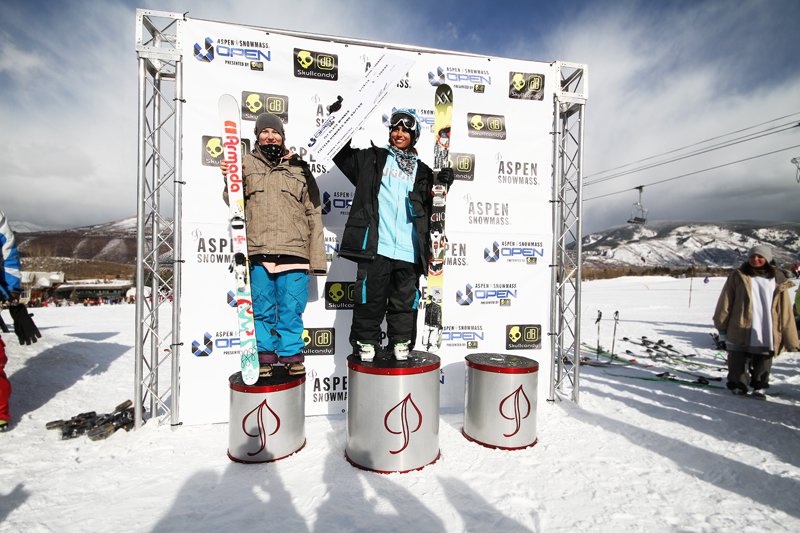 Results
1) Ashley Battersby - 86.33
2) Meg Olenick - 79.83
3) Devin Logan - 62.83
4) Taylor Lundquist - 62.33
5) Makio Hara - 58.67
6) Jessica Warll - 55.00
7) Athena Brownson - 54.17
8) Heather Thomas - 48.83
9) Eli McMillan - 45.17
10) Annalise Manley - 34.00
11) Blake Peterson - 27.50
12) Tanja Gmuer - 26.67
Men's Semi-FInals started off with a huge run from Ben Moxham. He did a left 900 into a switch right 900 and finished off with a stylish right dub cork 1080 mute. Ben had a super solid run early on, and set the stage for a much different competition than yesterday. After falling on his first run, Cody Ling performed better on his second, landing everything to make his way into finals.
Ben Moxham, mid-dub cork
Cody Ling playing that guitar
Sam Ferguson
McRae Williams had one of the more stylish and technical runs in his heat, but for some reason the judges seemed to feel otherwise. McRae started off with a nose butter 450 on 270 off on the gap to down box, followed by a 360 nosetap over the hitching post and into a misty 450 off the launch box. He kept up his consistency with a left 900 mute on the first jump into a right rodeo 900, and finished his first run up with a cork 1080, and his second run with a dub cork 1080. Possibly some confusion in the judging booth as to which way McRae actually spins, as they gave him a 75.67 which put him in 7th place for his heat and out of the running for finals. Also missing out on the cut was Elvis Eidsvold Harsheim and Lars Haakon Hafsal.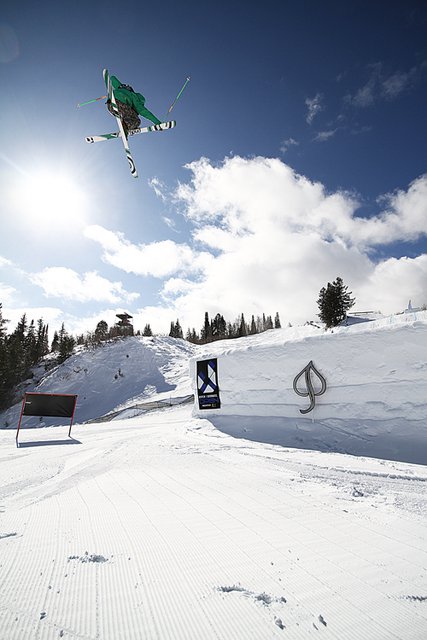 McRae Williams grabbing for days...
In Heat 2 Tim "Cheese" McChesney did like he always does and threw it down. Tim busted out a 450 onto the gap to down box to start off his run, followed by a cork 810 off the launch box into a rodeo 9 on the first jump. Then off the "Down-Payment" he threw a switch right 720, picking up as much speed as he could into the last jump where he absolutely launched a switch dub cork 1260, holding down the 4th place position in his heat.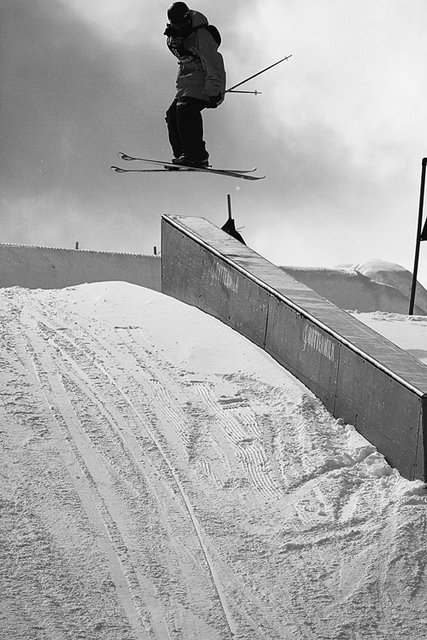 The Cheese...
A slew off sick runs were also stomped out by a bunch of competitors in Heat 2 who couldn't find their way into the final round. Sandy Boville threw a cork 900 into a switch 900 and finished things off with a stylish kangaroo flip, which put him on the wrong side of the bubble in 6th, right in front of Chance Crane, who also threw a super sick run with a right 900 off the first jump into a switch 720 and a switch dub cork 1080 to finish off in 7th place.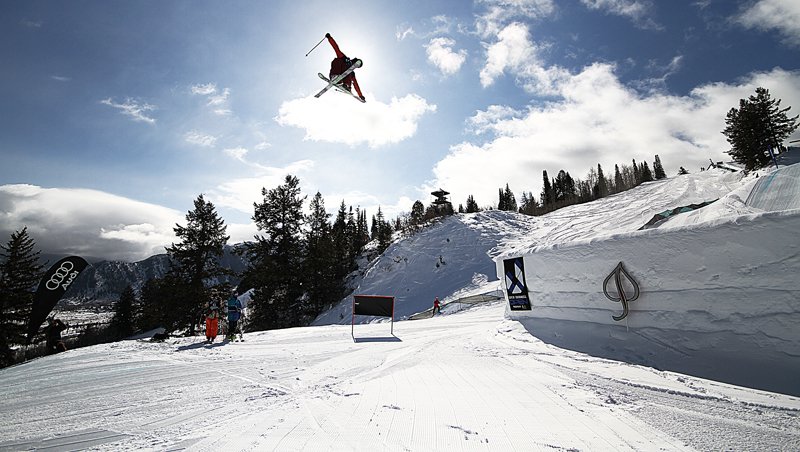 Lars Haakon Hafsal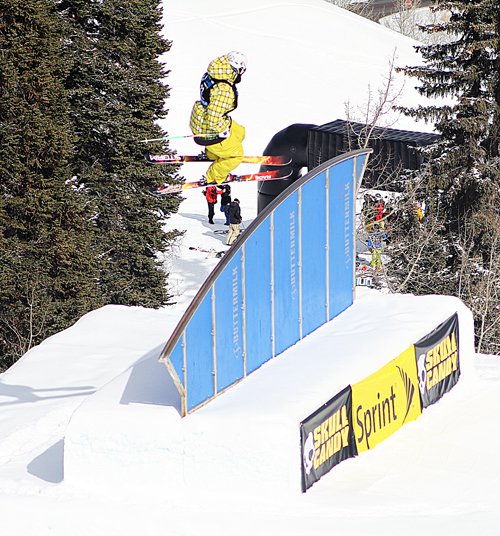 Tae Wescott 450 on 270 off the rainbow
Semi-Finals Results
Heat 1
1) Ben Moxham - 84.33
2) Erik Hughes - 82.83
3) Jeff Kiesel - 78.00
4) Cody Ling - 76.83
5) Karl Fostvedt - 76.67
cut-off
6) Elvis Eidsvold Harsheim - 75.83
7) McRae Williams - 75.67
8) Lars Haakon Hafsal - 75.00
9) Brain Kish - 72.17
10) Anders Backe - 71.67
11) Laurent DeMartin - 70.00
12) Khai Krepela - 69.00
13) Mike Mocham - 68.67
14) Kieran Nikula - 60.00
15) John Strenio - 57.50
16) Cullen Moran - 53.33
17) Alex Schlopy - 40.17
18) Miles Honens - DNS
19) Mack Jones - DNS
20) Leo Zoberski - DNS
Heat 2
1) Gus Kenworthy - 81.67
2) Luke Nutting - 79.17
3) Aidan Sheahan - 78.67
4) Tim McChesney - 78.50
5) James Woods - 76.83
cut-off
6) Sandy Boville - 75.67
7) Chace Crane - 74.33
8) Kim Boberg - 74.50
9) Sam Ferguson - 70.83
10) Will Berman - 70.67
11) Brain Locke - 68.83
12) Torin Yater-Wallice - 68.33
13) Hans Wiener - 67.33
14) Byron Wells - 63.50
15) Cameron Snyder - 63.33
16) Tae Wescott - 54.00
17) Lasse Nyhaugen - 52.17
18) Vincent Gagnier - 51.17
19) Alex Dutcher - 42.33
20) Nicky Keefer - 39.33
As Finals commenced the stage was set, the competitors were ready, and the sun was shining. These finals were the quickest round of skiing since the Aspen Open started on Thursday, and being only 10 men to ski all eyes were up on the course. Karl Fostvedt was feeling it today, starting off with a 450 on 270 off the gap to down box and then continued to stomp everything in his path the whole way down the course. Karl had one of the sickest grabs of the day, where his ski actually hit his head he was tweaking it so hard (check it for yourself...) and finished off the day in 7th.
Karl Fostvedt beating himself up with his ski
The "Polar Bear" Jeff Kiesel was calm, cool, and collective as always and threw down a super smooth and stylish run. He kept it mellow with a right 540 off the first jup into a left 540 off the second and a left 900 at the bottom with a blunt grab that could make you go blind. However he couldn't contend with the double flip circus and finished off in 9th.
Jeff Kiesel = Blunt Master
Ben Moxham continued his consistent big runs, but somehow failed to find himself on the podium a little ways down the list in 6th. The heavy hitting Tim McChesney threw a similar run as he had in semis but tried to go a little bigger, and also just missed the podium in 4th.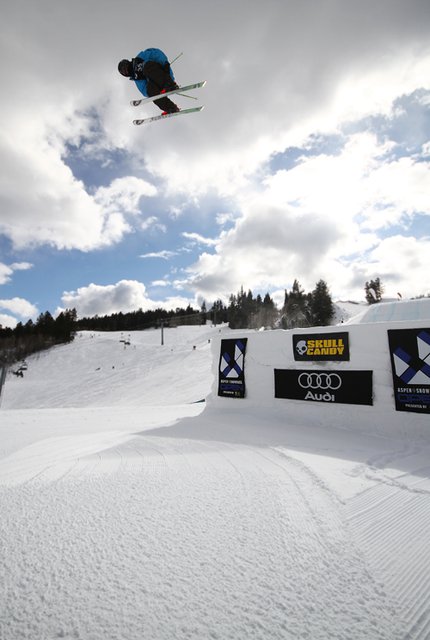 Tim McChesney, mid-dub
Reppin' Park City, Erik Hughes looked to be in a good spot to take an eventual podium position. Erik being consistent throughout both competition days had quite possibly the best weekend of his young career. He started off with a switch 270 on 450 out on the down box, 360 nose tap over the hitching post, misty 630 out of the launch box, into a 900, switch misty 900 and dub cork 1260. Erik finished off his day a very happy man in the 3rd place spot.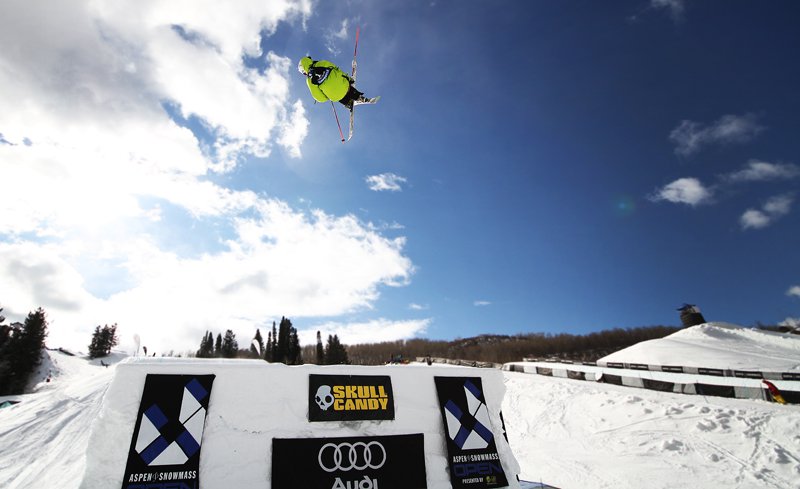 Erik Hughes
Aidan Sheahan also made his name known today in Aspen. Having a super technical run all over the course, he kicked things off with a switch 270 on 270 out of the top feature into a cork 360 over the hitching post. Continuing on he busted out a cork 810 tail off the launch box, into a switch 900 double mute, right cork 720 mute, and capped it off with a massive dub cork 1260, a trick he hadn't supposedly landed until this afternoon. He made his parents proud today by taking home the 2nd place position.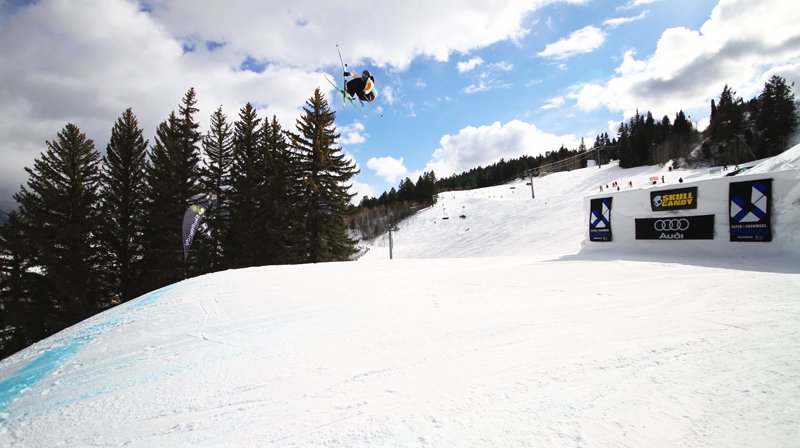 Aidan Sheahan about to flip around for his second cork...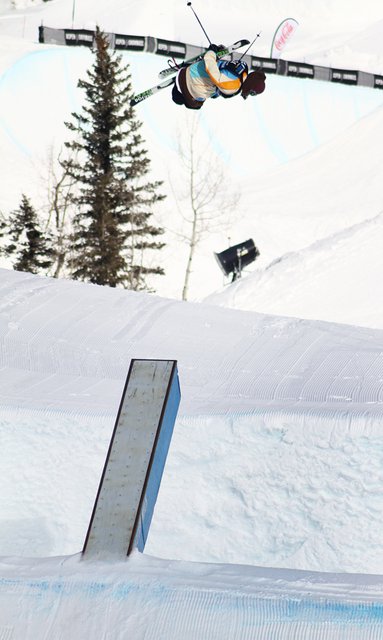 ...and sending it with a cork 810 off the launch box.
This left one man standing, who became the overall winner of Aspen Open by claiming victory in both superpipe and now slopestyle, Gus Kenworthy. It was obviously Gus Kenworthy's week, if not month. He has been on fire since the first run he took in the superpipe, and kept it going until the last run of slopestyle. You have to hand it to the wonder kid, as he absolutely slayed the whole course from top to bottom on every rail and every jump. His run: left foot forward k-fed on the top rail, switch 630 on 270 out of the gap to down box, 360 nose tap over the hitching post, 450 on 630 out of the rainbow rail, kangaroo flip over the first table, switch right 720 mute, into a switch dub cork 1080 japan. Gus slayed it, and he deserves it. Now $10,000 richer, the question is Gus...does the 10% rule apply?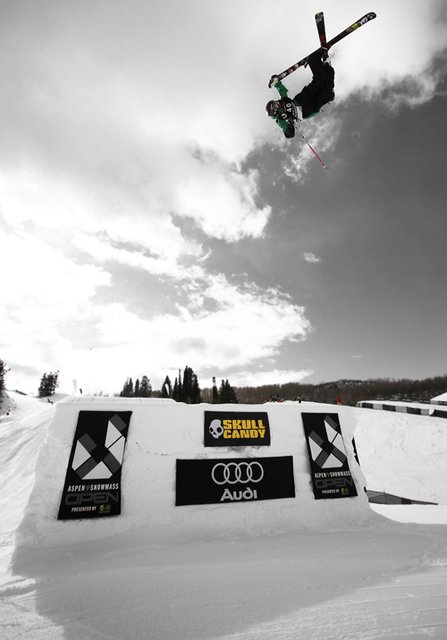 Gus Kenworthy
Results
1) Gus Kenworthy - 89
2) Aidan Sheahan - 83
3) Erik Hughes - 82.33
4) Tim McChesney - 82
5) James Woods - 81.83
6) Ben Moxham - 81
7) Karl Fostvedt - 77
8) Luke Nutting - 73.67
9) Jeff Kiesel - 62.33
10) Cody Ling - 55.17
Big ups to all the competitors for the extremely high level of skiing they displayed this week, Aspen/Snowmass for putting on an amazing competition, and The Ritz Carlton Club for letting us feel like we belonged in Aspen for the week...and the Wallas. Until next time.