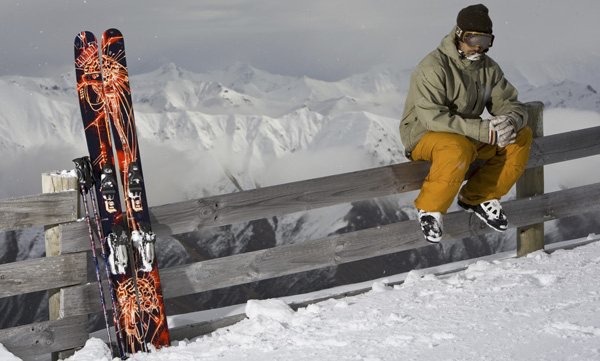 Armada Introduces All New JJ For 08/09
Costa Mesa, CA (August 28, 2008): With the 2009 JP Auclair and Julien Regnier pro model ski, the "JJ", hitting the stores of select retailers this month, those who have seen the revolutionary new ski are at odds to describe it.
"It's unlike any ski I've ever seen," says Jacob Wester.
"Honestly, the thing freaks me out," exclaimed Tanner Hall.
"I think it looks like a big old elf shoe," says Anthony Boronowski.
What else can be said of a ski that twists the one hundred-year-old design concepts of sidecut and camber in such profound ways? Utilizing Armada's patented "Elf Shoe Tech", the JJ embraces the recent trend in powder-specific skis toward rockered shapes but evolves the idea to render powder-specific design all-mountain friendly.
"Rockered skis are great for flotation in deep snow, but challenging to ride in any other conditions," explains Julien. "We wanted a ski that works amazing in powder but remained functional on the rest of the mountain."
The genius of the JJ is in its location of the "fat": most fat skis are widest near the tips. On the JJ, the width is shifted back toward the toe and heel piece of the bindings, putting the flotation closer to the skier's input, while preserving a traditional sidecut and camber underfoot.
"Turning a ski well on firm snow requires some sidecut and camber," says Armada Director of Product Development Alan Trimble. "By pinpointing the location of those elements directly under foot, we've essentially created a solid-skiing short ski that transforms when put in deep snow."
If the JJ is basically a traditional fat ski between the wide points, it's unique from the wide points to the ski's ends. The skis aren't plain rockered in the way many powder skis are these days- they gradually ease upwards from those wide points in what can best be described as extended tips and tails.
"I wanted a ski that would do three things," says Auclair. "It had to float like a boat in deep snow, adapt quickly to variations in snow density, and look completely bizarre in the lift line. We've done that with the new JJ. Seriously, have you seen these things?"
Intrigued? Curious? Confused? Head to your local Armada dealer to learn more about the ski that's putting the "freak" back in freeskiing.
Armada Skis Inc. is the premier rider-owned, rider-driven ski company in the industry today. Established in 2002, Armada is a family of athletes, artists, designers and engineers. The company is privately held with headquarters in Costa Mesa, California an international office in Zürich, Switzerland and distribution in over 30 countries worldwide.
Armada is what skiing will become.