Freshly fallen leaves crinkle as we coast our bikes along the mouth of the canyon. The highest peaks have a light dusting of snow, but everything else is still bone dry. We're in the middle of one of the most saturated autumns I've ever experienced. It's been cold enough to change the leaves, but the lack of precipitation has kept them hanging from their branches, shouting explosions of color along every trail.
We stop for water at the trail intersection, and I look down the draw. I've stood here on skis countless times. I have a rule that every time I ski this lap I have to stop, regroup with any friends, and then try to do a nose butter. I've ridden out of that butter four or five times in as many years. Usually it stalls out on the too-flat slope, and I flop to the ground. A couple times I've leaned forward and double ejected. My partner rolls her eyes every time, skis past composed and compact, and waits for me at the bottom.
The weather man keeps hinting at upcoming snow in the forecast, but for now I'm still hooked on mountain biking. I'm riding every day, trying to make the most of it before mud season. We drop into the canyon as the valley I live in slips into shadow. We'll barely beat the light back down to the car. I carve turns through the aspens, eyes half closed as my bike's front tire dances from one contour to another. It doesn't take much imagination to feel like I'm charging ski turns through the trees, the weight transfer is the same, leading with my core, transferring my weight from inside foot to inside foot and back as I leave a wake of leaves fluttering in the air.
When we get home I wash my bike and put it in the garage. This time of year, every ride could be our last, and I try to prepare myself to wake up to a wash of snow covering everything. I love, and hate this period of anticipation. I mounted skis in the living room last week, and something about laying out the jig, drilling those holes made me excited in a visceral way that made me feel young and unjaded.
But every fall my old injuries flair up. It's somewhat weather related, cold nights make my bum ankle and my weak knee and my broken-but-mostly-recovered wrist ache. And of course, it's also psychosomatic. Skiing hurts my feet, a lot. My corns and bunions flair up, and every summer it takes longer for them to heal. I've started having ski dreams again, and sympathetically, I've started waking up with aching feet. They'll be fine, I know it, but somehow my lizard brain isn't convinced, it's warning my body that it's entering the season of hurt once more.
I dream of weightless powder turns, bottomless airs, and then suddenly the mountain is moving, I can't see, I can't breathe, and I panic, waking as I try to clear imaginary snow from my airway.. The dog grumbles: the foot of the bed was too cold for her so she's crawled up to the top and is laying over my face. No avalanche, just a spoiled hound.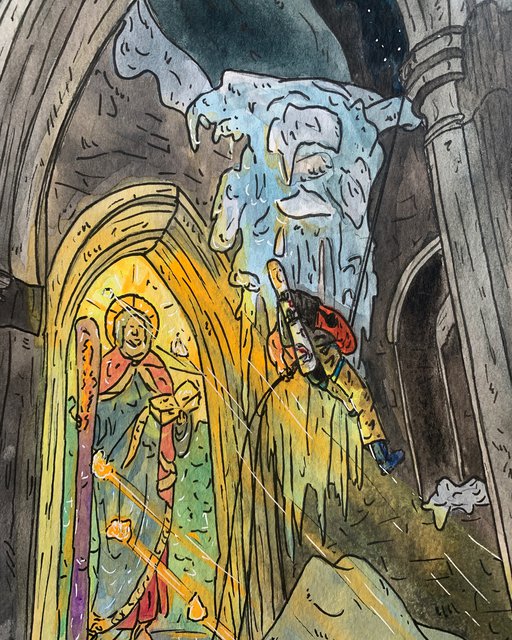 Mud season dreams are weird
The smell of woodsmoke is heavy in the air as I ride through town. Our neighbors are firing up the woodstoves. On a sunny weekend afternoon it's still warm enough that garage workshops sit open, some spewing two stroke fumes as home mechanics try to get their snow machines serviceable before it's too late. I've already scheduled an appointment to have my snow tires swapped over. I'm careful to beat the rush, set up a time before the first snow falls and everyone rushes to prepare.
The ski resort sits empty, save for a few employees running inventory for the mountain shop. They count skis and boards as the few black bears that reside at the hill fill up for the lean times. This is the last season I'll be able to check my home hill's snow status from my back porch. They've already poured the foundation for another short term rental that will block my view of the hill from town. Next fall I guess I'll be pulling up the webcam, checking every morning, instead of squinting into the sunrise as I let my dog out to pee.
Tonight it will freeze. I need to drain the garden hoses. I need to find the snow shovels. I broke a windshield scraper last spring, the hardware store probably is just getting a shipment of new ones. I need to mow the lawn one last time, check the storm windows, replace a door's gasket, clean out the garage so we can access our ski poles, stain the deck before it's too cold.. There's a long list of chores lying between me and a guilt-free winter. But for now I'll breathe deep as we cruise between the aspens. I want to suck in as much of the dank earth smell of fall as I can before it's replaced with the hard snap of winter.
I used to be desperate to jump from one cycle straight to another. As soon as snow shut down the riding, I was antsy to hike high into the mountains to ski whatever I could find with somewhat adequate coverage. Now though I'm a little more ready to let the changing seasons take their time. I'm ready for a few weeks to recover and reset, to sort out my gear and organize my life. Winter is on its way, but it needn't rush. It will be here soon enough, and we'll be ready.