If you are anything like me, you are probably teary-eyed and sad to see the season come to an end. But, we sure had some fun! So, let's take a stroll down memory Alpine Lane.
Alpine hosted many great events this season, and we look forward to having you all participate next winter.  The Lil' Air Festival was a huge hit by all who attended. And the best part, all of the young up-and-coming athletes were winners!ÂÂ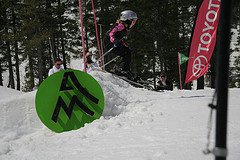 Another big hit was the SnowBomb Sick N' Twisted Big Air comp. Amateur skiers and riders from all over the country came out to participate in this big air event. The hits were huge and the competition was impressive.
 ÂÂ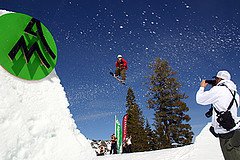 ÂÂ
ÂÂ
And my favorite event, and if you attended, I bet it was yours, too! I'm talking about the Moonrise & Sunset Passholder Celebration. Hundreds of our dedicated passholders from Alpine and Homewood attended this first ever, moonrise celebration at the top of Roundhouse chair. Our skiers and riders were greeted with hot chocolate and marshmallows with a raging 'warming' fire. If you were not lucky enough to attend, just check out the video.
These were just some of the fun events hosted this season at Alpine. There were many great events; however, these events really made an impression on me, and if you were here, even for one of them, I guarantee your anticipating next season's line-up. From me and the entire staff at Alpine, thank you for a great season and we look forward to seeing you in the winter 08|09 season. And, as always, check our website SkiAlpine.com for the latest and greatest offerings for this summer and next ski season.
Have a great summer and I look forward to seeing you on the slopes next season!
ÂÂ
ÂÂ
ÂÂ
ÂÂ
~Bob
ÂÂ
ÂÂ
ÂÂ