Newschoolers.com's longtime news editor and general miscreant Ethan Stone has left Portland, Oregon for the yuppie kingdom of Boulder, Colorado and a job with Storm Mountain Publishing. Ethan will be working hard all summer with Matt Harvey to create Ski Time magazine, in addition to providing editorial content for Freeskier.
"I'm mad as hell and I'm not going to take it anymore,� Ethan says. "Why slave for pennies from NS when I'm already rocking a new Escalade from my Freeskier paycheck?� Don't worry though, he assures us that he'll still be repping NS and making innappropriate comments about Freeskier's target market at every opportunity. What's better, Ethan will travel to Europe next winter to finish school and advance the front line in NS.com's move for global domination. "By the time I'm done, every bartender in Munich will know about NS,� Ethan says. "Maybe some skiers too if I decide to go riding. But, you know, the Alps just don't hold that much attraction for me.�
"This is the second time I've 'hired' Ethan to come work for me,� Ski Time editor and Newschoolers.com founder Matt Harvey says. "Hopefully this time he does a better job, that slacking piece of shit.�
You can send your hate mail to Ethan at ethan@freeskier.com.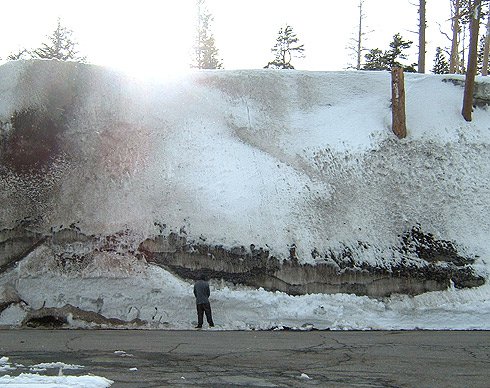 Ethan marks his territory in Mammoth, CA. Photo: NoPoles.