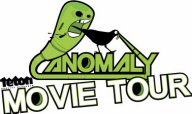 Ski Wentworth
and Aerobics First present
Anomaly
Halifax
in association
with Snow Epic
Saturday December 2, Nova
Scotia's snowsport community will come together to take in Teton Gravity
Research's newest ski and snowboard
film Anomaly.
Don't miss this chance to
see some amazing big mountain action
from around the world on the big screen of Ondaatje Hall at Dalhousie
University.
Come early to experience Nova
Scotia's only snowsport expo, win some amazing prizes from event partners,
or meet and chat with your winter friends.
Over 500 enjoyed last year's
Tangerine Dream film event and thousands of dollars of prizes
were given away! This year will be even better in so many ways…
Après Anomaly at the Split
Crow. Presented by Salomon in association with SBC Skier and Snowboard
Canada Magazines
Saturday December 2
Ondaatje Hall, Dalhousie University
(Marion McCain
building)
6:00
– 8:00 pm Snowsport expo and pre-show party
8:00 Anomaly ski and snowboard
film screening
10:00
Salomon Après Anomaly Party at the Split Crow
Free entrance with Anomaly
Halifax ticket!! Party goes until the snow flies… Sorry, this is for rippers over 19
only. Additional prizing from SBC Skier and Snowboard Canada magazines!
Yeeeah!
Tickets $10 + hst available
only at Aerobics First 6166 Quinpool Road. 15$ at the door.
Visit http://www.tetongravity.com to find out more about
Anomaly
and http://www.skiwentworth.ca for
Anomaly Halifax event details.
BIG
DROP Support
Phoenix Youth Programs by bringing along your unused winter coats and
outerwear for those people in need heading into the winter months.
A great chance to clean out your closet and help keep someone warm
this winter!