CLICK HERE TO ENTER AND READ FULL RULES
The glory days of the open contest seem, on the face of it, to be all but consigned to the past. With the vast majority of slopestyle and halfpipe contests now part of some national or international ski association, and freeride events generally falling somewhere in the FWT qualification structure, there isn't much that falls outside of those two main spheres of influence. The few stand-alone events that remain come with an invite for a select few.
We're not saying the NS Open is going to change the game, but for us, it's a step back in the right direction. Along with our resort-specific King & Queen of the park contests, we wanted to put together something that allows for the largest span of skiers to enter as legally possible.
We're stoked to have Auclair Gloves partner with us in this venture and to announce the first Newschoolers Open: a continent-wide, open video contest with the grand prize winners for the men & women taking home $2,000 each. The winners will also have a shot at making Team Auclair for the 2022-2023 season. We want to see your five best tricks, from any terrain park in North America (outside of Quebec, sorry, the laws there be crazy) and both our judges, and the voting audience will have a say in who takes the win. Speaking of judges, X Games and Olympic medalists, as well a street skiing bosses, Kim Lamarre @gUrLsKiEr and Alex Beaulieau-Marchand @abmskier will be joining the NS team on the panel. They are two of the best known freeski faces on the Auclair team and we're stoked to have them cast an expert eye on all the entries for this one.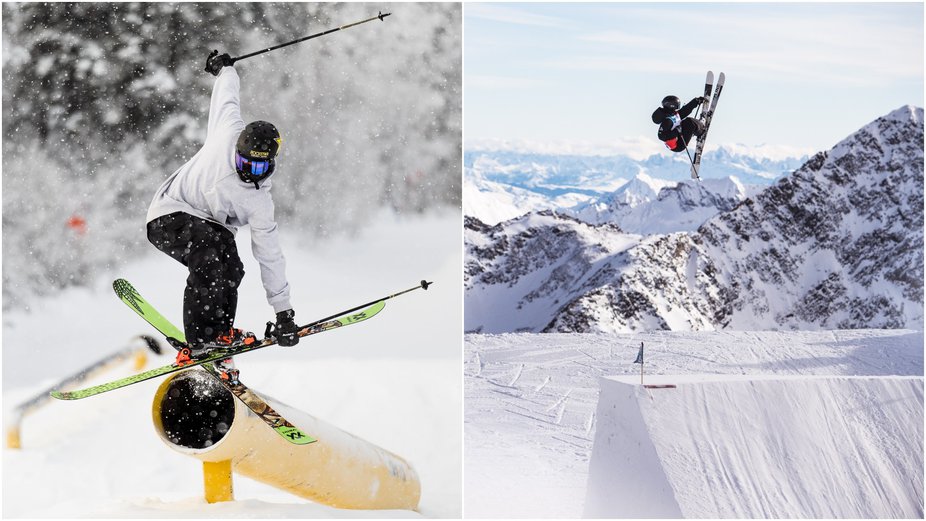 ABM & Kim will be our guest judges from Auclair. Credit: Sébastien Berthiaume & Laura Obermeyer
_
How to Enter/The Rules:
Submit a video showcasing five (5) tricks of your choice and contend against the rest of Newschoolers' finest skiers in this contest. There's only one round of submissions, voting, and judging, so make it count!
1) Submit your best five (5) tricks
2) You may edit together multiple different clips (your run doesn't need to be continuous). Entries can only be a maximum of ninety (90) seconds long!
3) Multiple angles may be used, but at least one clip of each trick must show the full trick from takeoff to landing.
4) All tricks need to be filmed inbounds at an open resort's terrain park
5) All tricks need to be filmed in the year 2022
6) Only raw audio files may be used. No music or sound effects allowed.
_
The contest has two stages, the first for submitting entries, and the second for voting and judging.
Stage One (Entries): From the contest opening date on January 12, 2022 at 12:01 AM EST to Mar 13, 2022 at 11:59 PM EST.
Stage Two (Voting and Judging): March 14, 2021 at 12:01 AM EST to the contest closing date on March 17, 2021 at 11:59 PM EST.
The Newschoolers Judges will judge submissions based on the following criteria: 25% on Creativity of the Video, 25% on Public Voting, 50% on Judges' Overall Impression of the Video.
_
Prizes: $2000.00 (US) each to the winners (female) and (male), plus an opportunity for the winners to join the Auclair ambassador team for the 2022-2023 season.
_
Eligibility: To enter this contest, you must be the age of majority in your home province/state at the time
of your submission and be a legal resident of United States or Canada (Contest not open to residents of the province of Quebec).