As a ski journalist, sat in my comfy flat in the mountains, it is impossible to write about what is happening in Ukraine and feel anything but offensively privileged. You may already have listened to the Two Planker Podcast with Julia Sosnovska which was launched a few days ago, but if not, check it out.
I've worked with Julia in her role at Double Triple Snow Fest (the insane streetstyle event in Kiev) and was actually chatting to her a couple of days before the invasion, trying to figure out how to schedule the next event so that it didn't clash with Dew Tour. Just a couple of days later, that seems like an impossibly insignificant consideration.
The situation in Ukraine seems to be deteriorating daily, with Russian forces abandoning the pretense of 'targeted strikes' and civilian casualties mounting. There are shortages of medical supplies, food and drinking water in some locations, and hundreds of thousands of refugees have already left the country, with many of those who remain preparing to fight. Julia herself remains in Kiev, helping to distribute information and work with international press and is currently 'safe'. She sent me the following letter, advocating a boycott of all Russian athletes and requested we share it with our community.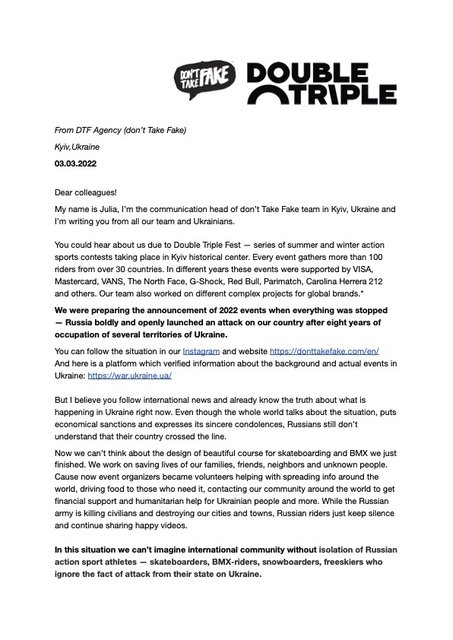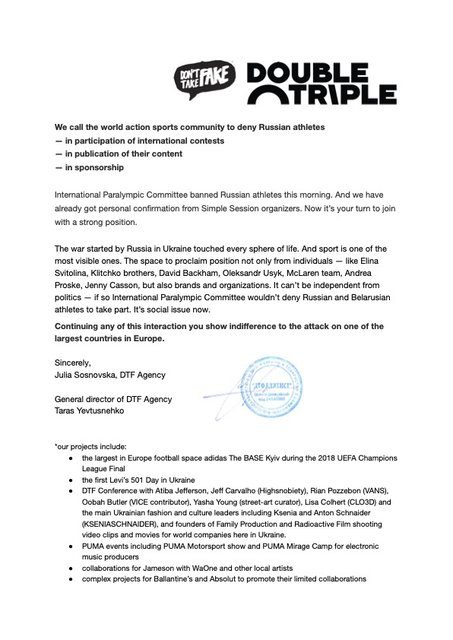 _
To find out more about the war from the source:
_
Funds to support civilians (refugees etc.)
"Ukrainian humanitarian fund", helping NGOs and UN agencies in Ukraine to assist the most vulnerable communities and people and to provide them basic support.
https://crisisrelief.un.org/t/ukraine
The National Bank of Ukraine has opened a multi-currency account to raise funds for humanitarian purposes:
UA823000010000032302338301027
This account accepts multiple currencies.
_
Funds to support Ukrainian army
The largest Ukrainian foundation, helping Ukrainian army — "Come Back Alive".
https://savelife.in.ua/en/donate/
Medical battalion "Hospitallers", supporting Ukrainian military medics.
https://www.facebook.com/hospitallers/
The National Bank of Ukraine has opened a multi-currency account to raise funds to support the Armed Forces of Ukraine.
The number of the special account: UA843000010000000047330992708
This account accepts multiple currencies.