I was lucky enough to have Mcfellon and a few other members of the UVM team give me a tour around Mad River Glen. They all seemed like pretty cool dudes, so I figured I would give them an interview to help get the word out about UVMFST and Bmashed media!
So, give those on NS who don't know you a little information about yourself.
What's up NS. I'm 20 years old and currently a sophomore at the University of Vermont, majoring in environmental science. I grew up just outside of Burlington, Vermont. I'm the best skier on the mountain.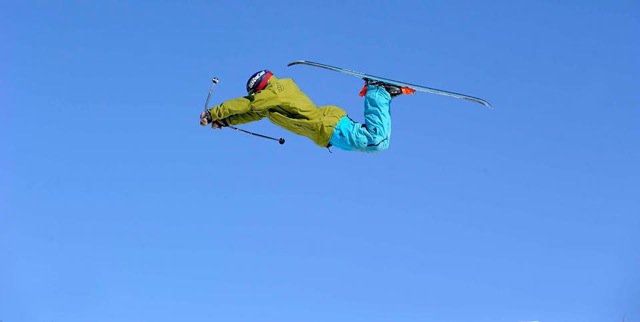 What mountain do you consider your home mountain?
I grew up skiing at Mad River Glen and Bolton Valley, but now I split most of my time between Mad River and Stowe. I have a pass to Sugarbush so I ski there sometimes too, but I'd definitely consider Mad River my home mountain.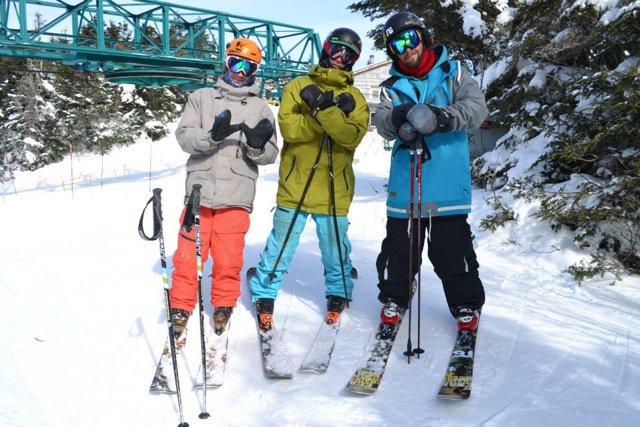 You are a member of the UVM freeskiing team, tell us a little bit about being a member there, what the team is like, and what kind of accolades the team brings to the table.
The Freeskiing Team (FST) is one of the best things about UVM. The goal of the team is to help members become better skiers, which it definitely does. We usually have about 50 kids on the team, spanning a huge range of skiing abilities. Whether you want to learn your first 360, or are trying to go pro, there's a spot on the team for you.
Being a member of the team gets you a lot of benefits. The team has a bunch of great sponsors, and members get really good discounts to all of them. The team skis at Stowe, and the pass is included with team membership. We get two vans every day of the week to drive to the mountain, which is nice because everyone is guaranteed a free ride. UVM even pays for gas. This is a huge perk, especially for freshman, because at UVM you aren't allowed to have a car on campus until your second year. Another great thing about the team is that it pays for competition fees. It would have cost me a couple hundred bucks to enter all of the comps I've competed in this year, but since I'm on the team they were free. Competitions are a big part of the team, and we do pretty well. The girls just took home first place in slopestyle at the USCSA Nationals at Whiteface. A lot of people think that the team is only for park skiers, but this isn't true at all. We've had a good showing at all the Ski The East Freeride Tour events. One of our guys took second overall this year. The best thing about the team is that we have a coach. The team brought him on a few years ago, and he's been a great asset. He's with us starting in the fall for dryland training and trampolines, and then all winter at the mountain. Big shout out to Noah Labow for everything he does for us.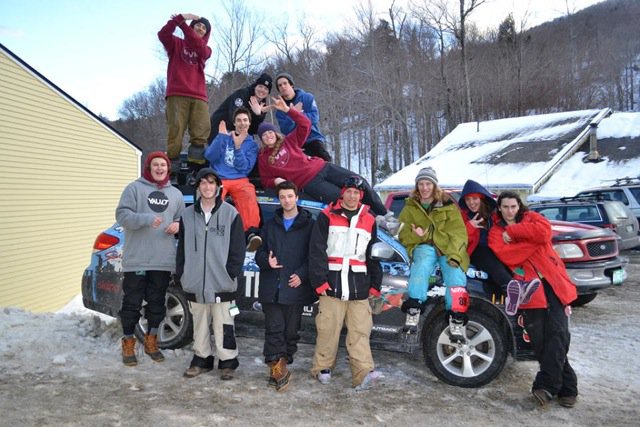 UVMFST at Mad River for STEFT
Every year, FST holds a competition series at Stowe called the Triple Crown. It includes a rail jam, freeride comp, and slopestyle comp. Every event is super fun, and we've had phenomenal turnout for each event so far. Next year we're hoping to add a big air as a fourth event. Big thanks to the other officers, Gina, Matt and Dave. They make everything the team does happen, and don't get enough credit for it, IMO. If anyone has any more questions about the team, I manage the UVMFST Newschoolers Account so you can hit me up there.
https://www.youtube.com/watch?v=1jBEjLCZfa4
You have an on-going web-series called 'Send it East', tell us a little about that and where you would like it to go in the future.
I film and edit a web series called Send It East that three of my friends and I started doing last year. Last winter, we put out three edits, all of which were received really well, and got way more publicity than we were expecting. There aren't a lot of other people putting out East Coast pow edits, especially not at UVM. Last spring we submitted an edit to the UVM Ski and Snowboard Club's Homegrown Movie Night, and ended up winning our category (Best Pow), which we were pretty stoked about.
It's been really tough getting good shots this year, since the snow hasn't been great. We did get one big storm towards the end of February, and we spent two full days filming and stacked enough shots that I could finally put together an edit. I'm really stoked with how it turned out. Two of the other Send It East guys have been filming with the Meatheads, which I'm sure they will continue to do more in the future, but I think that we'll still have time to make our own edits as well. I'd like to film more this winter, hopefully we'll have the snow to make it that happen.
https://www.newschoolers.com/videos/watch/694858/Worth-the-Wait
Does Bmashed Media have any other plans coming up you'd like NS to know about?
My friend Chris and I started Bmashed last year when we were both living in the same dorm together. The whole point was to poke fun at all the kids out there these days with media start-ups, the majority of which take themselves way too seriously. It seems like hardly anyone can put out an edit without slapping some kind of brand name on it, which we thought was pretty funny. We put out a coupled edits last year, and a few more this year. We have some things in the works right now. One that we've been filming for recently that I'm pretty stoked on documents how Chris doesn't know anything about back-country skiing, and plays up the park rat versus back-country skier stereotypes. Chris grew up skiing pretty much only park at Wachusett Mountain in MA, and when we brought him out into the back-country to film the edit he got stuck upside down in a tree because the snow was so deep. He went off on a completely unscripted rant about how much better the park was, which is going to be the closing shot of the edit. It was funny because the whole thing was supposed to be a joke, but he got legitimately angry. We've been trying to get our name out around campus, usually by putting stickers everywhere. I'm not sure other people think we're as funny as we do, but that doesn't really matter. We're having fun, so who cares.
https://www.newschoolers.com/videos/watch/633971/Bmashed-aint-no-Joke
Mad River Glen was one of the last places I expected to run into anyone from Newschoolers, you must be some of the only guys there really into freeskiing. What is it like to be at such an extremely 'Traditional' mountain when most of the freeskiing culture is trending towards park-ratting, baggy clothes and hip-hop?
Believe it or not, Mad River actually has a really strong freeskiing community, mainly focused around the Mad River Glen Freeskiing Team. I was on the team for a number of years before coming to UVM, which has definitely helped me to become the skier that I am today. The team spends a lot of time ripping the trails and woods, but adapts based on the conditions. Mad River really didn't have anything close to a park until a few years ago, and even now it's really just a few rails we set up when the conditions everywhere else aren't great. The mountain doesn't build or maintain any jumps because it doesn't have the capacity to make enough snow for it. This means that if we want to go in the air, we have to build a jump ourselves,which has a lot of advantages. For example, if you want to learn backflips, you can build a really lippy jump with a soft landing. I think that this encourages progression more way than hucking stuff off a park jump to an icy landing.
In the past, a lot of guys would get tired of Mad River and go over to Sugarbush to ski park. This hasn't happened as much recently since the team has started incorporating more park skiing. Since I my first year on the Mad River team 6 or so years ago, it's grown from maybe 15 or 20 kids to over 60. Head coach Ry Young deserves a shoutout for growing the program, he's one of the most dedicated people I know.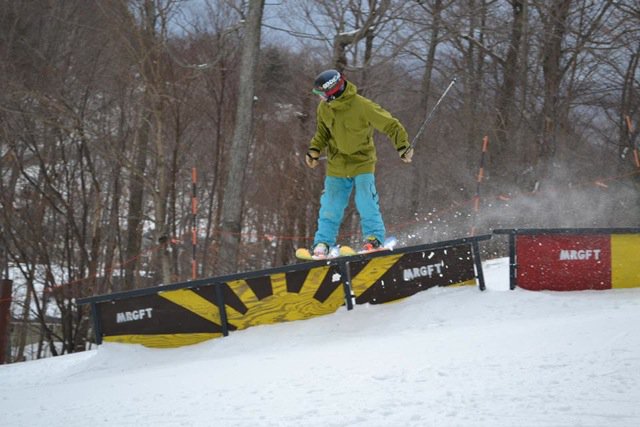 Mad River's Superpark
Place in any comps lately?
I've been having a blast competing in the Ski The East Freeride Tour (STEFT), which has stops at Mad River, Magic Mountain, Sugarbush, and Jay Peak. I got the Cliff Huckstable award at Mad River which is given out for the biggest air of the day. I've gotten a few top ten finishes, but haven't seen much of the podium. A bunch of the guys that have been beating me are moving out west next year, so hopefully I can start doing a little better then.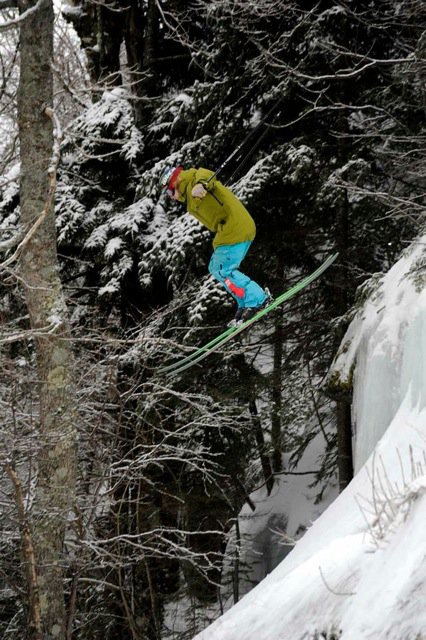 My Huckstable air at Mad River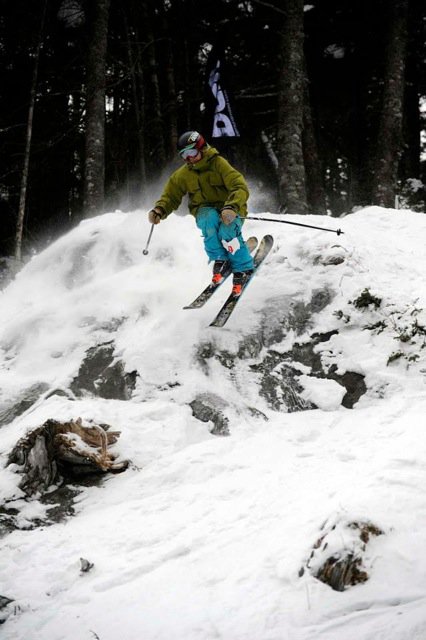 Sugarbush
I am going to go ahead and claim that I did the only invert of the Tour this year. I busted out a front flip at the Sugarbush stop. The guys over at Ski The East did a killer job running the Tour this year, I think that everyone had a good time.
As someone who had never skied Mad River Glen before, how do you think I handled the infamous 'Paridise' trail on a scale from suck to awesome?
You were totally ripping.
Thanks for your time!