Header Image: Nick Goepper, Dew Tour, Breckenridge, Colo. Credit: Grant Whitty
The Olympics in Pyeongchang are just a month away. As Olympic qualifiers are beginning to finish up in the United States, one skier has already solidified a spot on the team. As a reminder, there will be three spots available for the men and three for the women in each event by ranking. Additionally, a fourth spot is available per coach's discretion, totaling in 16 spots. Let's take a look at the current line up, break it down, and give our predictions.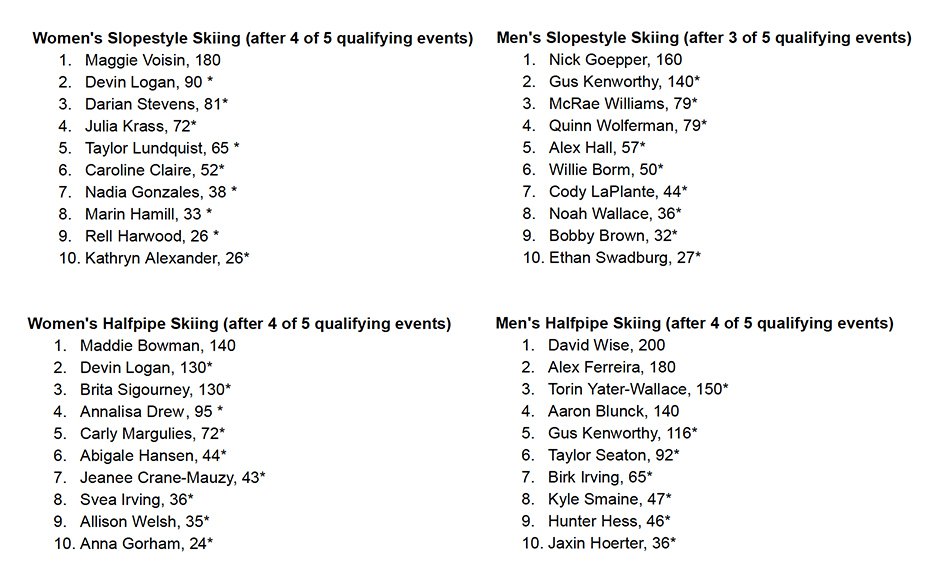 Women's Slopestyle
NS Prediction: Maggie Voisin, Devin Logan, Darian Stevens, Taylor Lundquist
Breakdown: Our predictions for women's slopestyle have only slightly changed. It seems that Maggie Voisin will be taking a spot without a doubt. We continue to keep Devin Logan and Darian Stevens in the top three as they have both been competing well. However, the fourth chosen spot is still up for grabs and will likely be between Julia Krass and Taylor Lundquist who are only 7 points apart. Taylor has really been killing it lately and has defined her style over the past few seasons, we predict that she will jump up and snag that coach's pick spot.
Men's Slopestyle
NS Prediction: Nick Goepper, Gus Kenworthy, McRae Williams, Quinn Wolferman
Breakdown: Things have changed quite a bit for the men in the last few weeks. Unsurprisingly, Goepper stays atop the list as he continues to throw down great runs in the qualifiers. It seems that Gus Kenworthy will likely knock Alex Hall out of the running, leaving McRae Williams and Quinn Wolferman with a high chance of taking the third and fourth spots. In our previous update, we predicted that McRae would bounce back after his fall at Dew Tour. McRae did just that and is now tied with Quan in third/fourth place with 79 points. The men still have two more events to qualify, giving A-Hall some room to close the gap between himself and McRae & Quan. It's not over yet for the men in slopestyle.
Women's Halfpipe
NS Prediction Maddie Bowman, Devin Logan, Brita Sigourney, Annalisa Drew
Breakdown: Superpipe for the ladies is just about to wrap up. Maddie Bowman has officially secured her spot on the U.S. Olympic team with 140 total points and two podium finishes. Devin Logan and Brita Sigourney are tied and just behind Bowman at 130 points. It's safe to say that Bowman, Logan, and Sigourney will likely take the top three spots. Annalisa Drew is 25 points behind Logan and Sigourney at 95 and has a high chance of taking the coach's pick since she is far ahead of Carly Margulies in 5th place at 72 points.
Men's Halfpipe
NS Prediction: David Wise, Alex Ferreira, Torin Yater-Wallace, Aaron Blunck
Breakdown: Our predictions remains unchanged, with the addition of Alex Ferreira. A few weeks ago, Torin was way ahead of the competition. Now, David Wise worked his way up with a whopping total 200 points. Alex Ferreira jumped from fourth place, to second overall and Torin dropped down to third from first a few weeks ago. Although not official, Wise and Ferreira are essentially locked in. We predict that the fourth spot will go to the Crested Butte local, Aaron Blunck as he has really been killing it in the pipe lately, and deserves to ski in South Korea in our opinion.
Do your predictions differ from ours? Who do you think will make it to Pyeongchang?