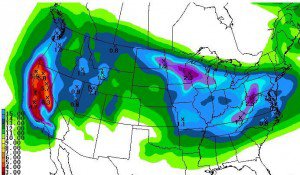 Alpine Meadows picked up another 20 inches from the snow showers over the past 24 hours. That brings the 4 day storm total to 110 inches or over 9 feet up top, and the 9 day total to over 13 feet. That is not the end as we have another 4 day storm cycle headed our way that will bring another 5-7 feet.
Snow showers fizzled out overnight as we lost the heating from the sun. Now we have a break today to enjoy the snow from round 1 as we await the next storm series that will begin tonight. Not much change from yesterday on the amounts through the weekend just the timing, so let's break it down.
The snow should begin falling on the crest by midnight tonight with some overrunning moisture ahead of the main storm. The heavy snow pushes into all areas by Wednesday morning. The heavy snow will last all day on Wednesday with snow showers behind the front last through Wednesday night and into Thursday morning. The snowfall from this first storm should be around 15-20 inches at the base and 20-25+ inches on top.
No break in the snow as the next strong storm moves in by Thursday afternoon bringing heavy snow into Friday morning. The snow showers behind the main storm will last into Friday night. The snowfall from this second storm should be around 18-24 inches at the base and 2-3 feet on top.
Third storm is now forecasted to arrive faster now by Saturday afternoon lasting into Sunday morning. This storm is weaker than the first 2 storms. The snowfall from this third storm should be around 10-15 inches at the base and 15-20 inches on top.
Storm totals by Sunday morning will be around 4-5 feet at the base and 5-7 feet on top. Basically we are getting a replay of the last 4 days over the next 4 days. Alpine has already surpassed the 700 inch mark with this past storm series and is now looking to hit the 800 inch mark.
Next week we look to have a break with a brush-by storm to our North on Tuesday and then a ridge with nice weather through Friday. The next chance of a storm is the first weekend in April. The long-range models look typical of spring with a fast progressive pattern, cut-offs, and inconsistency. This should be our last big storm series this week and then quick hits of snow going forward in April. Stay tuned???.BA
<span displayText="ShareThis"></span>