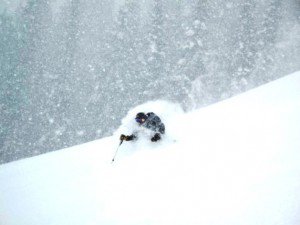 We have an unseasonably cold storm moving in tonight that is going to bring really cold air and up to 2 feet of fluffy powder to the mountain.
There is a cold area of low pressure off the coast of British Columbia this morning that is working its way South down the coast. Winds will pick up today and temperatures will begin to cool as the storm approaches.
The snow should start falling by midnight with the heaviest snow Thursday morning as the cold front pushes through. Snow showers will continue behind the front into Thursday night.
Models have be showing more moisture associated with the storm over the past few days. They now have up to 1 inch of liquid along the Sierra crest which is over Alpine. We should pick up around a foot at the base and up to 2 feet on top by the Friday morning snow report.
With highs in the teens and 20′s on the mountain tomorrow the snow ratios will be high and the snow will be very light and powdery. This is going to make for mid-winter style powder here in April. Scattered snow showers could linger into Friday as the main core of the cold low pressure passes through the area.
We dry out and warm a little over the weekend back into the 40′s as a brief ridge moves in. There is another weak storm that is going to push through on Monday but it has been trending North of us. We should only pick up some light snow showers at best and slightly cooler temperatures on Monday.
Then another brief ridge moves in on Tuesday & Wednesday with nice weather as the pattern in the Pacific undergoes a shift.