This is the story of me; Erika Dahlby, and how I'm getting started working in the industry. Newschoolers played a large role in that and I'm here to share my adventure, wisdom and struggles. I'm currently sitting at a bench on Windells campus. The sun is shining, some dog is barking and life is pretty swell at the moment. Now, I'm going to rewind a few months and fill you guys in on how I went from being some girl in Ohio to the newest employee at Windells. We'll start with my internship for Newschoolers during SIA.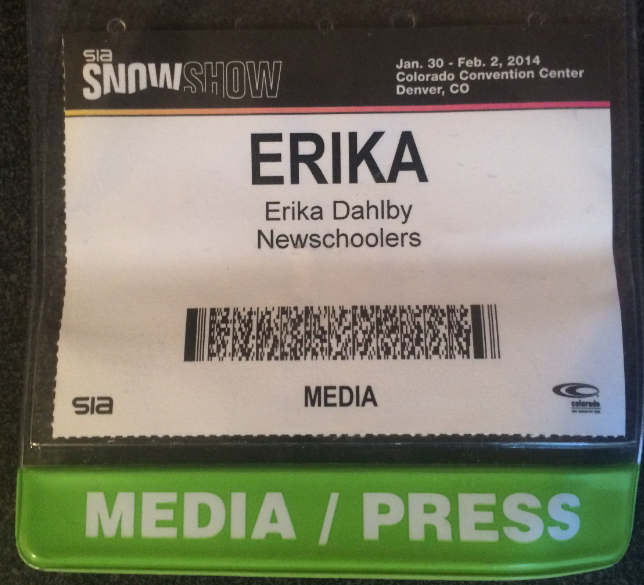 Oh my god, so official.
Everyone wants to know: how did you end up "interning" with Newschoolers at SIA? I literally sent an email. I remembered hearing Mousseau say that they were going to need interns at SIA and I wanted some experience in the Industry. Messages were exchanged and a very awkward phone call on my behalf was completed. I was headed to Denver for a week that changed my life.
I land in Denver on the 28th to spend some time with my best friend who lives in town. Let me give you some advice. If you're coming from somewhere with super low elevation (ahem Ohio) DO NOT, I repeat DO NOT hike and ski Ruby Hill for 5 hours an hour after your flight lands. It will ruin your body. But hey, I was in Colorado and no altitude sickness was going to stop me. I had never skied Colorado before and I figured I could get some solo laps in at Keystone while I was waiting to meet up with the NS crew. Apparently, I was also adding to some major altitude sickness that I was about to endure.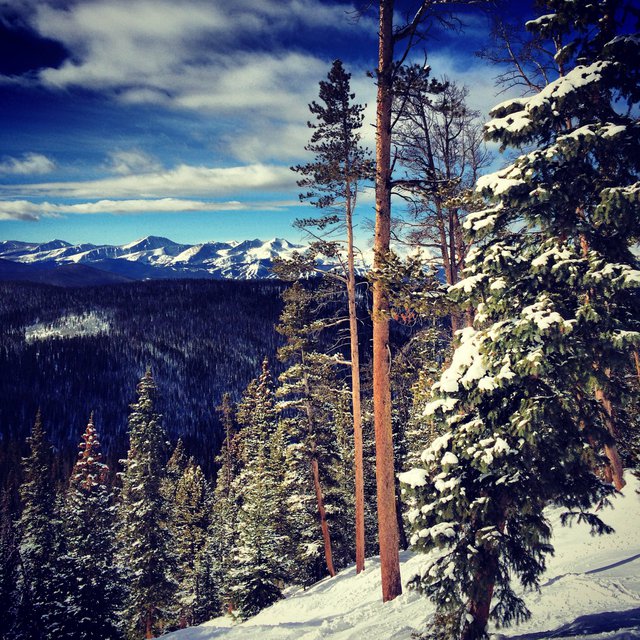 My oh my, the views were beautiful.
My friend and I walk into the 4th floor bar of the Embassy Suites hotel to look for the NS crew in a slew of people. I finally recognized Jason via some expert Facebook investigation; and we promptly exchange names and greetings over a drink. In hindsight though, I should have had water, a lot of water, instead I ordered a Crown and ginger and another and another. There were a lot of Crown and gingers. To give you guys some frame of reference, this is also the night we lost Sam the Intern. The last thing I remember too is Sam bowling that glass across the parking lot, with Bishop and I cheering him on. I got a ride back to my place, smashed some Taco Bell (this is based on the wrapper I found in my coat pocket) and got minimal rest.
The next morning, the first day of SIA, I show up and knock on the NS room's door. I apparently am the wake up call. They let me in the room as everyone starts to get ready. We're missing Sam, bets are being placed as to whether he found a nice lady, got arrested, or ended up in the hospital. We were really hoping he found a nice lady. We grabbed breakfast in hopes of passing some time and finding Sam. Luck has it, as soon as we were about to head over to the show the phone rings, Bishop answers. I hear "Are you in jail? Wait, are you in the hospital?" He rattles off some address and I plug it into my phone. "He's in Detox." After knowing that Sam was somewhat safe and wouldn't be released until 2pm we had to get on with the days work, without him. My initial plan was to walk around with Sam, do some interviews, shoot some photos and kind of get a lay of the land. What we got was a very hung-over me and a very stressed out Mousseau. We somehow survived that day, actually covering most of the companies that were on our list. That night when all the other SIA goers were going out for the first night parties, Sam and I watched comedy central and struggled to eat a sandwich at a nearby café.
Words of advice: don't go too hard the night before the show starts. Actually scratch that, just drink lots of water.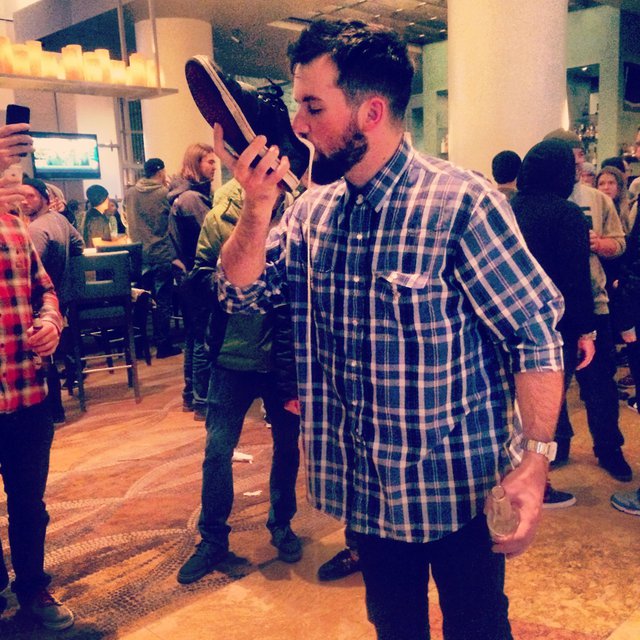 This guy.
The next few days of the show all blur together. There were interviews, photographs, and meetings galore. I met so many awesome and important people it blew my mind. Dan Brown (marketing manager of Line Skis) remembered my name one night at the bar /claim. Sam and I scurried around picking up catalogues and capturing photos. TallxT Dan helped carry the tearing bag of heavy catalogues and made sure I was actually capturing relevant material. I got to sit in on an ON3P meeting and learned how the businesses work in the industry. I had met all of the important people on the show room floor and now was the time to really make connections, share a chairlift together.
We got all checked into the room at Copper Mountain and I had claimed a sweet couch spot in the spare room. The first morning we all booted up to test out all of next years gear at the OnSnow Demo. I ended up riding with Bishop most of the day. We found a nice powder field at the very top and tested pow ski after pow ski. (Check out my reviews for a not so comprehensive list).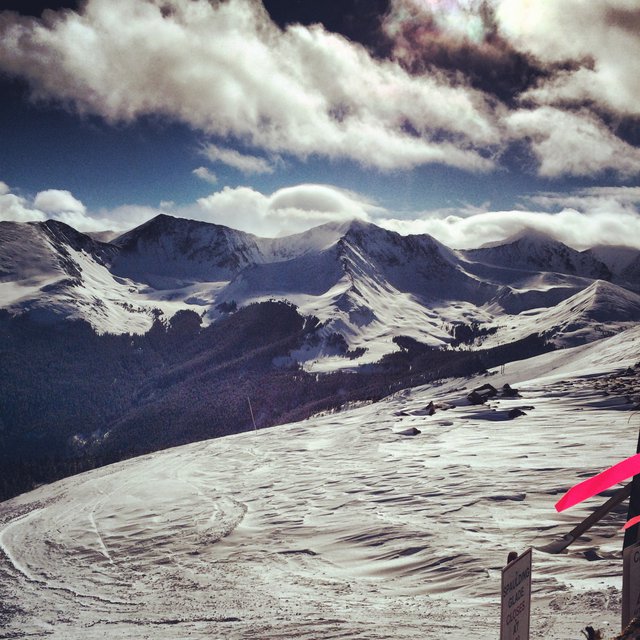 The crusty pow field of Copper Mountain.
The last few nights spent with the NS crew were great. We had discussions about the progression and regression of women's skiing, making it in the industry and a behind the scenes look into the people who run and have made Newschoolers what it is. It was about time to head home and one of the strangest and coolest things ever happened. Bishop looks over at me and says (in the godfather voice), "Erika, you're one of the family now." I looked back and shyly said "Thanks," but inside I was thinking, "Yes! I had done it!" I had made my first step into the industry and it was confirmed with that one sentence.
Fajita dinner with the NS crew.
Fast forward to a few weeks ago.
I get this big package delivered to my parent's house. It's from Canada. I tear it open and inside is a brand new pair of Faction Ambits. The crew at Newschoolers saw that my skis, a pair of '05 Armada ARW's, were barely standing the test of time. They appreciated me helping them out at SIA and sent them as a thank you gift. I rode them for the first time last week and damn, they're amazing. Once again thank you guys SO much for the skis. It goes to show, they help the people that help them.
Now if you're all wondering why I'm sitting at Windells, that's a story for another time. Check back for the next installment of Alcohol, Adventure, & A Job in the Industry: A Job in the Industry.