What an awesome day at the Brim, fresh powder snow and more terrain open. Winter has ARRIVED!The Pee Wee Ski Camp kicked off today and runs for the next 6 weeks. "Never evers" and "Fairly news" filled Kid's Stuff and Cowpath today learning the basics of our great sport. The Pee Wee Ski Camp is designed to introduce kids to the sport of skiing and hopefully make life long ski buddies to enjoy the slopes of Brimacombe and beyond!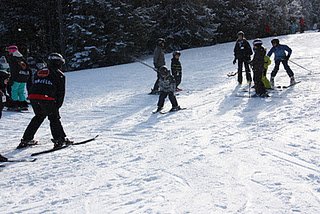 Here the "campers" learn about lift safety before being introduced to the moving lift,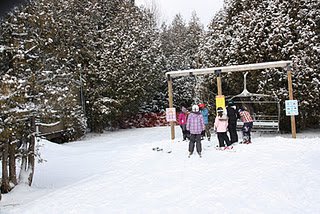 MORE TERRAIN OPENS ON SUNDAY JANUARY 22, 2012! We are pleased to announce that Tower Run and the Flyer will open tomorrow morning bringing the count to 14 Runs and 2 Terrain park.Snowmaking in progress today on Flyer and Tower Run.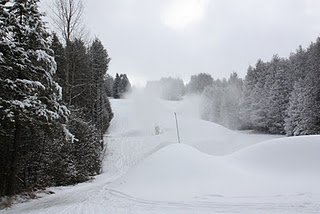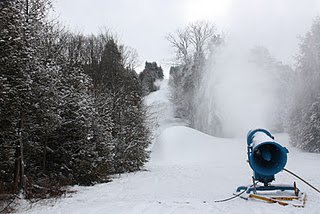 Rutherford's Cut and the Challenger are next on the list to open as weather permits.***BRIMACOMBE MEMBER MAKES US PROUD AT"THE NORTH FACE CANADIAN OPEN FREESKIING CHAMPIONSHIP"The Oshawa Ski Club now operating as Brimacombe has a long history of notable skiers and snowboarders and we now have another member making the headlines.Adam McCraw was a strong ski racer who started to take top spots in our in house Park competitions here at the Brim, and now after following his calling to the mountains in the west he is starting to appear at the top of the rankings in some big name competitions...against big name skiers from around the world!Follow this link to see his #2 ranking in "The North Face Canadian Open Freeskiing Championship" held recently at Red Mountain Resort in BC. http://www.canadianfreeskiing.com/senior-results/***SAVE 50% ON OUTERWEAR AT SLOPESIDE!SAVE 50% on all ski & snowboard outerwear at Brimacombe's Slopeside Retail Store, starting this Saturday! Applies to the lowest ticketed price on all outerwear including 686, Head, MeCo, Scott and Sessions clothing.Now also in store are our commemorative 75th Anniversary pins, as well as Brimacombe travel mugs, baseball caps and more!Visit us in-store via Gate 4, 4098 Durham Road 9, Orono or call at (905) 983-7669 begin_of_the_skype_highlighting (905) 983-7669 end_of_the_skype_highlighting ext. 226 for details, and be sure to check out the Slopeside Retail Store online.Please note: Sale cannot be combined with any other promotion or offer.Don't just take our word for it, come in and check out these amazing offers for yourself!***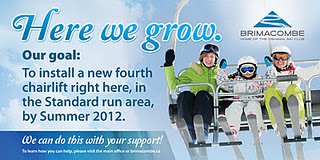 It?s an exciting time here at Brimacombe!Not only are we celebrating the 75th Anniversary of the founding of the Oshawa Ski Club, but the financial success of the past couple seasons has also allowed your Management Team and Board of Directors to move ahead with growth plans for your Club?s future success.As a first step in this long-term plan, we have committed to the purchase and installation of a new fourth chairlift to be installed in the Standard run area. Our goal is to install the new chair as soon as this coming Summer 2012, but we need your help to ensure we meet this goal. The approximate cost of a new quad chair is $1.6 million. We have already saved about $1 million towards this project, and only need to earn the additional $600,000 this winter to make a new chair a reality this coming summer. We can do this with your support!You?ve probably heard us say it before, but in case you haven?t I?ll say it again, ?Every dollar spent here, stays here!? As a not-for-profit ski and snowboard area, every dollar you spend on-site at Brimacombe is invested back into the facility, contributing to projects such as our new chairlift. It makes supporting your facility easy, and in fact most of you have been doing it already!Let?s work together to raise the remaining funds and secure a new chairlift by Summer 2012.Here are four easy ways you can help:1. Bring someone new to BrimacombeDo you know someone who would love skiing or snowboarding at Brimacombe? Take the initiative and invite them to try our slopes. Not only could you gain a new ski buddy, but every rental, lift ticket and membership sold also contributes to the purchase of our new chairlift.2. Shop at Brimacombe?s Slopeside Retail StoreThe next time you?re shopping for equipment, apparel and accessories, visit Brimacombe?s Slopeside Retail Store with one location only, conveniently located at the base of Brimacombe. Not only will you discover excellent selection and competitive pricing, but every hard-earned dollar you spend will also support the installation of our new chairlift. No other shop can do that, because Brimacombe does not operate a store in the hamlet of Kirby, Oshawa or any other town! 3. Book a lessonIs there someone you know who wants to learn to ski or snowboard, or could you yourself use a refresher? Not only will a lesson increase the likelihood that a new skier or snowboarder will stick with the sport, but every lesson booked at Brimacombe?s award winning Snow School will also contribute dollars towards our new chairlift!4. Treat yourself to lunchTake advantage of Brimacombe?s on-site food services at the East and West Chalets, as well as the Snack Hut at the top of Standard. Every food and beverage purchase helps raise funds for our new chairlift and meet our goal to have it installed by Summer 2012.The enthusiasm and support of our members is what has made the Oshawa Ski Club, now Brimacombe, so amazing these past 75 years. On behalf of your Board of Directors and Management Team, thank you so much for your continued support this season as we continue to grow and work together to raise funds to meet our goal of installing a new chairlift by the coming Summer 2012.***It's WINTER....jump in.Another day in paradise has past,Cheers,Mark