Well to
say that this season has started off with great snow up here in Alaska
would be a complete and utter..... lie. With only one large storm,
which was immediately followed by mother nature being quite obviously
on menopause (temp has ranged from 50 to -10), we have been forced away
from pulling out the braaaaaps and hitting jumps amongst the chugach
peaks, and more towards hangin out and hitting stuff in and around
anchorage. Being on a crew made up of primarily snowboarders, I have
been finding myself getting pushed into hitting features that require
me to slide them parallel rather than perpendicular, and it's actually
pretty fun.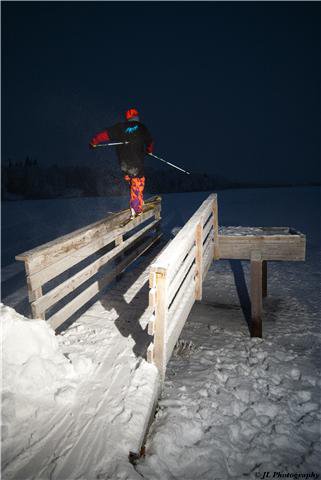 5050, 180 out, half cab off the dock (my beautiful new rockers were in the mail at this stage) JayLav photo
The
consequences are definitely much higher on stuff like this, but it
really excites me because it opens up so many more opportunities for
hitting new and different features. Here are a couple more shots with
some one ski antics:
5050 up a creeper ledge, with a very unforgiving fence that I got to know pretty well. JayLav photo
180, switch 5050, 180 out on a little creeper. JayLav photo
Then of
course one night whilst searching for spots, we came across this gem,
and I was super pumped on the shots we got out of it:
Handplant. Kris Swanson photo
Hopefully
next update there will be some beautiful Alaskan powpow to brag about,
but until then, have fun skiing because it's the most wonderful thing
to do in the world.
P.S. big ups to my favorite photographers for all their time and effort, Jeremy Lavender (http://www.flickr.com/photos/boreasproductions) and Kris Swanson (http://www.flickr.com/photos/kswanson).