I got the chance to meet Dion last season at my first contest. He Keeps busy judging the Freeride World Tour, Freeride World Qualifiers and this year the Olympics and just generally having a good time. He knows what he is talking about when it comes to skiing and is super friendly. This shows by the amount of skiers I have met with never one negative word to say about the guy, helping to guide many skiers on their way to the top.
Interview by Oli Allen
Age: 32
Home Mountain: Mt Ruapehu
Height: 189cm
Skiing for how many years: 25 years
Judging for how many years: 13 years
Sponsors: Salomon, Mons Royale
You had a pretty hectic schedule this season Judging Freeride World Tour stops and Sochi and checking out B&E. How did you find the season?
I certainly did have a hectic winter, a lot of fun and a lot of flights! I think I only had 5 days off for the entire northern hemisphere season. It was an eye opening season and some of my experiences were really humbling. Of course I had to check out the B&E, my good friend Rafael Regazzoni was the creator and it was one of the sickest line ups of style influenced riders. The skate bowl set up was epic and so original for freeskiing.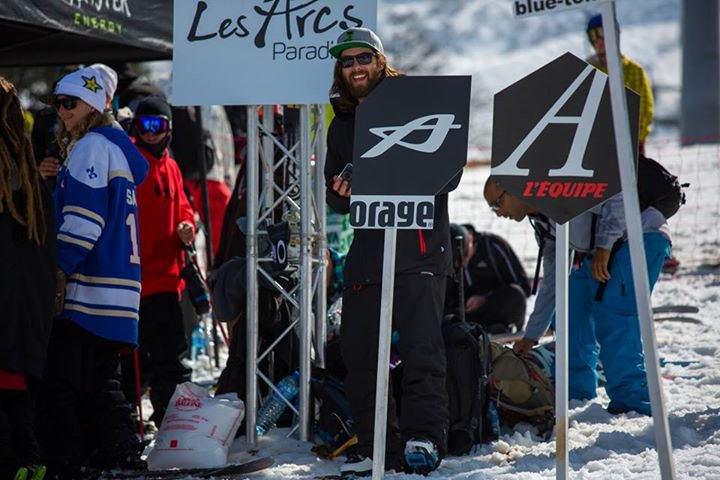 Dion at B&E. photo: Mike Norrie
Did the FIS have a big input in judging Freestyle skiing or did they offer a lot of freedom?
FIS started off by trying to implement their own judging system and judges. It quickly became apparent though that the AFP system and judges had the support of the riders and coaches. Rafael Regazzoni, Josh Luebeck and Steele Spence were the guys who worked with FIS to ensure that the judging system and event formats reflected the direction of our sport. The relationship between the core group of elite freestyle judges and FIS was good in the build up and throughout the Olympics.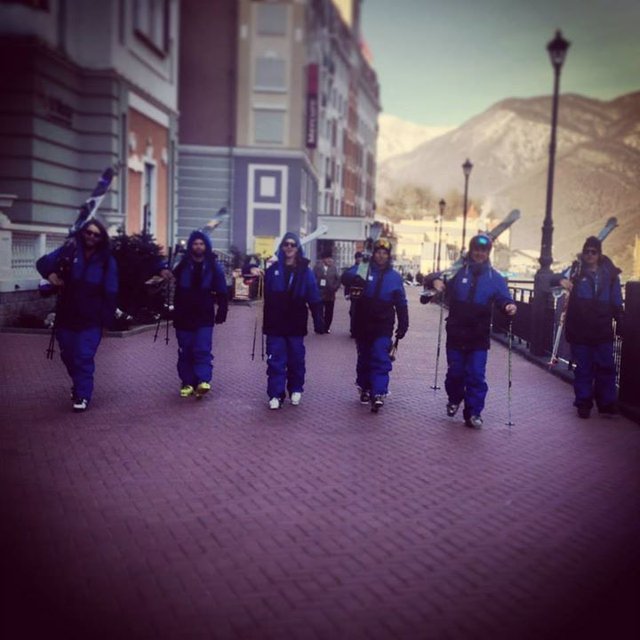 Not your average crew of FIS Judges
How was Sochi? I hear the freeski judges stuck out like a sore thumb in comparison to the rest of the olympic circus?
Yes, we certainly did. I don't think the other officials knew what to make of us. The fact we weren't over 50 and rocking race skis definitely made us stand out. The younger half of the freeski judging panel requested massively oversized FIS uniforms! When the panel was all together strutting round the village with fat skis and flat brim hats we'd get stopped by tourists looking for photos.
Was the Olympics a positive or negative thing for our sport?
I believe it has both positive and negative impacts on our sport.
Positive: the biggest positive has got to be the level of exposure the Olympics brought to our sport. I think the parents of talented young athletes might be more likely to support their kids to stay with freestyle skiing now that there is a chance to become an Olympian. Also, national sporting organizations will now provide more financial support to freestyle athletes because it's an Olympic sport.
Negative: I think the main negative impact is on the other freeskiing disciplines (mainly freeriding). Without an "Olympic pathway" it's going to be even harder for those athletes to access national funding. Also I think there is a chance that FIS will try to have one judging panel for Moguls, Aerials, Slopestyle & Halfpipe, which would be a disaster. They are totally different worlds and I think it would be impossible to find a panel that would be competent in judging all four disciplines.
Do you prefer style or spin to win when it comes to tricks?
I have always been a "style" fan. I think style is the thing that marks out the exceptional riders, the likes of Henrik Harlut, Jossi Wells etc. They put their personal stamp on already very technical tricks. That said, style is a tricky thing when it comes to judging as everyone's opinion of style can be different.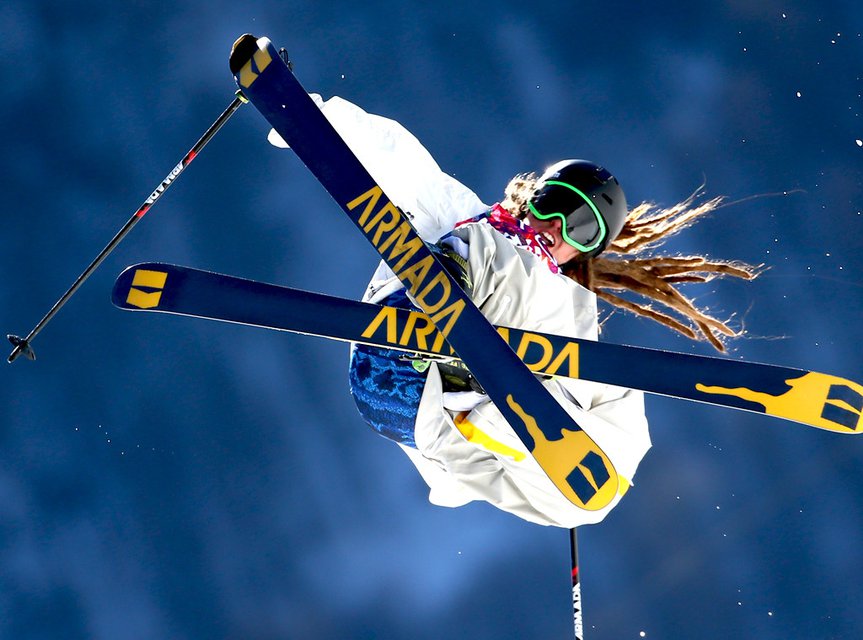 Henrik is well known for bringing style to technical tricks
How do you find it as a judge in Freeride contests now? Freestyle aspects seem to be standard in a winning run yet people like Reine Backared can still win with a fast charging line.
I have been judging both park and freeride for the past 12 years so I have really enjoyed watching the park elements cross over into the freeride events. It is almost standard now that you'll find a freestyle trick in a podium finish but the likes of Reine Backared, Sam Smoothy and Fabian Lentsch will show you that hard charging "traditional" freeride can still come out on top.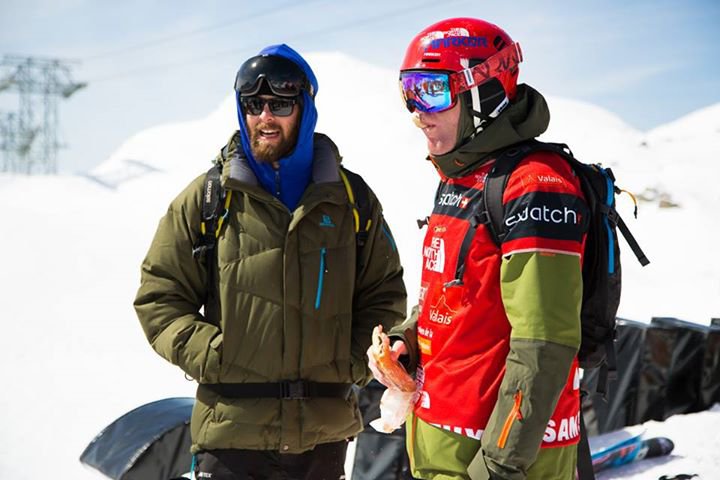 photo: Mike Norrie
What would you consider a perfect freeride comp run?
It's got to be fast and aggressive. The rider has got to show great skiing technique, actually making turns, not just pointing it. A good mix of exposure with solid landings and for me a freestyle trick thrown in, would make up the perfect freeride run. These days, the level is so high on the FWT that a rider needs to give us something special to take out the victory.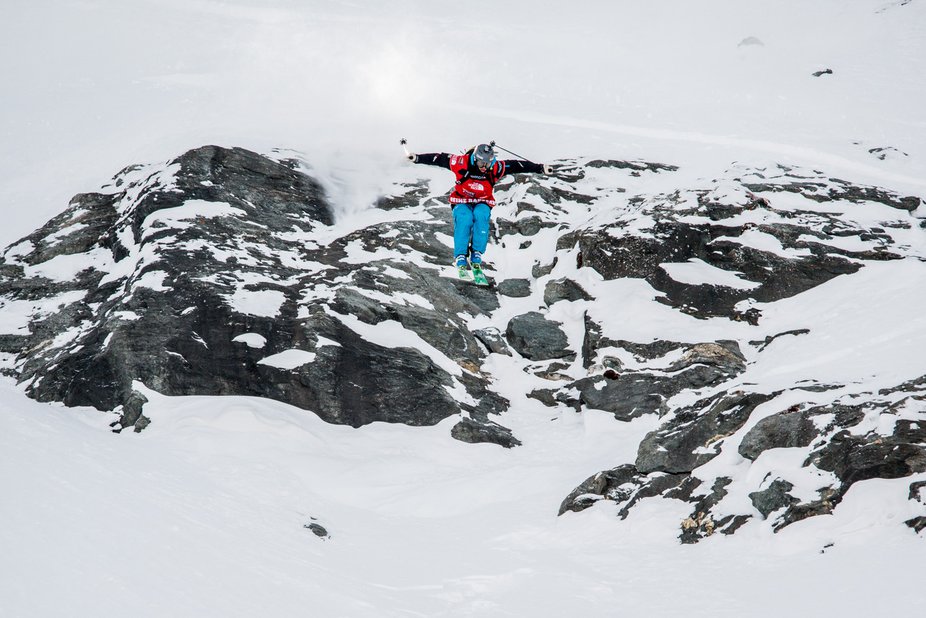 Reine Barkered shows you can still win with a more traditional run
How do you feel about the progression being made in freeride comps at the moment, from the likes of Fabian Lentsch's run in Obergugl to Ian Borgesons 360 at the Verbier Xtreme?
Fabian's run was pretty crazy! He is such a humble guy, he'd probably just say he was having fun but it really was pushing the limits. He showed how the sport is progressing without needing to have those big tricks to win.
Ian's run was one of my favourites of the season. We are always excited by seeing something that's never been done before. I was stoked for Ian, he's a great guy and what a run to put down for your first time on the Bec! His 360 was the best "move" of the day but the second half his run lowered his score with a small mistake in exposure and a little air to finish his run. It was just not quite enough to pass Reine and take the win.
http://www.youtube.com/watch?feature=player_detailpage&v=7EyJ9BUeo2k
This years Verbier Xtreme really showcased the level of the sport
Plans for this summer and next season?
I'm traveling back to NZ soon for another winter of events. Funding is sparse so we are currently trying to piece together two FWQ events with a 3 & 4 star sanctioning. I have also decided to try and put together a junior FWT sanctioned tour in NZ. I am passionate about helping our grass roots grommets get some exposure and create a pathway for our top young riders onto the JFT & FWQ tours.
Next season I hope to be doing more of the same. Working on the FWT and the FWQ events really is a privilege, months filled with awesome events, awesome people and awesome ski resorts!
Any last words?
Come down to NZ in late August/September and get amongst our park & freeride comps! It is a great scene in NZ. The smaller ski community are always stoked to welcome anyone from the skiing world. Oh and we have the best pies…