SuperUnknown, particularly the judging thereof, is one of the most hotly debated topics on Newschoolers. I was on the judging panel for the first time this year, and it involves making some very difficult calls, because you're faced with 70+ edits and they are almost all worthy finalists in their own ways. I spent hours on end watching the top ones over and over, before making my final choices, some of which made the cut while others didn't. One of the things I've seen most frequently criticised in past iterations is not picking guys that are actually unknown. In the day and age of social media skiers, remaining unknown while skiing at the level of a SuperUnknown finalist is getting rarer and rarer. But Oliver Karlberg truly was a new name to the vast majority of observers before he was selected as a finalist, and came - to most - as a complete shock winner. He's certainly one of the most genuinely unknown skiers to have won the contest. Under the circumstances, not a lot is known about his background, so I sat down with him to find out more late one night at Kimbosessions.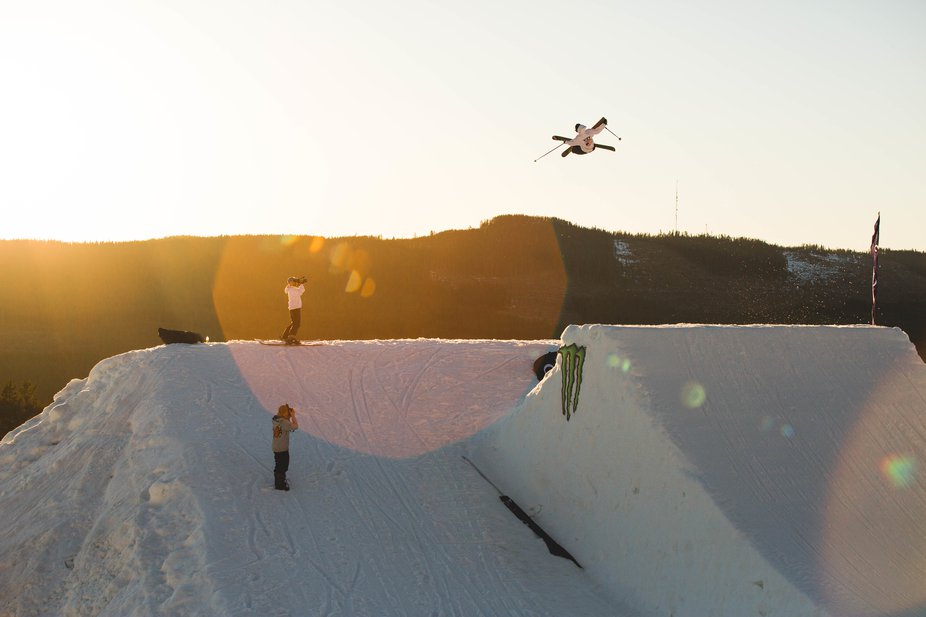 Sending for the sunset shoot at Kimbosessions. Photo: Martin Axell
Oliver, it turns out, has quite the story to tell. He didn't grow up in a big ski town but his family would holiday two to three weeks a year at Klappen or Ramundberget, thanks to their passion for skiing. There was also a small hill nearby, a local place, not the sort that generally produces ski superstars. He was hooked from day one, and decided at a young age that "what [he] wanted to do was skiing, for a living". He wanted to go to one of Sweden's ski academies in Malung. To make it, you had to be a member of a ski club, and his local didn't offer freeskiing, so he turned his hand to racing.
The tale so far is a familiar one and it was there he "learned how to actually ski right". But after several years on the race programme he found out that due to a quirk of Swedish bureaucracy, his town didn't actually allow him to go to the school he had had his heart set on. It was then that things took a turn for the less ordinary because at just fifteen years of age, he left home to pursue the ski dream. For a year, he boarded at his new school in Alvdalen, but by sixteen he was living independently, skiing as much as possible. It's difficult for me to imagine having had life sorted enough by that age to leave home, get my own apartment, and make a success of both skiing and school. It's a telling example of Oliver's character that he managed it.
Ripping local pow in trees with Kimbo for Airea. Photos: Martin Axell
As it turned out, Alvdalen was home to none other than Kim Boberg, and it was on the slopes of Klappen that the two met. It was that meeting that changed everything:
"I was starstruck when I met him for the first time. That was a big deal for me, like when he actually wanted to ski with me that was a big thing for me... He had a big influence on my skiing, of course."
Now the two shred together on the regular and their new film Airea (watch below), is their first big project together. They both have full street sections but they aren't your typical three minutes of rail shots. The whole thing is filmed within an hour of their homes in Alvdalen and there aren't a ton of rails in the area. "We only skied like two rails this winter, and we hit a lot of spots," Oliver tells me. "It's more stuff that isn't really common in street skiing". There's also a powder segment filmed in the forests that make up most of their backyard and of course some insane, as-yet-unseen, footage from Kimbosessions.
https://www.newschoolers.com/videos/watch/883693/AIREA-
Airea

After some time, our conversation turned to SuperUnknown and it's clear what the win has meant to Oliver. It wasn't something he particularly planned, in fact he only made his entry at the last minute:
"Yeah, I hadn't made up my mind [whether to enter]. I was asking a friend, when do the entries start? And then just like that it was deadline day. I wasn't prepared at all, I had to take my old clips and throw them together, it was kind of last minute. I thought I'd see how it goes, give it a shot. I thought I would be so stoked if I made it to the semifinals. And then a mail popped into my emails and I flew off the couch, I was yelling, I was so happy, you cannot even imagine. I got the final place."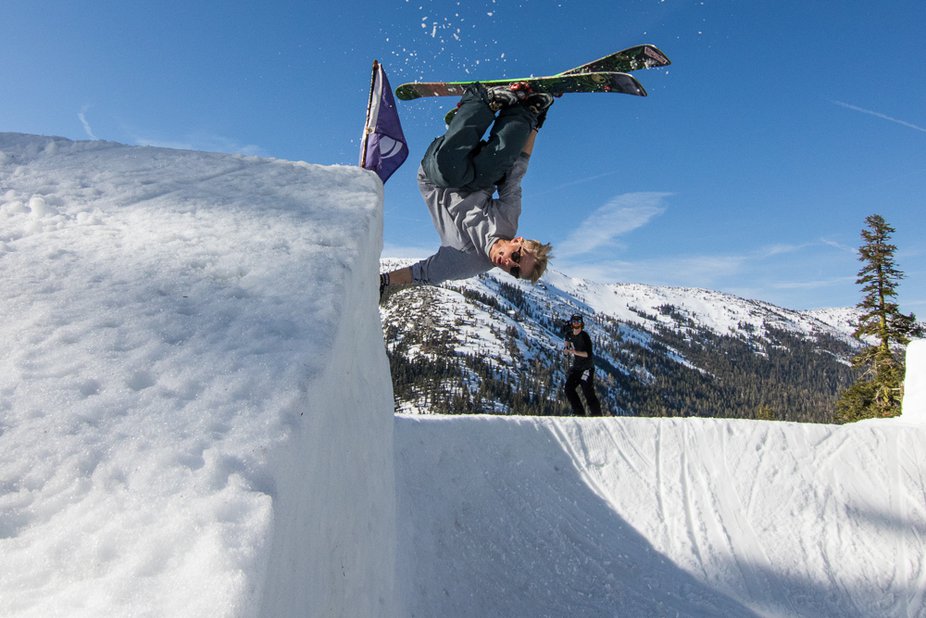 Oliver #handplantsacrossamerica at the SuperUnknown Finalist shoot. Photo: Matt Sklar
As it happens, it was a close-run thing on the judging end too. Oliver was on the borderline of finalist/semi-finalist in the discussions we had after presenting our initial picks. I believe it was Josh Berman himself who most clearly recognised the special 'je ne sais quoi' Oliver has on skis. There's no question now that it was a great spot. Oliver went on to kill it at the SuperUnknown finalist shoot at the end of which those in attendance actually vote for the winner:
"We voted the night before the last day. It was so hard to vote, because the field was so open, anybody could have won. I mean, I voted for Alexi for first place, I think he was the best. He was killing it; he was just sending it and doing it with so much style. I love that guy. When I found out I won my brain was spinning, I couldn't believe it. Like, is this for real?"
Just a month or so after that moment, he was in Mammoth for the Level 1 Habit park shoot, stacking clips that would go on to bring the curtain down on the whole movie. He may have been one of the lesser-known of all winners, but I'm not sure I can think of any other title-holder who has secured the ender for the whole movie in their first year. He certainly hasn't let the experience go to his head, he's still really down-to-earth and considered. Like many, he didn't get the chance to ski over the summer, instead returning directly from Mammoth to work in a factory near home and earn some coin for the upcoming season. And it seems likely to be one that cements his place in the ski industry because he has the full package: great work ethic, technical skills, amazing edge control, a creative outlook and a deep bag of tricks. Stay tuned, he won't be at all unknown for much longer.