words and photos by Mike Rogge
Alex "Dexter Rutecki" Kaufman is holding down the fort at Sunday River. A former freeski competitor himself, Alex, Terrain Park manager Nick Roma, and the Sunday River park staff keep skiers and riders happy all season long with killer events and features. This past weekend, the folks at "da rivah" held their first rail jam of the season, the TBD Rail Jam. Yours truly was invited up for some cocktails, some early season skiing, and to judge native New Englanders sliding some rails and boxes.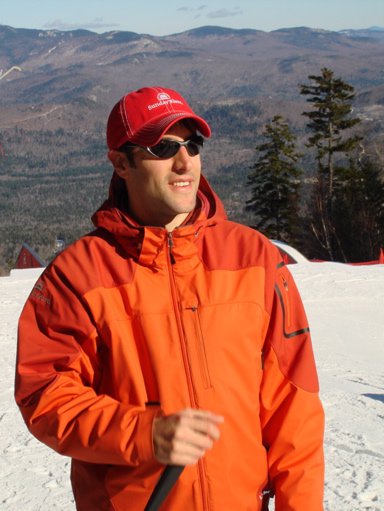 Alex "Dexter Rutecki" Kaufman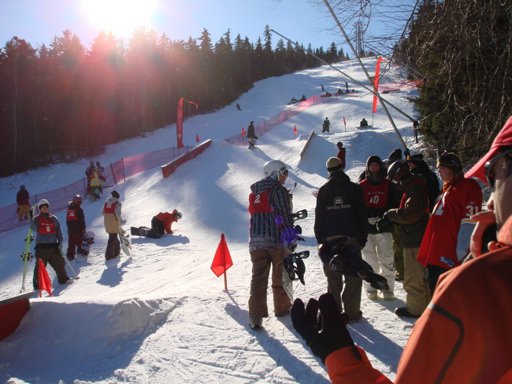 Early Season at Sunday River - Hurray!
The rail jam went down with a grand total of nine dedicated skiers. Leading the pack was Shea Flynn's little bro, Devin Flynn. Shea had best be on the look out cause little bro was perfecting 270 on pretzel 270 out on the flat down flat rail. "That kid's got pretzels down so hard, he needs some mustard!," said MC Joey Ciprari (side note: Joey was my roommate for one night, at Camp of Champions when we were 15. He used the phone to call his mom, informing her he was in Whistler, and had used her credit card to get there. Joey's a rock star.)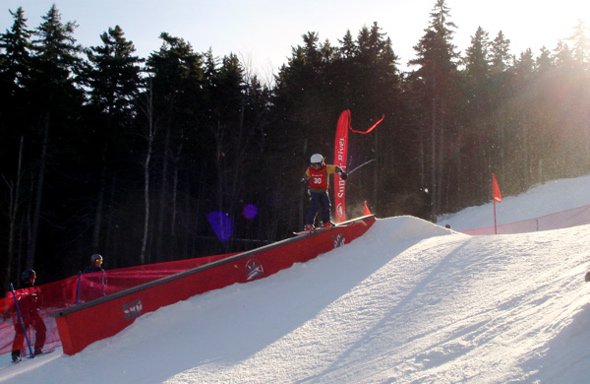 Conor "Big Man" Kelly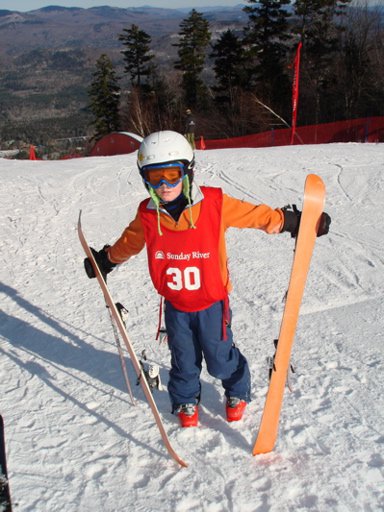 Dev Flynn took home first place, a new pair of Thruster's, and the satisfaction of knowing he's the man. Coming in second was Luke Elliot throwing down stylie and consistent runs all day. However, the story of the day was twelve-year-old grom Conor Kelly taking third. Conor is a little guy but kept up with the older crowd throwing smooth 270-on-270-out on the down box. Nice work Conor! One day when I'm an old man like Bishop and Schmuck, I'll say to youngsters, "There's nothing like an early season rail jam to get ready for a big winter." After the rail jam awards, I hopped in my Jeep, and went to meet the Dumont at Kai Clothing.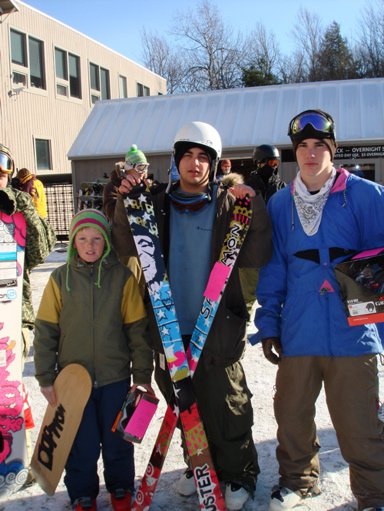 Conor Kelly, Devin Flynn, Luke Elliot
We all know Simon Dumont has been killing it over the past few years. He's rocking video segments, starting a company, winning big prize money, getting star power treatment on ESPN, and making moves in Bethel, Maine. Yep, you read that right, Bethel. The Dumonts have called Bethel home for quite some time and now they're investing in the future of the town. I sat down with Simon, his mother Barbara, and his sister Felicia during the grand opening of Bethel's newest shop, Kai Clothing.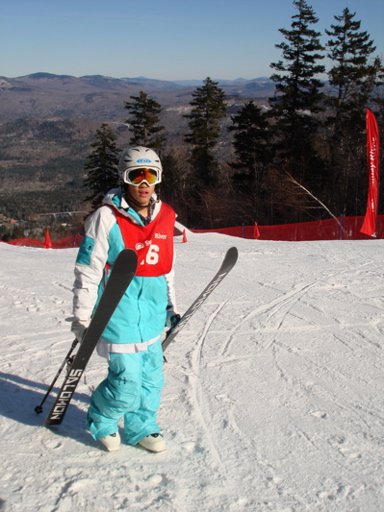 Actually, that's not Simon, but it sure looks like him
Mike Rogge: Simon, how does it feel to be back in your hometown of Bethel?
Simon Dumont: I'm actually pretty psyched. Got to hang out with the family for a little bit and have a Thanksgiving which made mom happy. Uh, it's a little boring but you know it's good to be home, relax, take some time off, and not travel so much. I head back to Colorado tomorrow.
MR: My mom is always happy to have me home as well. Must be a mom thing. Mrs. Dumont, you're always happy to have him home, I bet.
Barbara Dumont: I'm always happy to have my darling son home and to have him here with his sister and everyone else is pretty great. It's exciting.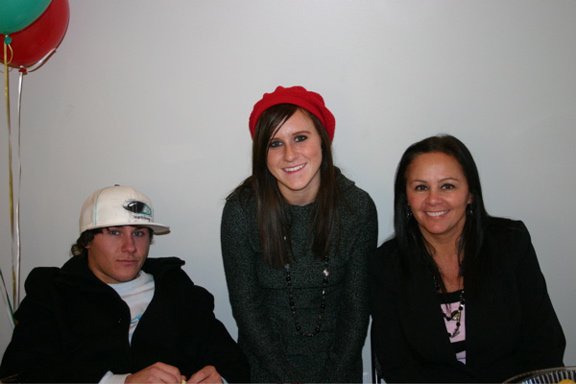 Simon, Felicia, and Barbara Dumont
MR: And of course we're here at the
grand opening of Kai Clothing, here in Bethel. I hear it's a family venture, what's this place all about?
SD: It's actually more my sister. I bought this building over here for my offices for Empire and we had a lot of extra room. My sister's into fashion and picking out clothes and all that stuff so I gave her the money, she opened up the store, and now she's got her own clothing store at 15. Hopefully she can make some money. It's a nice little endeavor for her.
MR: Mrs. Dumont, you've got to be proud having two kids running their own companies and doing well.
BD: Well there are three of them. The oldest is helping dad out and getting into that business. We're all into starting businesses, getting them going, and there are a lot of opportunities in Bethel. It's a small town, a really nice place to be, and Bethel's booming. It's the next up and coming ski town, it's being built up, and it's great these guys are apart of that.
MR: That's exciting to hear. We need more good ski towns on the East. I get the impression Simon's sort of a hometown hero in Bethel?
BD: He is. Everybody loves having him home.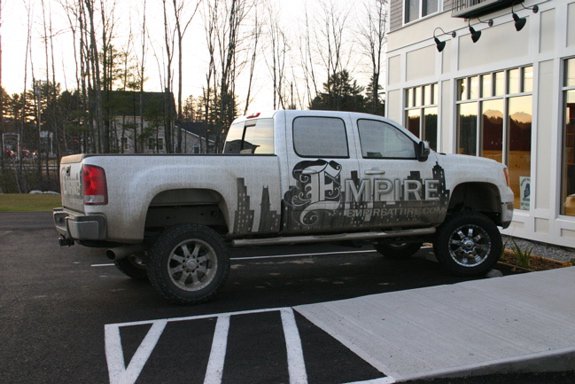 This is how you promote your company
MR: So Felicia. You're 15 years old, still in school, and now you're running your own clothing shop. How's that feel?
Felicia Dumont: It's pretty sick. A lot of stuff to do, pretty stressful but it's open and it's exciting. It's a fun time.
MR: As your mom said earlier, it's really good to have a store like this in Bethel. How long have you been planning and organizing this?
FD: It's been about six months. I spent my whole summer in here, doing stuff like getting construction done and setting up. Now I'm in school, it's hard but like I said, it's fun.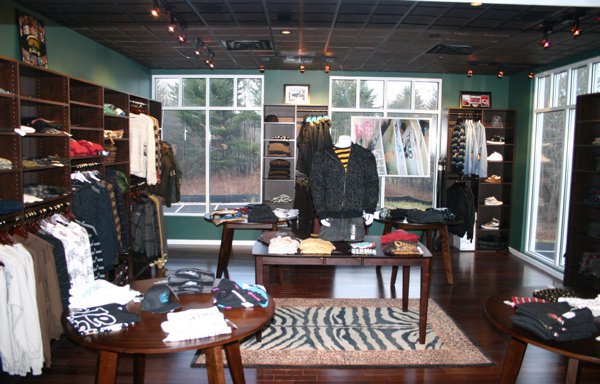 Kai Clothing
MR: Now I'm sure you're used to being the little sister of Simon Dumont but today, it's about you and your shop. That's got to feel pretty good right?
FD: It does but I like being the little sister, not in the spotlight. Today…has been interesting (smiles). It's been fun.
MR: Good opening day so far?
FD: It's been a real good opening day!
MD: Alright, well thanks and best of luck with the shop. 
FD: Thanks!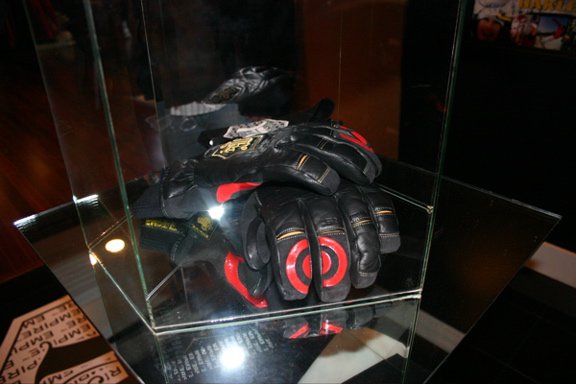 Bet you'd like to get your grubby little paws in these!
Notes:
-Sign ups for Sunday River's annual four part series, The No-Bib Jib are online now. Head over to http://www.sundayriver.com/nbj for more information.
-Empire has relaunched their site with more content! Check them out over at http://www.empireattire.com
-Kai Clothing is located on 32 Parkway in Bethel, ME. They carry clothing from Billabong, Element, O'Neil, Krew, Supra Shoes, Oakley sunglasses, and showcase Simon Dumont's latest venture, Empire.
-I'm 2 for 2 in articles referencing Aspen Extreme – Booyah!