Interview by Jeff Schmuck
Photos courtesy of Logan Imlach
Hey Logan, what have you been up to lately?
Not much man, just working up here on the north slope of Alaska, waiting for winter.
Speaking of winter, now that the snow has begun to fall in some areas, what are your plans for this season?
Same as most winters I suppose, no plans at all yet (laughs). Usually trips come together no more than a week ahead of time, so I'm just on my toes in anticipation ready to jump on any opportunity to go shred.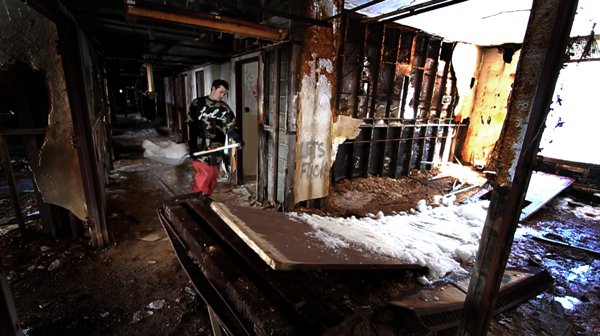 Fair enough. So for those who have been lucky enough to check it out, you put together one of the most creative urban segments of the year, and perhaps of all time, in Level 1 Productions' Sunny, and it's just been released for free online. Just how much time and effort went into making the first part of your segment a reality?
First and foremost, people have noticed the "thank you JP" that I spray painted on the wall of the building, which is exactly what I was hoping. I have been thinking about doing a line in the Buckner Building for years and just wrote it off as being a crackhead idea. JP's All I Can segment really made me believe it was possible, so I wanted to give him a quick thank you for that, as well as everything he's done for our sport throughout the years. I happened to be in Anchorage for a week so my best friend Matt Wild (who blew out his knee this year) and I headed down to Whittier and scoped out the building to see if it was doable. After about two hours of wandering around and figuring it out I just got to shoveling. Because we were only running with one camera for six of the seven days we spent there it was a very tedious process. The final day Jake Strassman showed up and helped out filming which was awesome. I also had help shoveling and importing snow on a few of the days, so a huge thank-you is also in line for Adam Monturo, Johnny Sellers, Shaun Poirot, Kelsey Fuller and Jaime Fuller.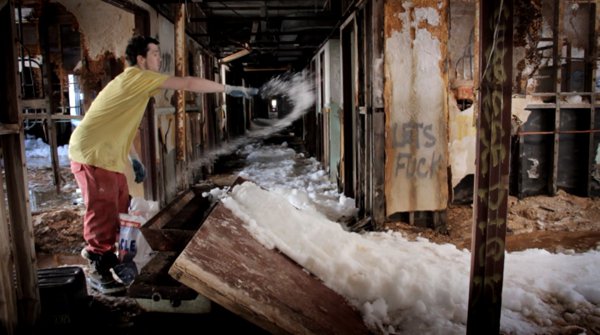 Would you like to do more projects similar to this for future segments, or was this kind of a one time deal?
I'm not really sure, Matt and I have talked about it but I don't know if I'll ever be able to top the aesthetics and griminess of the Buckner Building. We've tossed a few ideas around, but whether they ever come to fruition or not is another story! I definitely have some ideas I want to put on tape this year aside from lines though.
What would say were the most difficult and most rewarding parts of the process?
The most difficult was definitely a 50/50 split. First, it took a really long time to take what we had in our brains, and translate that into shots. That meant me repeating the same section of the line 15-20 times so we could get it to look right. The second part was moving snow. Every bit of snow inside the building was brought in by shovel and sled, and depending what level we were on that meant as far as 200 feet to get a sled full of snow and drag it through asbestos filled rubble to where we needed it. Most rewarding was the finished product. Whenever I see it I just smile. It's not meant to be the most awe-inducing shit if all time, it's just meant to make you happy about the prospect of skiing in places where one might not normally ski.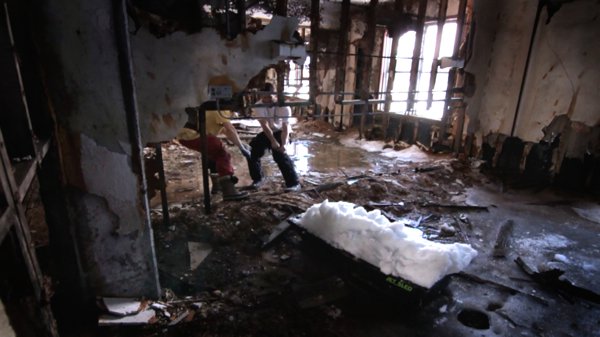 What advice would you give to anyone out there who would like to follow in your and JP's footsteps by doing something similar to this in the future?
The one thing I want to stress to anyone who takes the time to read this is that just about anything is possible with some hard work. Don't let anyone make you believe that something you think is possible isn't. So many times throughout this process people rolled their eyes when we told them what we were doing, but we said fuck em. Don't fit into any mold that anyone tries to make for you because you'll never be truly happy. If you want to make a line and you want it to be legit, don't kid yourself, it's going to take a shitload of work. But believe me, after spending seven days shoveling for eight hours and skiing for one hour or less, I couldn't have been more stoked on the results.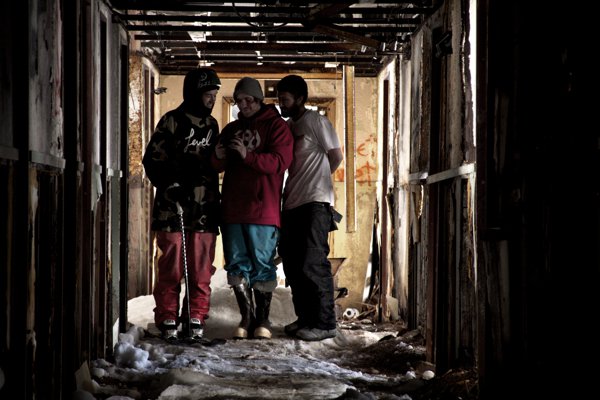 And lastly, any thank-yous you'd like to toss out there?
I thanked a few earlier, but my biggest thanks goes to Matt Wild. We've been filming together for years and I couldn't imagine doing a project like this with anyone else. Also a very big thank you to Josh Berman, Freedle Coty and Kyle Decker at Level 1, because if it wasn't for them I'd probably be just counting up the days I'd put on my season pass rather than filming. Then finally to my sponsors: Moment, Arcade, Full Tilt, Spy, Joystick, Marker, Capix and Outdoor Technology.
To download Level 1 Productions' Sunny on iTunes, click here, and to order a DVD or BluRay copy, head on over to level1productions.com.