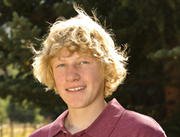 Original Article from Summit Daily:
Jason Anthony, of Team Summit, dreamed up an idea last weekend to add money to the Leif Borgeson Memorial Fund ? the beneficiary of Wednesday's 22nd Annual Enduro race at Arapahoe Basin Ski Area.
That idea is to solicit sponsorships for the Borgeson boys ? Ian and Aiden, and their partners, Dylan Walzzyk and Matt Resignolo. Sponsors would pledge a per-run amount for both teams. Anthony says so far, pledges have ranged from 50 cents to $10.

Jason Anthony, center, a ski coach with Team Summit, is flanked by 11-year-old Aiden Borgeson, left, and 12-year-old Matt Resignolo at Arapahoe Basin Sunday. The boys have been getting some training in as they prepare for the 22nd annual A-Basin Enduro Wednesday. The 10-hour ski event starts Wednesday morning at 7 a.m. and concludes at 5 p.m. with pairs of skiers and riders getting in as many laps as possible on Pallavicini. This year's event will benefit the Leif Borgeson Memorial Fund. Anyone interested in making a pledge to the fund can contact Anthony at jason@teamsummit.org
?You can donate as little as you want, or as much as you want,? he said, adding that, together, the teams could rack up more than 100 runs.
The Enduro is a ?big, heavy race,? Anthony said, in which teams of two take laps on Pallavicini terrain from 7 a.m. to 5 p.m. The record so far is 72 laps, set by Jamie Ober and Ollie Holmes.
Anthony said Ian Borgeson is coming off the weekend's Junior Freeskiing Tour held in Snowbird, Utah, where he placed fifth in the event and third overall for the tour.
And he goes right into a slew of runs at the Basin.
The sponsorships aren't the only thing adding to the fund. Proceeds from event fees, a silent auction and tickets to the after-party are to be donated to benefit the Borgeson family. Leif Borgeson, father to Ian and Aiden, died suddenly in early February while hiking the ridge at Aspen Highlands.
An Arapahoe Basin ski patroller since 1990 and a Keystone Resort patroller prior to that, Leif Borgeson was instrumental in creating Arapahoe Basin's avalanche procedures and protocols. He was recognized nationally for his work on the study of avalanches ? in particular, wet slab avalanches.
?Leif was more than just a ski patroller at A-Basin, he was part of the A-Basin family,? said Arapahoe Basin COO Alan Henceroth.
Registration for this year's event is full, but the ski area is holding an after party for those who want to contribute to or take part in the 10-hour event.
The après ski party with dinner, a cash bar and a silent auction starts at 5:30 p.m. in the A-Basin A-Frame. The fee is $15 for non-competing adults and $10 for children. The party includes live music by High 5 from 5:45 to 8:30 p.m.
Email Jason Anthony at jason@teamsummit.org with questions about being a sponsor, or to pledge an amount.
To donate to the silent auction, contact Kristen Lee at (970) 513-5742 or KristinL@a-basin.net.
Learn more about the Enduro race at http://www.arapahoebasin.com/events or call (888) 272-7246.