words and photos by Julie Weinberger
Temps in the 30s. Bluebird skies. Glory! I was in a bad mood yesterday—as you could probably tell from my qualifiers story—and today made me happy again. That's what sunny skies and a phenomenal level of pipe skiing do.
The 12 guys who qualified for Sunday's 48 Straight pipe finals found themselves with perfect weather—finally. And, despite the pipe being on the small side, the guys did not fail to go huge.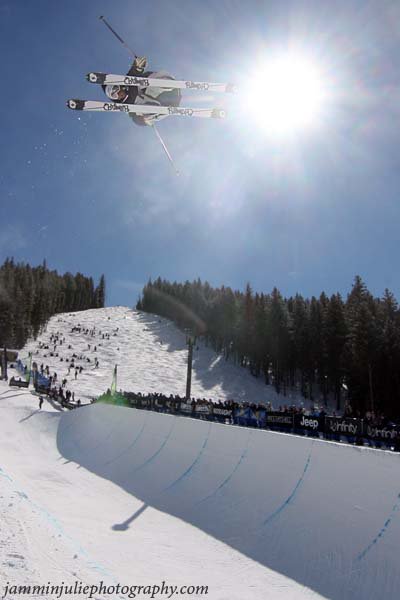 Marshall Lacroix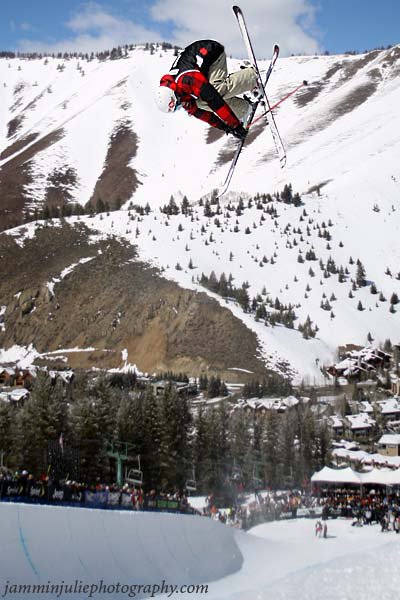 Taylor Felton
Standouts from the afternoon included Taylor Felton's huge 10s, Marshall Lacroix's back-to-back 9s, Walter Wood's bottom hit 10s, Dan Marion's switch 7s, Evan Schwartz' first hit switch 7s and Peter Olenick's flairs and right 9s.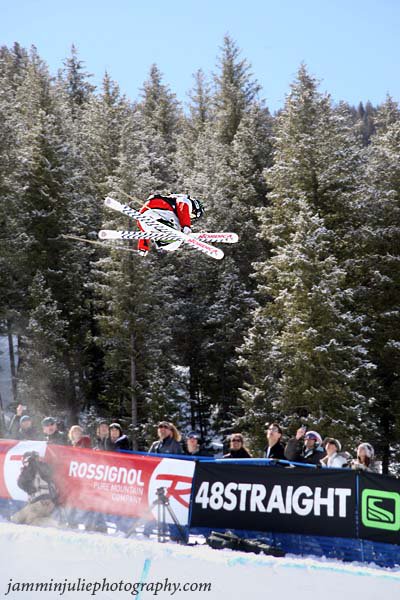 Peter Olenick
But, these weren't quite enough to get to the top three who simply went bigger than the rest of the field.
Simon Dumont found himself in third, probably because he only got four hits on the short pipe. He changed up his first hit from the last few contests, but still went huge on the tweaked 540. He followed that with three 9s. On his second run, he went for the bottom hit 10, but he unfortunately ran out of room to really stomp it.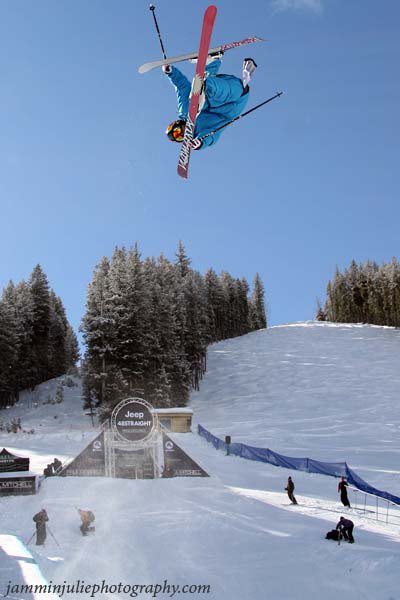 Simon Dumont
JP Solberg floated his way into second, arguably going the biggest all day. He started off his run with a gigantic 9, tossed in a lofty alley-oop flair and finished off the run with a clean 10. JP has been around these contests for a while, so it's good to see him finally get a top finish.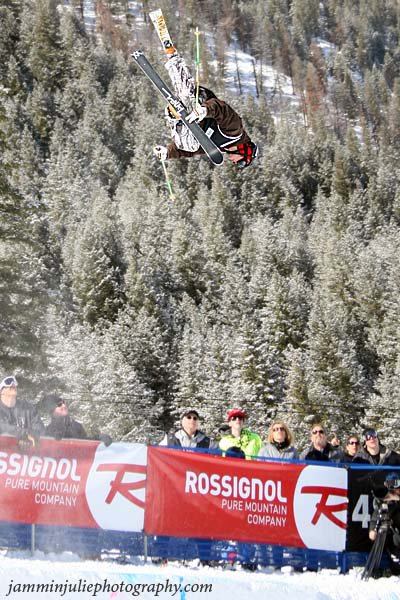 JP Solberg
The day ultimately belonged to Colby West, who has just been having a fantastic season. His stylie 9, back-to-back 7s and a 10 put him on top, no questions asked. As typical for Colby, he also held his grabs just about entire trick.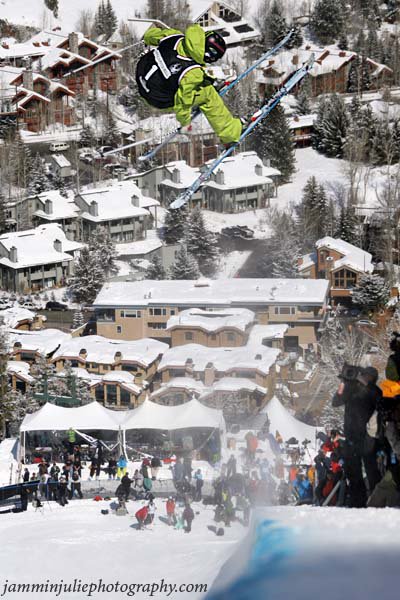 Colby West
Once pipe wrapped up, it was time for the Monster Hit. This one-hit-wonder contest paired skiers against each other, with the high scorer moving on. The eight riders got one chance to get the hit they wanted, so stomping was a necessity. Here is the breakdown: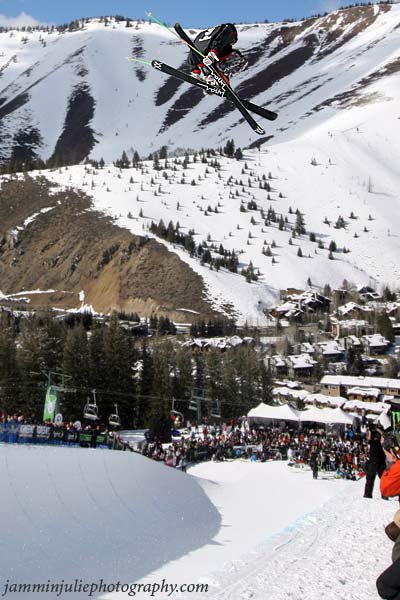 JP Solberg
In the first round, we saw Peter's huge flair take out Taylor Felton. Simon topped Walter Wood in the battle of the 9s with a score of 96. Colby took out David Wise's 7. JP took out Duncan Adams with a massive flair.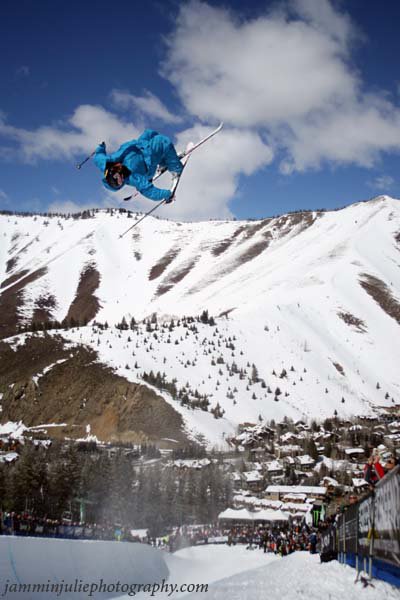 Simon Dumont
So, it was the top four guys from pipe finals in the one-hit-wonder semis. Simon stomped the crap out of huge 9, where he seemingly held the grab until his skis hit the snow again. JP stomped his double flip. JP wins by two points. Then, Colby clipped the deck a little on his 9, and Peter stomped a Whiskey Flip.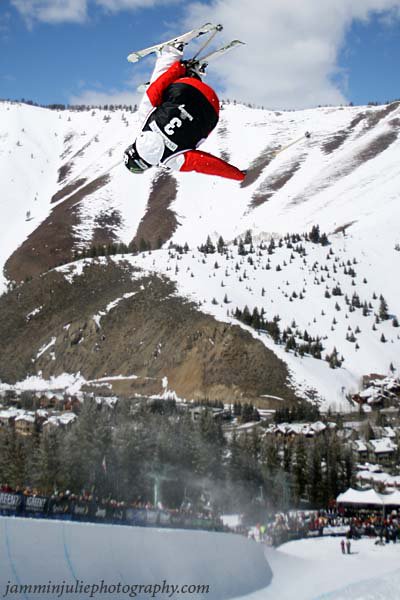 Peter Olenick
So, the final was set to be a battle of the double flip. Remember when this used to be battle of the 10? Anyway, Peter stomped it again, and JP clipped the coping a little. In the quest for third place, Simon stomped a 9 again. Since Colby had already won pipe, and thus the entire 48 Straight tour title, he opted for a Jonny Moseley mute, only instead, he went 20+ feet out of the pipe. Way to be.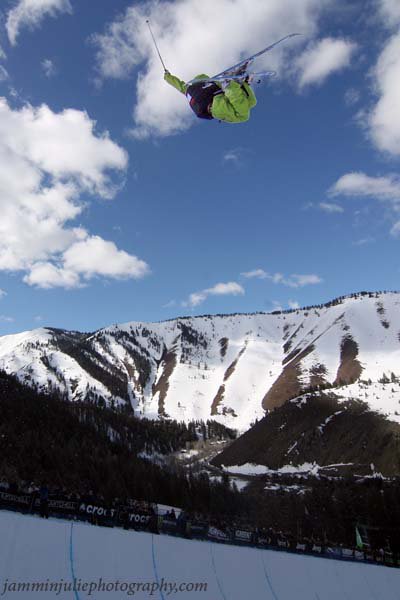 Colby West
Then, it was time for awards, thus bringing the final installment of the 48 Straight tour to an end. Awards concluded with Colby drinking out of one of his prizes and with champagne getting all over my camera courtesy of Peter. Next year, everyone on the podium needs a champagne bottle. You can't have a proper champagne fight if only one person has a bottle!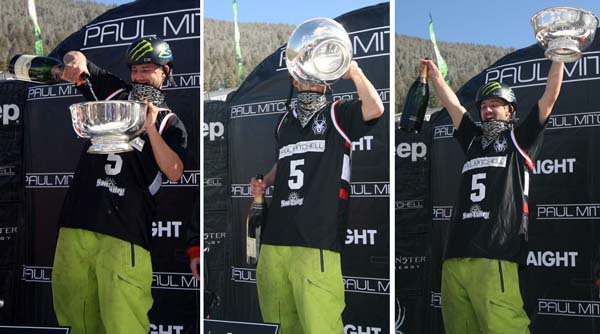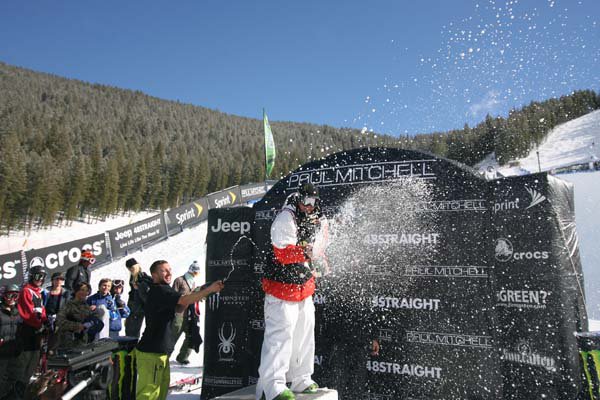 Results
Pipe
1. Colby West
2. JP Solberg
3. Simon Dumont
4. Peter Olenick
5. Taylor Felton
Monster Hit
1. Peter Olenick
2. JP Solberg
3. Simon Dumont
4. Colby West