Cover Photo By: Elmar Bossard
The women's Olympic big air qualifications went down in Beijing today and it was, yet again, unreal to see freestyle skiing on a stage as big as the Olympics. We've had some huge tricks go down at the last few world cups and we're sure to see some insane progression from the ladies this time around.
Qualifications are generally a slightly more cagey affair with riders intending to get through to the finals without injury or giving too much away in terms of their hammers - in an Olympic year you can be sure that there's a few hidden gems ready to drop. By all accounts the big air jump is absolutely perfect and things went off from the start, we saw some seriously progressive tricks and some mad steeze from the ladies.
Highlights:
Run 1:
The first round of qualies went off with the jump treating everyone very well. We didn't have too many falls; a product of the format, needing to get a score in early and an excellent jump. The session had great energy from the get go; with riders going off and looking ready to push the envelope from the start. We had a fleet of favourites drop to begin with, Joanna Killi opened things up with a switch dub 10 Japan. We saw a beautifully carved dub 12 from Mathilde for 88.25. Kelly Sildaru came up a bit short on her 10 blunt.
Tess Ledeux sent a left dub 12 mute, bigger than Mathilde's, a little nose heavy on the landing, but the judges awarded the amplitude with a 90.50 which put her on top of the pack. Kirsty Muir, the 17 year old Brit, laced up a left dub 12 safety. She went deep and earned a 89.25 for the second highest score of the first round. Eileen's left dub 10 safety to Japan gave her 89.00. In terms of other veterans, Sarah Hoefflin, last to drop set a touch early on her switch 1080, which didn't really dip into a double although still earning a respectable 85.50.
We saw some great rotations coming out, Laura Wolf sent a switch dub misty 12, although coming up short. Laura Walner sent a huge dub flat 7, missing the Japan in favour of a knee grab, an awesome send to see though, and a new one from the laides. We saw the Swedish 1000 Skis make their Olympic appearance going big on a dub 10 mute sent by Anni Kavara.
_
Run 2:
Second drops from the ladies saw the pressure build as some just had to stomp a solid trick to get a qualifying score down and others having to lace or face missing finals. The brutal nature of the Olympics was being felt throughout. The session kicked up a few gears. Already getting us fired up for the finals showdown we'll see.
Mathilde built on her first run score with a switch left dub 10 earning a 71.00. Kelly Sildaru put a score on the board with a switch 10 mute, looking clean for 85.25. Tess Ledeux laced up a switch 10 for 80.50 putting 10 points between her nearest competitor Mathilde, a whopping 171.00 to be out in front by a length. Eileen Gu lost a shoe on the 900 Buick, putting pressure on her last run. Silvia Bertanga had to deliver a run but came up short again, a nasty one, but the double fault ended her big air campaign. Lara Wolf backslapped on the switch dub misty 12, such an insanely progressive trick which everyone was willing her to land but the execution just wasn't there - although apparently it went down in practice.
Caroline Claire fell, ending her big air aspirations for big air finals, having to wait for slopestyle for another bite of the Olympic cherry. Kirsty Muir put down her signature switch misty 9 blunt about as perfect as you'll see it. The judges deliberated it, 67.0 put her just behind Tess Ledeux and Mathilde Gremaud.
Olivia Asseline's left dub 12 scored 87.00, being super steezy as per usual and Sandra Eie laced up her second double, putting together a couple of mid 70s and herself in a comfortable spot for qualification. Megan Oldham put down an absolutely textbook dub 12 earning the biggest score of the day, 91.25, and bumping Tess Ledeux off the top spot by .25.
Maggie Voisin clipped the knuckle on the left dub 12 but willed herself to stay on her feet and keep the dream alive, 60.00, needing something big in the last run to qualify. The headwind started to pick up and a few riders started to come up short, though Anastasia Tatalina sent her left dub 12 mute deep.
_
Run 3:
The headwind continued to create a little bit of trouble all round, Joanne Killi sent a switch 9 blunt but had a backseat landing, Mathilde was looking to set a switch dub but pulled out taking it to 5 and having a bit of a flail and Tess Ledeux sent a switch left 10 dub japan that she knuckled and under rotated.
Eileen Gu came in clutch and put down her 900 Buick clean for 72.25 whilst Kelly Sildaru failed to put down a big enough score to qualify, will be setting her sights on slope and halfpipe.
Sandra Eie's left dub 10 was sent bigger than her previous one in an effort to just sure up that score, earning 84.50 and going up into third. Marin Hamill put down a switch right 7 stomped for 66.25 and bumping Sarah Hoefflin out of the bubble. Maggie Voisin went huge on a switch left 900 mute, only scoring 68, not enough points to qualify. Anastasia put down the best 900 of the day with a lead Cuban that was super ill. Sarah Hoefflin showed her experience opting for a switch 7 safety to finish in 9th place and take a spot in finals.
_
Results: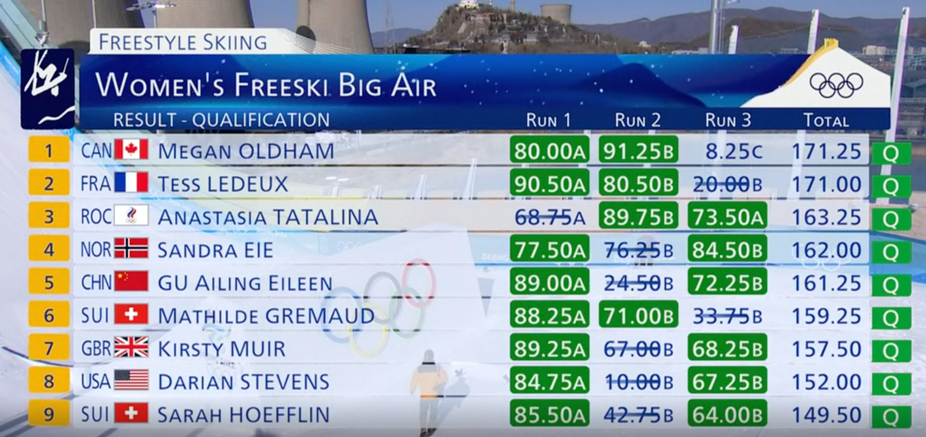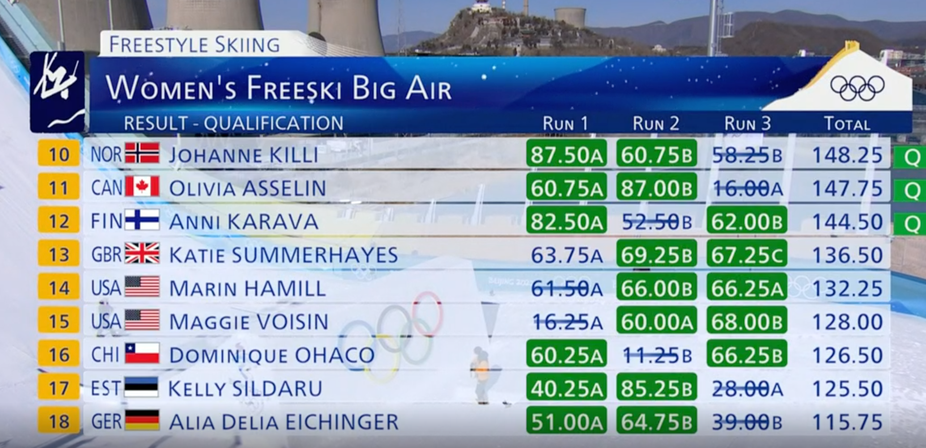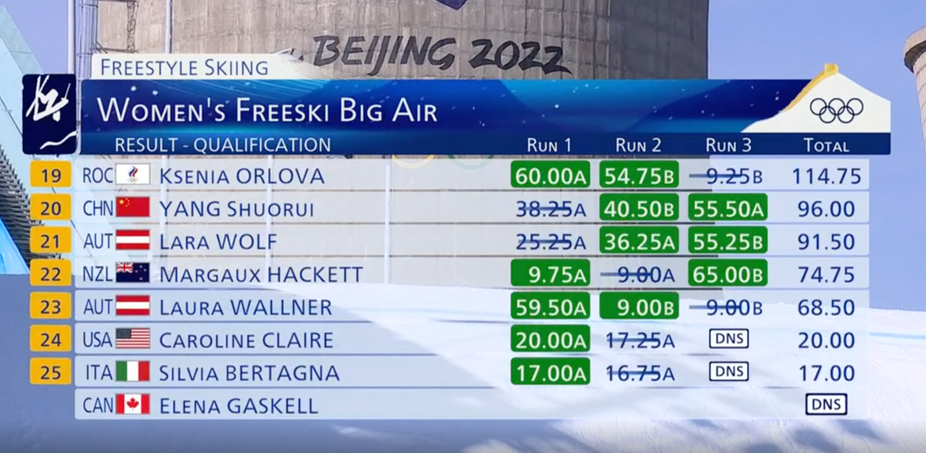 _