2011 Toyota One Hit Wonder Down Under Calls for Skiers to Audition
Recently premiering on Channel Nine in a one hour exclusive, Australia's most watched big-air competition, the Toyota One Hit Wonder Down Under is returning to the slopes of Thredbo with the first stage (the "Audition") launched today.
International and local skiers are invited to capture and submit online their best 'one-hit' tricks, before the 20th of August for their chance to compete as part of the final 16 at Thredbo Resort from the 6th – 10th of September on the Charles Beckinsale built park feature.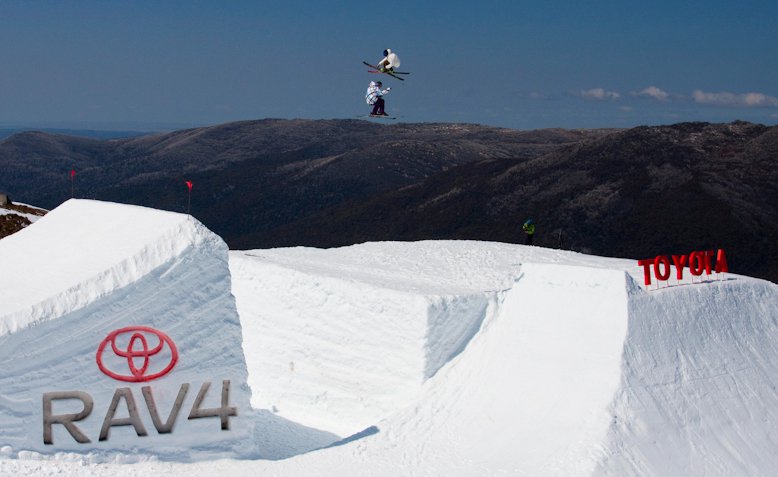 Charlie Timmins & Tim Myers. Photo by Ryan Anderson
This is a totally unique big-air skiing event whereby you, the people, decide the winner. "A format that is unrivalled worldwide, probably, except by 'Idol'" says Event Director, Tim Myers. After the finalists have gone head to head in the monster jump, a virtual grandstand, made up of anyone connected to the Internet, will then have three weeks to vote online at http://www.onehitwonderevent.com for their single favorite big-air trick to take home $10,000 in cash.
"Now in its third year, the Toyota One Hit Wonder event has made its mark as Australia's best showcase of skiing talent, and in 2011, competitors and spectators should expect a new level of trickery amongst the gum trees" says Myers.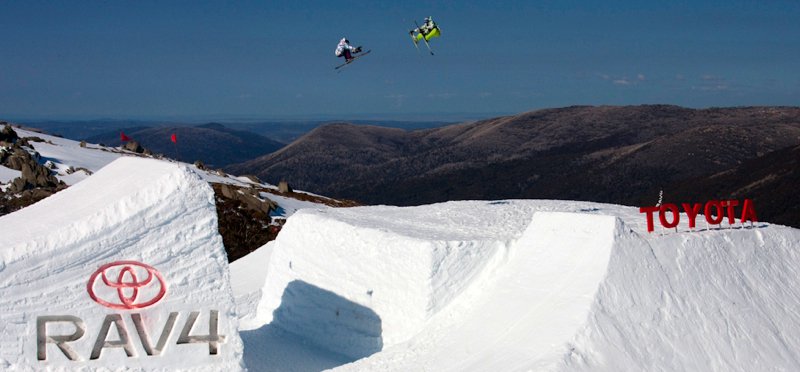 Jesse Houghton & Tim Myers. Photo by Ryan Anderson
Each member of the public who votes will also go into the draw to win the 'Ultimate Winter Package' worth over $10,000. This includes an all-expenses-paid holiday for two to Hakuba Japan, staying at the luxurious Phoenix Hotel, a complete Salomon ski or snowboard package, Von Zipper eyewear, plus a GE DV1 HD Waterproof/Shockproof Video Camera to film the trip.
In 2010, international ski superstar Bobby Brown from Breckenridge Colorado won the peoples vote. "The jump was one of the best I've hit and the competition format made for a very fun week, Thredbo did an amazing job" says Brown, who when asked if he would be defending his title in 2011, replied "my plane ticket is already booked.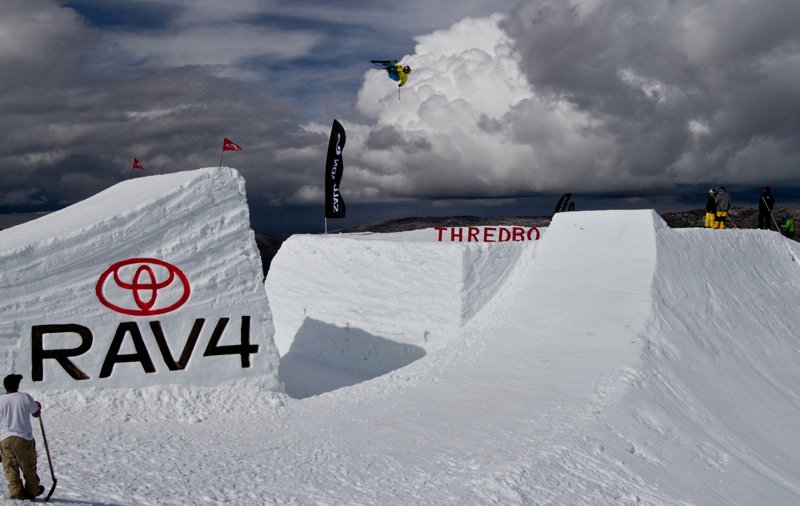 Bobby Brown. Photo by Ryan Anderson
As well as the publicly voted champion, the athletes themselves will vote at the end of the week to decide the most impressive peer performance to be awarded at the Thredbo Village after party on the 10th of September.
To audition for The Toyota One Hit Wonder Down Under Event, skiers must either email a downloadable high-quality video link (such as yousendit.com) to auditions@onehitwonderevent.com or upload it to vimeo.com themselves and email the link to auditions@onehitwonderevent.com by the 20th of August.
Our Overly Dramatic Audition Invitation from One Hit Wonder Event on Vimeo.
More info at http://www.onehitwonderevent.com/audition