U.S. Open Slopestyle, Final Day
Words: Ian Kirkpatrick
Photos: cko
If anything, the unseasonably warm weather today at Vail was an indicator of the competition. All the action aside, the Semifinals and Finals of the U.S. Open were pretty typical. The normal contenders made it and the up-and-commers brought the fire to make it a good show. Mike Douglas put it best, "It's been off the hook, pros were even sweating in qualifying." This field was a little more stacked than most expected as Tanner showed up at the last minute. "I'm supposed to be filming right now but this is probably the last Open ever and I wanted to show up." Unfortunately sketchy judging, another re-occurring
theme in the U.S. Open, was present. Josh Bibby had a solid first run in the semi's including two Cab tens and ended up barely getting into the finals. Pete Olenick killed the rails in his semi-final runs and should've won his heat... he only got second and went on to a fourth place finish.
This year's semi-final heats were populated by a group of ultra-talented teens not even old enough to drive. Fourteen year-old Mike Hentuck from Calgary nailed all of his rails and his first jump switch, a la Pep. Derek Sprong was the youngest gun of the day. The 14 year-old from Seattle, Washington is the newest prodigy coming out of Momentum Camps under Mike D's wing. He greased the 'truth' rail, a long rainbow C jib and Uncle E had some of his more insightful words ever commenting on Derek's 'Tanner-esque' tweaks. Sprong ended up sixth, attesting to the true spirit of the Open, any kid with the skills can take on his idols. Ninthward youngin' Tosh Peters also had a good showing.
Anybody who thought the girl's slopestyle was a perfect time to grab some lunch missed an impressive display. On her first run, Miss Future of Women's Freeskiing Grete Eliasson killed it, crashing on the last hit after taking it bigger than most of the guys. That seemed to be the theme of the rest of the girls' finals that included two spectacular wrecks. Michelle Parker greased the Truth rail
her first run and also charged the bottom hit with a ton of gusto. Ashley Battersby kept up her reputation as one of the steeziest girls on the scene with a progressing line of silky smooth 360 to 540 to 720 on her three airs. Grete one-upped the Park City girl by going from five to seven to murdering a nine on her air line after showing major confidence on the steel. Battersby ended up in third, Sarah Burke maintained her title as the best known female freeskier in second place but Grete came out on top with a run that will definitely raise the female park bar.
Speaking of bars, the finals brought sheer destruction of the preexisting standards for park freeskiing. Charles Gagnier showed he meant business by finishing his rail line with a switch-up on the Truth jib. Then his jumps... If you thought the way this kid moved in the air was skilled,Charles is bringing it this year by corking his stuff out to a crazy degree. Tanner was Tanner, rising to the occasion as always. Albeit that Tanner didn't want to come this year because he felt this comp was a place for the new talent to break out, there was no way he would have backed his game down an inch. Jon also put out his best effort stomping about the hundredth cab 1080 that day. Also, Jon was looking very toight in his new Jlindeberg enseble, an aquamarine pant and coat with a massive, fur-lined hood. If anything, this probably helped Jon out by being the most noticeable skier out there today.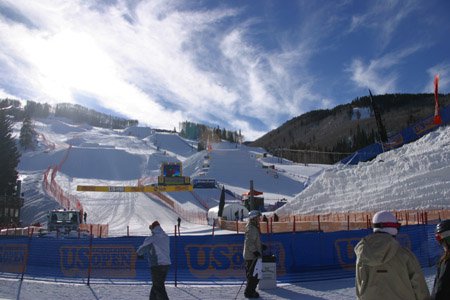 Another beautiful day at the office.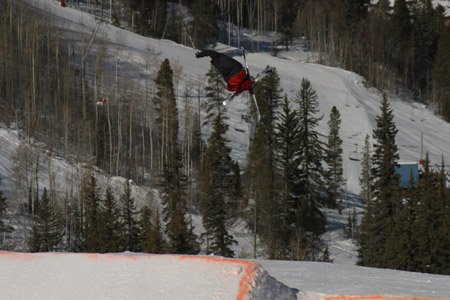 The Dumont.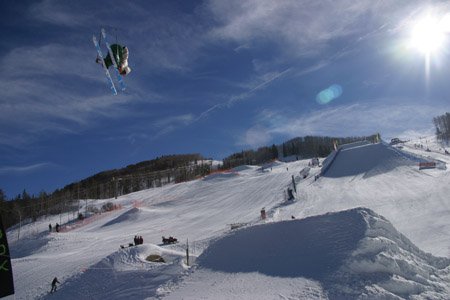 TJ makin' em say ughhhh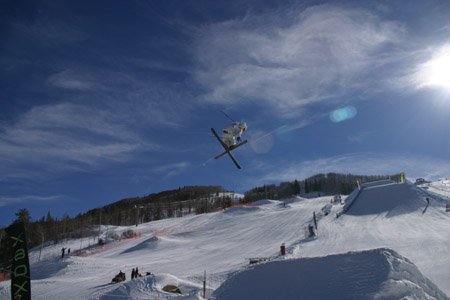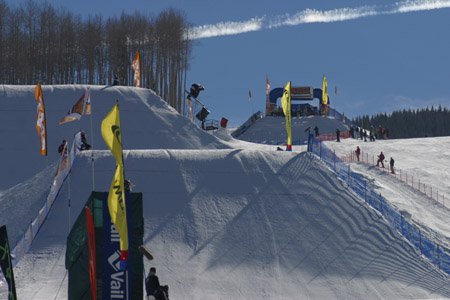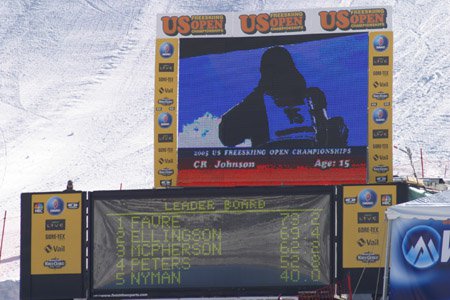 Grete winning the championship for the ladies.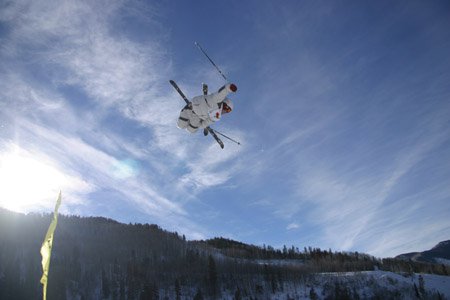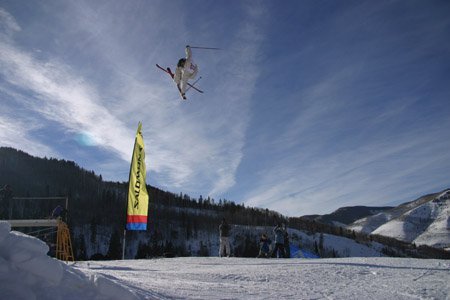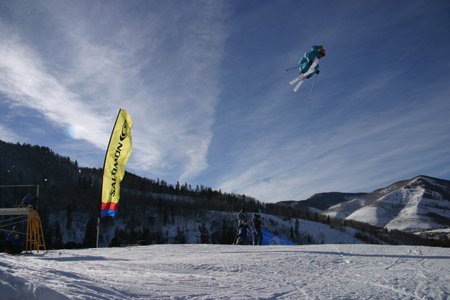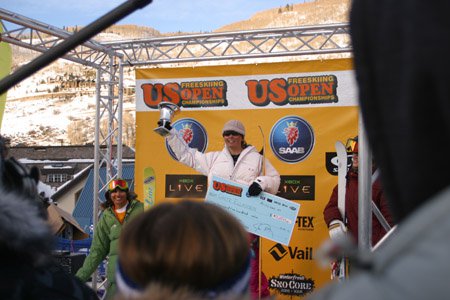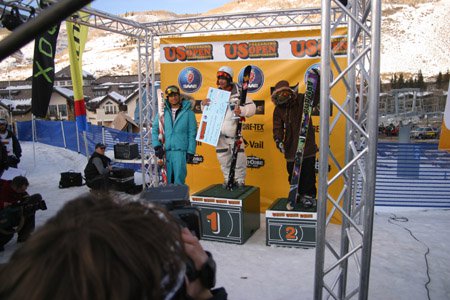 Gagnier with the cheque, t-hall with the new Armadas.