By Ethan Stone and Teddy Knape
Every year sometime in April, it's the same old story at Whistler-Blackcomb: same old festival, same old competitions, same old skiers. Or is it? Mike Douglas doesn't think so; nor, for that matter, do any of the competitors in this year's World Skiing Invitational held April 22-25, where the old met the new, and both went bigger than ever before.
Friday morning grumbled to a start with foggy heads and foggy skies, as skiers still fighting off the residue of the previous evening's partying headed up the gondola for Superpipe qualifiers at Blackcomb's Nintendo Gamecube Terrain Park. An immaculate halfpipe awaited, as did a thick layer of fog that hovered just below the pipe's elevation. Organizers and skiers prayed to the fog gods to keep visibility clear as the women's qualification round started at 9:30am.
Women's Superpipe Qualifiers
A hefty field of twelve women skiers were on hand to duke it out for five qualifying spots, but no one on hand was prepared for the competition that followed. The girls took to the pipe for an hour of jam-style competition, with each competitor putting in as many runs as possible within the time limits. East Coaster Jen Hudak set a new standard for women's halfpipe with bigger airs than many of the male competitors had been boosting during practice. With 15-foot airs, a massive 540, and an alley-oop 360, her second run netted a 67, the best women's score to be posted in the qualis. Head rider Kim Stacey's flairs brought her the second place qualifying spot, and Cat Smiley, Karin Corcoran, and Emily Higgins rounded out the five qualifiers to get the nod for finals against the world's best on Saturday.
Stacey, a former professional snowboarder, is in her first year of skiing competitively, and was stoked on the level of competition. "All the girls were killing it; everyone was going big,� she said. "It was awesome to see.�
Men's Qualifiers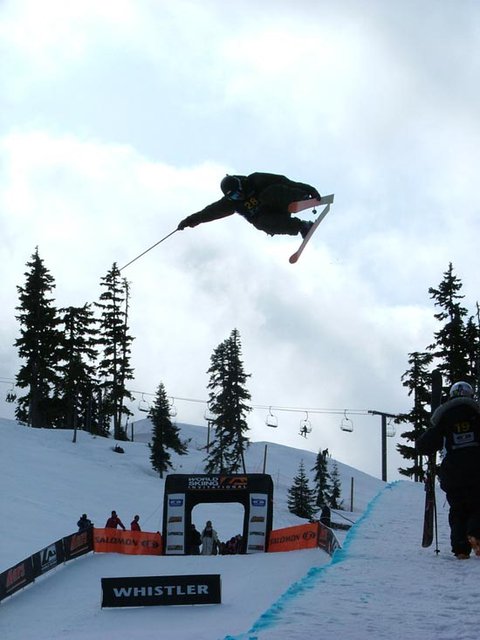 As the women's heat finished up, a field of 67 would-be WSI champions divided into two heats bull-rushed the stunt ditch to win the judges' approval and one of ten coveted spots in Saturday's final.
Heat One was stacked with the likes of East Coast upstarts Corey Vanular and Matt Philippi, Peter's little brother Michael Olenick, Chris Booth, Ryan McKeeman, and a slew of other pipe dogs from across North America. Riders immediately took advantage of the perfectly cut walls to boost huge and strut their stuff for the judges. Philippi set the standard for the men's qualifiers and took an early lead with a huge run led off by a corked 900 first hit. Vanular stepped up to Matt's challenge, showing the skills that beat out a field including David Crichton at this year's Vermont Open. After allowing brief glimpses of sunshine, the fog rolled in in the middle of the heat's jam, complicating runs for riders and judges alike. After five runs, Vanular had posted the highest score with an 88, with Philippi in second at 83. Alaska's Tim Durtschi snagged third, ahead of Charley Ager, James Hillier, Erick Kallbom, and Josh Stack.
TJ Schiller.
The sun was back out for the second heat, where riders had difficulty stepping up to the bar set by the earlier heat's competitors. Matt Sterbenz stood out amongst a field of younger competitors with smooth natural and unnatural 540s, taking second only to Brandon Kelly. Local boy Oakley White-Allen rolled into third place, followed by Arnaud Kugener and Darren Camplin, but the real show of the day was Whistler local and future superstar Sean Pettit. This eleven-year-old was boosting out higher than skiers twice his age with massive 720s; it's no wonder he'll have a section in next year's Tanner Hall/Eric Iberg superfilm WSKI106. Unfortunately, Pettit's efforts received only a seventh-place commendation from the judges, eliminating him from the finals. As the day's pipe events concluded, the top seven finishers from Heat One and the best five from Heat Two advanced to Saturday's big show; two extra riders were qualified to fill the absences of John Symms, recuperating from knee surgery, and Dave Crichton, who canceled last-minute due to a sudden illness.
"The heat format worked out pretty well,� Philippi said after his final run. "It gives a chance for skier to really push themselves after they stick their basic runs.� He added, "Tomorrow is going to be outrageous!� Corey Vanular, the top qualifier, seconded. "The pipe is absolutely perfect,� he said. "A lot of kids have learned a lot of new tricks, and I think tomorrow might be a bit different.�
After the qualifier carnage was cleaned up from the pipe walls, invited athletes had their chance to hone their tricks before heading for big air training on the massive booter towering over Whistler Village. This is a great time for a shameless plug: where else but Whistler can you sit on a bar balcony enjoying dinner and smooth Canadian brew while watching the world's best skiers make a mockery of one of the season's last big air booter, or walk through a village full of ski shops and see Mickael thugging it with a bottle of wine in hand, Tuffelmeyer enjoying a drink, and Jon with a Swedish bombshell on his arm- all within thirty seconds? If you've never been to the World Skiing Invitational or to Whistler at all, this story can't describe the skier's wet dream that is the WSI weekend.
McDonald's Rail Session
After riders had gotten their fill on the big air jump, the Black Eyed Peas delivered their funkadelic vibe to a packed crowd in the Skier's Plaza, who went nuts when your own favorite superstar made a special appearance. No, not Jon Olsson- Justin Timberlake!
But if JT got teenie hearts thumping, it was TJ that got their loins throbbing, as Schill and the rest of the skier crew took to the 27-foot down-flat-down stairset rail set up off the GLC balcony for the newest addition to the WSI, the McDonald's Rail Session. Skiers and boarders sessioned the rail together, along with Ronald McDonald himself, who made a cameo appearance on Atomic skis in order to eat shit on the stairs.
Charles Gagnier.
After numerous smooth grinds and several switch-ups, the session boiled down to a 270-on contest as riders hucked their meat onto the final down section. Iannick B., Josh Bibby, and Matt Sterbenz all stuck it, but it was Iannick's rail steeze that picked up the $5,000 prize, with Steele Spence taking second and Bibby in third. Sarah Burke and Kristi Leskinen made several attempts at the rail, with both receiving brutal treatment on the stairs.
Women's Superpipe Finals
April 24, 2004: One of the biggest days in skiing kicked off with with the Women's Superpipe Finals in the Blackcomb pipe. Last year's dismally foggy final was forgotten underneath nearly bluebird skies as five women at the top of the game met up with Friday's qualifiers to show the progression that's been made in pipe. The ladies showed incredible dexterity with airs bigger than ever before. Jen Hudak kept up the pace with giant airs that would win any men's pipe comp, but the established pros put the rest of the qualifiers in their place with smooth, stomped spins and impressive amplitude. Still without a ski sponsor since parting ways with Salomon in January, Sarah Burke rode a pair of duct-taped Teneighties through a run of big airs, a clean 540, and an alley-oop 720 on the final hit. Not to be outdone, France's Marie Martinod assembled the styliest runs of the day with silky smooth 540s and an alley-oop 360, and Jamie Sundberg was one of the few women to go unnatural with back-to-back 540s. At the end of the jam, Marie and Sarah shared the highest score of 86, so the title was decided by the riders' second-highest score, where Martinod's 84.7 in Run 2 narrowly defeated Burke's Run 1 score of 83.0. At 79.0, Jamie Sundberg got the third place nod from the judges, narrowly beating Hudak out of the top three.
Men's Superpipe Finals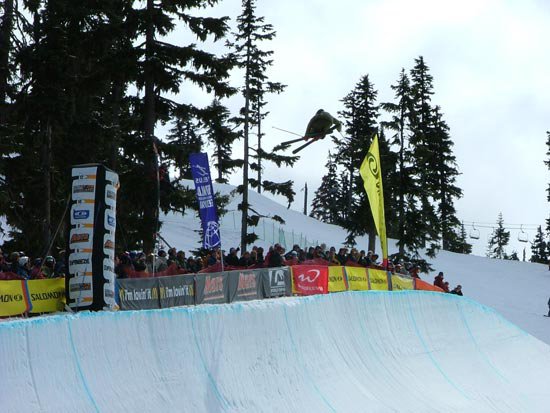 It was time. Two years ago riders reached unprecedented heights at the WSI Superpipe; last year, despite the fog, the level of competition was maintained, and riders brought consistent switch riding to the table for the first time. This year, with a stoked crowd cheering on, photographers and filmers at the ready, blue skies overhead, and a perfect pipe at the ready, it was the riders' duty to show skiing's progression by combining technical tricks, honed style, and huge amplitude into a showcase of what halfpipe skiing has become.
In a two-hour jam session, riders squeezed in as many runs as possible underneath the discriminating eye of the judges. Simon Dumont laid down a pace-setting first run with his trademark massive corked 540 on the first hit leading into an alley-oop 540 that was just as huge. A giant air on the right wall preceded the Dumizzle's alley-oop 720 on the final hit, all stomped and all over fifteen feet out. Andy Woods also got off to a good start with a huge flair on the left wall, followed by a straight air, unnatural McTwist 540, corked 900 and finishing on an unnatural corked 720.
Jon Olsson.
It was evident that unnatural spins were going to be the norm at this comp, rather than the exception, as other riders like Tim Durtschi, Corey Vanular, and Matt Philippi all included spins on the left wall. Charles Gagnier showed the greatest unnatural skill with back-to-back corked 900s on both walls, while most skiers stuck to 540s and 720s on the final hit.
With Chris Turpin rocking a microphone instead of K2s, it was up to Josh Bibby to carry the message of switch riding, consistently following an air to fakie on the right wall with switch spins up to 900, all grabbed with style and all the biggest switch hits seen before in the pipe. Qualifier Charley Ager broke new ground with uphill switch spins, but had trouble with consistency and amplitude.
Simon Dumont.
"I'm scared for next year,� Tanner Hall said as he watched unnatural and switch tricks stomped across the board. "Next year is going to be even more ridiculous.�
But while switch and unnatural tricks showed unprecedented development, the sport's biggest guns stuck to their money tricks and their amplitude. Tanner Hall threw down the pipe run that's had him on podiums all year long: huge corked 540 into an alley-oop, followed by a corked 900 and an enormous flatspin 540 on the final hit that consistently broached the fifteen-foot mark. "That felt pretty fun today,� Tanner commented. "I tried it with a new grab, and it was cool.� Jon Olsson also kept to his regular bag of flairs, 540s and a smooth corked 900, all marked by his signature style and uncontestable pipe expertise. Shoya Okazaki and TJ Schiller also laid down huge, clean runs.
With every athlete boosting ridiculously huge with technical tricks, the judges were faced with hard choices in deciding the podium, but there was little difficulty in deciding who boosted the biggest, smoothest airs. The king of steeze, Tanner Hall, locked down yet another first-place title with a 91.7, while his rival in the amplitude department, Simon Dumont, claimed second. Charles Gagnier's 900s on both sides and a massive corked 1080 earned him a seat in the third row, and once again established him as a dominant force in the future of freeskiing. TJ Schiller narrowly missed the podium at fourth place, with Andy Woods and Jon Olsson rounding out the best six halfpipe skiers in the world.
But the real fun hadn't even started yet, as riders surged back up the pipe to drop in for the WSI Superhit contest, where the big go bigger and the weak step down in shame. The trick of the day was undoubtedly a corked 540 on the right wall, which riders threw bigger and bigger with clean grabs. Then time stopped as the Dumont, using the entire length of the pipe as a run-in, dropped in and boosted a corked 540 tail that dwarfed the 15-foot high flags lining the pipe. The Dumizzle just couldn't get enough, as he dropped again and again, each time pushing the limit in amplitude, but grabbing and landing clean. This writer's estimate? Close to thirty feet out.
Simon Dumont.
No one expected a serious challenge to Simon's boost, but Tanner Hall provided just that, throwing the cork 5 almost as big, and with equal style. "That little kid made me charge harder than I think I ever did, you know?� Tanner said after the showdown. "That kid pushes me, and I'm just now realizing that it's better to ride with people that push you like that. From now on, that's my boy in pipe contests.�
Tim Durtschi and Corey Vanular held a similar contest on corked 720s, not reaching Dumont and Hall's heights but still going well over 15 feet out, while James Hillier's corked 900 reached heights reminiscent of C.R. Johnson at the X Games. Sarah Burke pulled out all the stops as well, stomping the first 900 ever to be thrown by a woman in competition. "I was working on them a couple weeks ago, doing them here and there,� she said. "It just felt good today. Everyone was throwing down, so I wanted to too!�
Of course, no Superhit contest would be complete without the antics of Scott Hibbert, who warned photographers and spectators to back away from the lip of the right wall in preparation for when (not if) he crashed. Hibbert managed to land in the pipe several times before slamming to the deck on a 20-foot alley-oop 900 attempt, but skiing's king of gnarly crashes was back on his feet before anyone could call Medivac.
Salomon Big Air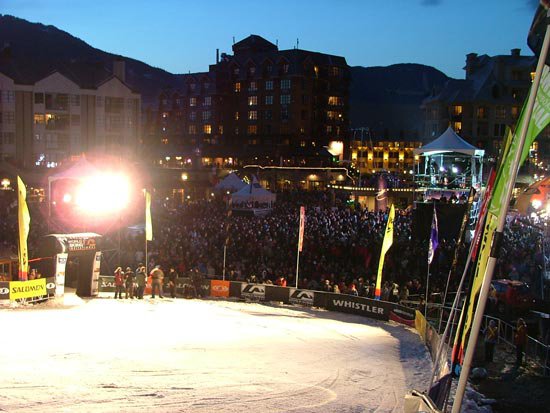 With events at the Superpipe brought to a conclusive end, the focus shifted to the Whistler base, where a massive crowd gathered to watch Jabulani, MC Rumble, Natasha Thirsk, Lady Precise, Curtis Santiago, Vinyl Ritchie, and Danny Sveinson rock the stage while go-go girls spinning hula hoops danced in elevated platforms and 20 skiers got in their practice runs in preparation for the comp.
Riders were given two hits, with the best score taken to limit the field to eight competitors. Switch spins were the ticket to the round of eight, and Tanner Rainville, Jon Olsson, Mark Abma, Simon Dumont, Shoya Okazaki, TJ Schiller, Charles Gagnier, and Josh Bibby all made the cut. From there competitors went head-to-head in single elimination.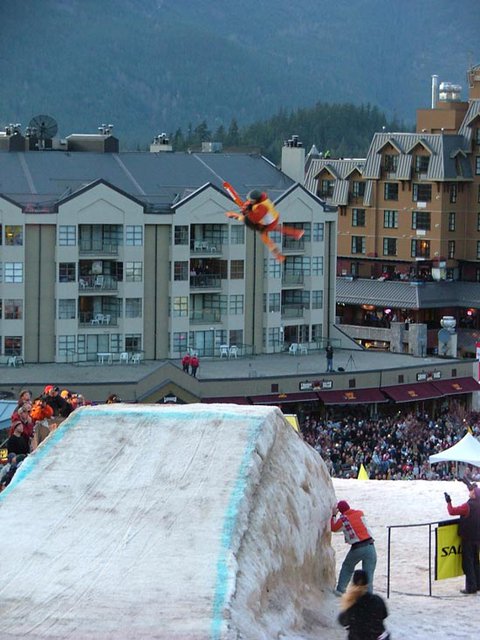 Rainville, as the eighth seed, jumped against Simon Dumont, who picked up the highest score in qualifying. Rainville went head over heels on the landing of his switch 900 tail, and Dumont played conservative with a switch 540 critical to advance to the semis. Okazaki buttered out of the landing of a switch cork 1080 and was eliminated by Bibby's clean switch cork 9 mute, and TJ Schiller stomped his switch 9 mute clean, while Abma kicked off a ski. In the hardest decision of the round, Jon Olsson's slow, smooth switch cork 720 true nose beat out Charles Gagnier's clean switch 900 reverse true tail.
Just before the semis kicked off, Tom Dolezel (of U.S. Open fame) went for a repeat stunt, and stomped a switch cork 7 clean. But instead of sporting only a leopard-print thong, this time Tom Dizzle chose hot pink�and it was even smaller.
After Tom's bare ass was safely removed from the base area, Dumont faced off with Bibby and Olsson jumped against Schiller in a best-of-three format. Bibby's clean switch 9 mute took Round 1 when Dumont went down on an attempted switch 1080, but the tables were turned in Round 2 when Bibby went backseat on the 9 and Dumont stomped it clean. In the deciding jump, both riders stomped the switch 9 with authority, but Dumont's tweaked grab and effortless landing bumped him into the finals.
Meanwhile, Jon was locked in a battle with one of this year's breakout riders. Olsson stomped the best switch cork 720 true nose of the night, but TJ pulled out all the stops, tweaking the mute in a switch 1080 to take Round 1. Although he tweaked the hell out of the grab on his second-round switch 9 mute, Schiller blew up on the landing, giving Olsson the opening to stomp a switch cork 9 tail and even the score at 1-1. In the tie-breaker, both riders went switch 1080, but Jon's landing was cleaner, advancing him to the one-jump final against Simon.
Bibby and Schiller went to decide third and fourth place in the consolation round, where Bibby floated a huge switch 900 but landed slightly backseat. Schiller opted to modify his switch 9 with a reverse safety, stomping it clean for third place.
Jon Olsson.
In the final, Jon jumped first, sticking a seemingly effortless switch 10 tail. Simon went for a huge switch cork 10 mute, but couldn't put the landing together, and for the second straight year, Jon Olsson claimed victory as the World Skiing Invitational's Big Air champion.
Although the switch 1080 was nothing new for Olsson, after the contest he elaborated on why he chose to throw the switch 720 in earlier rounds. "I personally think we should stick to 7s on these kind of jumps,� he said. "But the judges wanted to see more spins, so that's what I gave them.�
"Once again, WSI blew me away,� Mike Douglas said after the conclusion of the Big Air competition. "Just when I thought that the sport's progression had leveled off, we see an event like we had today.� He remarked on the younger faces showing up in high-profile competitions, saying, "TJ Schiller and Josh Bibby were diggers at Momentum Ski Camp last summer. A year ago they were bugging me, calling me every week, saying 'Hey, we want to just come be diggers at your camp.' Now here they are, superstars of the scene. It shows you how fast it can change.�
As Jon accepted his first-place check alongside competitors years younger than his ripe old 22, the announcer asked how Jon thought he would fare in next year's competition. Dumont answered, "We're going to kick his ass!�
**WATCH BIG AIR VIDEO**
**WATCH HALFPIPE VIDEO**
**WATCH RAIL JAM VIDEO**
**WATCH WOMEN'S PIPE VIDEO**
Editing by Teddy Knape
RESULTS
Women's Superpipe Qualifier
Men's Superpipe Qualifier - Heat 1
Men's Superpipe Qualifier - Heat 2
McDonald's Rail Session
Women's Superpipe Final
Men's Superpipe Final
Salomon Big Air
A big thanks to Cody Carter, Kim Tindall, and Katie at Whistler for all the help!
Peter Olenick.