This weekend got way more busy than first thought… When I walked in my front door in Lillehammer this afternoon, my car had clocked 1510 km in one weekend. That is a lot of driving just to go home for a weekend. This is basically my route: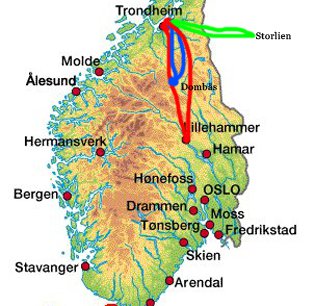 On the top of things, I got really sick the moment I got home, typically my luck. So now I am sitting in the couch, trying to keep my eyes up while watching the olympics. And I really wanted to go to Hafjell tomorrow, way to much traveling and so little skiing lately.
But there is something you can do to make my mood change for the better, I guess…
Click on to http://www.newschoolers.com/web/mediacontests/showentry/cid/45/id/2582/ and vote 10 if you like the video!
If I get top 2 I get to be in the Jon Olsson Super Sessions in Åre, Sweden in April. It is a film-competition for freeskiers, the best ones in the world. This qualifier states the best videos uploaded on Newschoolers.com video-contest for JOSS.
Vote for me !! Thank you all! I need to get in good shape again, the flu is killing me…