With access to all the pristine parks out west what brings you back to Minnesota?
I love MN. I went there once for a sponsor obligation and it reminded me of home. Small hill, sick park, tons of stoked kids, and more laps than you can count. It's so much fun. It doesn't hurt that there are quite a few cute girls there too :). There's a particular kid here, his name's Cayden Wood, he's a pretty young little shredder that I've begun to mentor, he's 12 I think. There's a lot of people here that are really excited about skiing, and it's a little hideaway to go relax and get away from all the craziness of Summit County and the contest scene.
Growing up in the sport, did you have a ski mentor or even an athlete you looked up to a lot?
N: Yes a few different guys. I really looked up to Bobby Brown, Tom Wallisch, Andreas Hatveit, and Jon Olsson. I never got to ski with those guys but I studied their videos for hours and really appreciated the way they skied.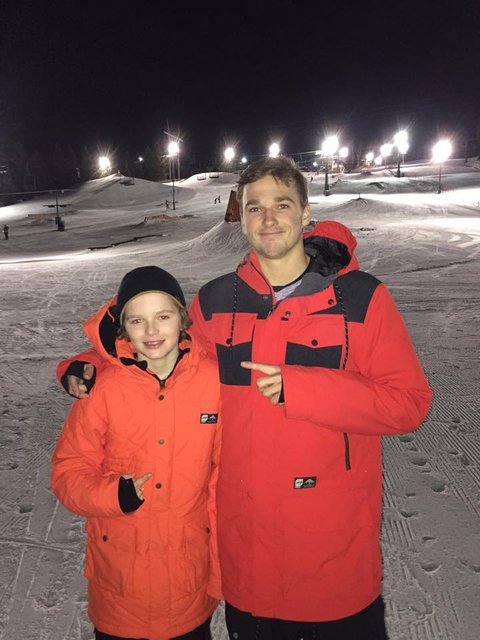 Nick & Cayden
Do you ever see yourself getting into filming or hitting urban down the road?
I haven't really dabbled in the urban scene too much, but I'm definitely getting more into putting out my own content. I just got a filmer this year who I'm really stoked on and we have a ton of cool ideas for the future. We're going to be putting out a ton of cool content over the next few months.
Does your relationship with the community of Newschoolers bother you? Anything to say to the haters?
Sure. I'm doing what I love everyday of my life and get to travel the world with my best friends. Living the dream having more fun than Jiminy Cricket. I can't believe I have the privilege to do what I do everyday and I'm really thankful.
What would you be doing if you weren't in the competitive ski scene? Where is life going to take you when you finish competing?
I really want to take the Jon Olsson route. I think he's done amazing things with his career outside of skiing and he really inspires me. He's a stellar business man and used skiing to get there.
When will a skier land a slopestyle run with three triples?
In 2-3 years.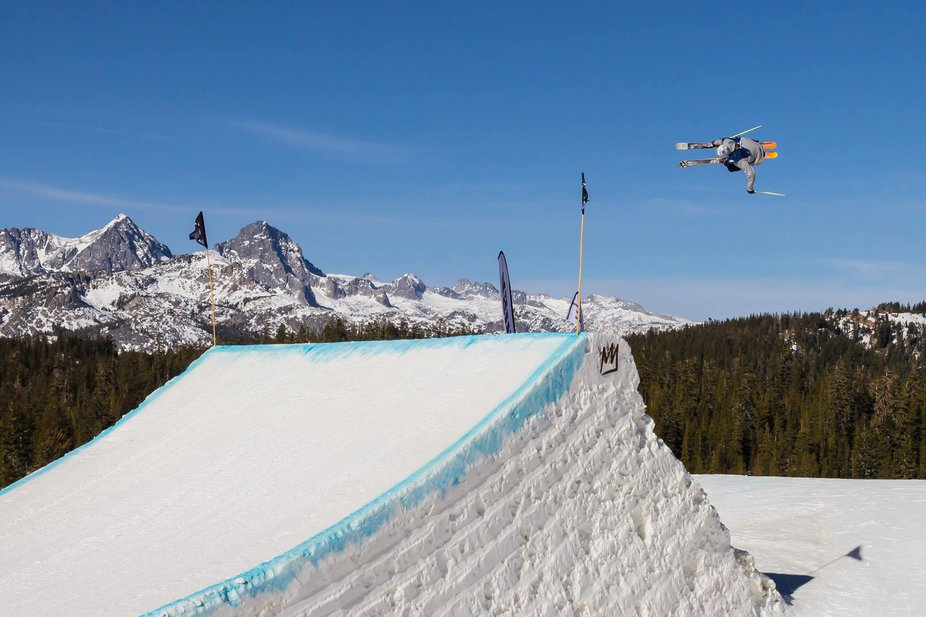 Photo: Andrew Woods
Danny Davis won a gold in last x-games Men's Snowboarding Halfpipe with mostly style and only one double, where would you say you stand on the style versus tech debate? How do you feel about that crossing over into skiing, how long will it be before that happens?
As far as competitive skiing goes, in my opinion, style can be equated to execution. The way you do the trick should be well executed and as flawlessly as possible. Kids who complain about no style in contests should not watch them. Watch edits and movies. Competitions are a place for technical difficult skiing. Creativity and personal style can absolutely be expressed in contests and on film, but contests will always dictate that technicality wins.
How has your life changed since becoming an Olympic Medalist?
There have been some amazing opportunities I have been able to take advantage of with skiing and other endeavours. But best of all, it's been an amazing learning experience! I've gotten to meet a lot of cool people, experience new places, build my professional portfolio, and I even got this sweet NS interview :)
You gained a lot of media attention with the 'I Want To Date Nick' contest- How's your Tinder game? Are you able to keep up with the all ladies chasing after you?
I hate Tinder. I would rather walk outside and talk to a random girl on the street then swipe a girl on my phone. Anyways, how lame of a story is that? "We met because of Tinder" C'mon guys! Don't hide behind a screen, put yourself out there and go talk to the ladies. Girls admire confidence, not a profile picture.
Favorite moment you've had in your ski career that wasn't a podium?
Definitely hosting my own contest at my home resort or landing a new trick. My first backflip, double, and triple corks were all pretty great moments. Thats what I love about skiing. It gives you the physical ability to stare fear in the face and then conquer it. Doing your first triple cork has to be one of my pinnacle moments of "living life".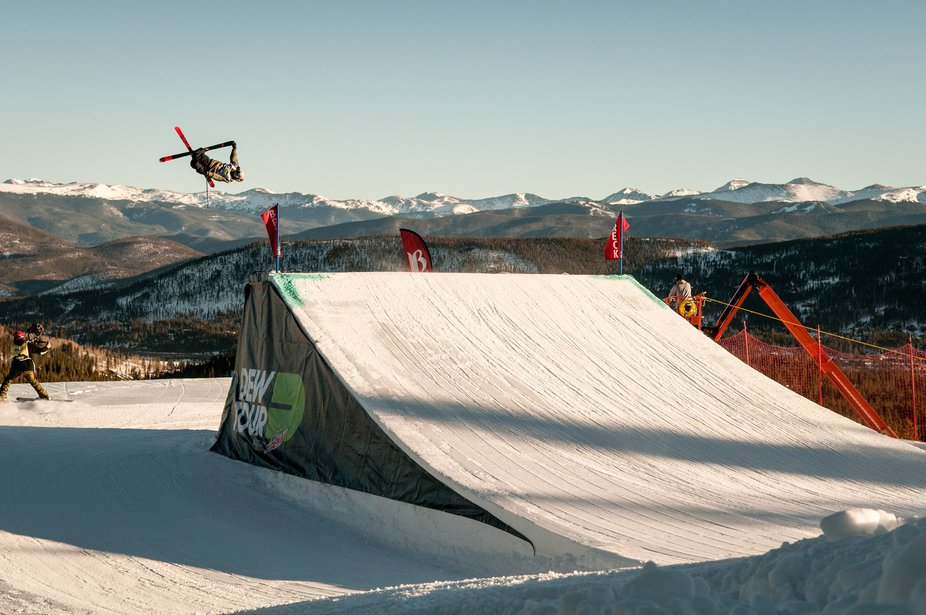 Photo: Johan Carlsson
How did you get hooked up with Orage?
I sent Mike Nick an email and he sent me some clothes. Its a tough world out there for sponsors right now! Thanks Mike!
Do you have any updates on your injury status?
Sure. I got lucky with my shoulder. It is non-operable and I need 4-6 weeks of rehab and I'll be shredding 100% again. Which means I'll be back for Nine Knights and JOI. Europe, yay!
Any final thanks?
Yes. Thanks to all my sponsors for the support, friends, parents, God, the universe, mother earth, tasty Red Bull, Big Sean, the US Ski Team, my agent, and especially… the haters.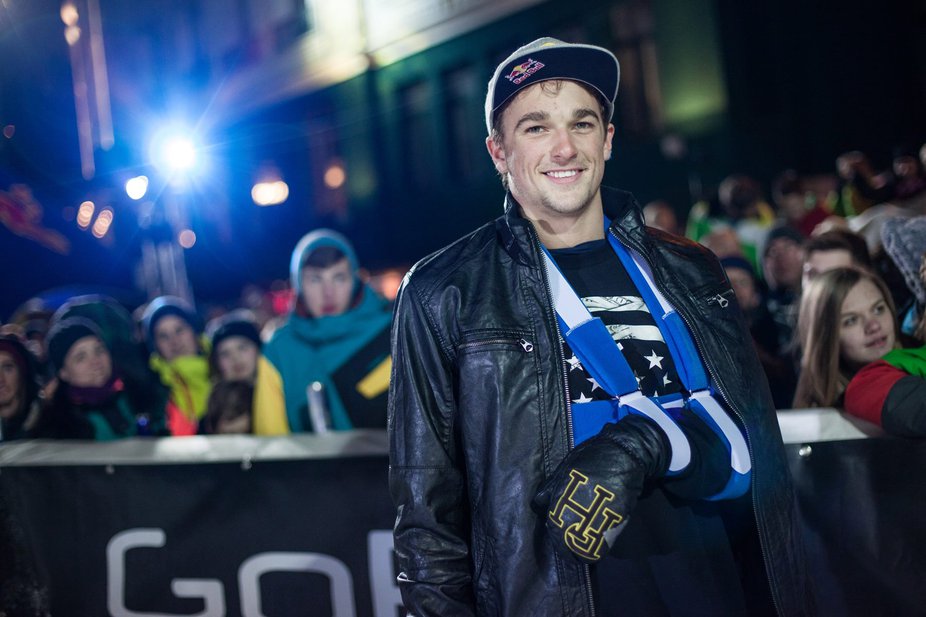 Wishing a speedy recovery to Nick!
Check out Nick's latest edit!
http://www.newschoolers.com/watch/758385.0/The-Prelude?c=11&o=10&t=6