It turns out that open registration events, and even perhaps more surprisingly those with a big prize pool, are not dead. 10 Barrel Brewing takes us back to the early days of skiing when FIS still sucked (but actually, FIS still sucks), and the Olympics weren't an option for park skiers to dream about with their Hella Big Air events at Copper Mountain and Mt. Bachelor. The format is simple, 1 hella big jump, a $30k prize pool, hella 10 Barrel beers, and hella bad hella jokes . That's a recipe for a good time for skiers and spectators alike.
The Copper Mountain stop of Hella Big Air has been added this year to double the fun. The festivities start this weekend at the 10 Barrel Pub in Denver, and continue through the competition on Saturday March 3rd. For those that want to watch the action but can't make it to Copper Mountain, you're in luck, because we'll be streaming the event live here on Newschoolers.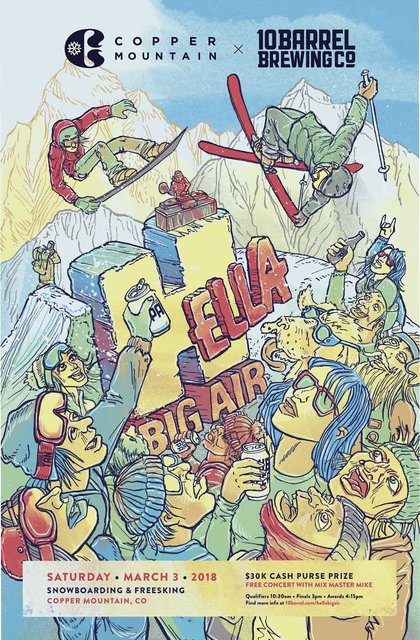 Registration and more info:
https://10barrel.com/hella-copper/
Thursday, March 1 - Hella Big Air Hype Party
1:00 pm - 10:00 pm at 10 Barrel Denver Pub
Custom-made Hella glassware for the first 100 people
Hella Big Beer sampling and giveaway
Friday, March 2 - Rider Registration & Pre-Party
4:00 pm - 8:00 pm Copper Mountain - 10 Mile Tavern (Center Village)
Riders check-in and register
Beer specials available
Saturday, March 3 - Competition
9:00 am - 10:00 am - Practice
10:30 am start - 2:30 pm - Qualifiers Ski & Board
3:00 pm - 4:00 pm - Finals
5:15 pm - Awards
4:30 pm - 6:30 pm - Free Show - Mix Master Mike
After Party at Jacks
$30k total prize purse with $10k to first place for both skiing and snowboarding.