2/14/2022 UPDATE: The cash prize pool is now up to $2,200 with three additional prizes:
$100 Idaho Garnet award for most spins, sponsored by Johnson's Gems
$100 Most Creative Trick, sponsored by Johnson's Gems
$100 Superman Front Flip, sponsored by H2E Engineering
$100 Sam's Hammer, sponsored by True West
$50 credit at Cogs Gastropub for Best Trick on the Cogs Rail
2/5/2022 The historic town of Wallace, Idaho is hosting its 5th annual Extreme SkiJor competition on February 19, 2022. This is the only urban slopestyle course in the country. Skiers and snowboarders are towed by tracked ATVs through the charming downtown streets to hit a pro-built slopestyle course.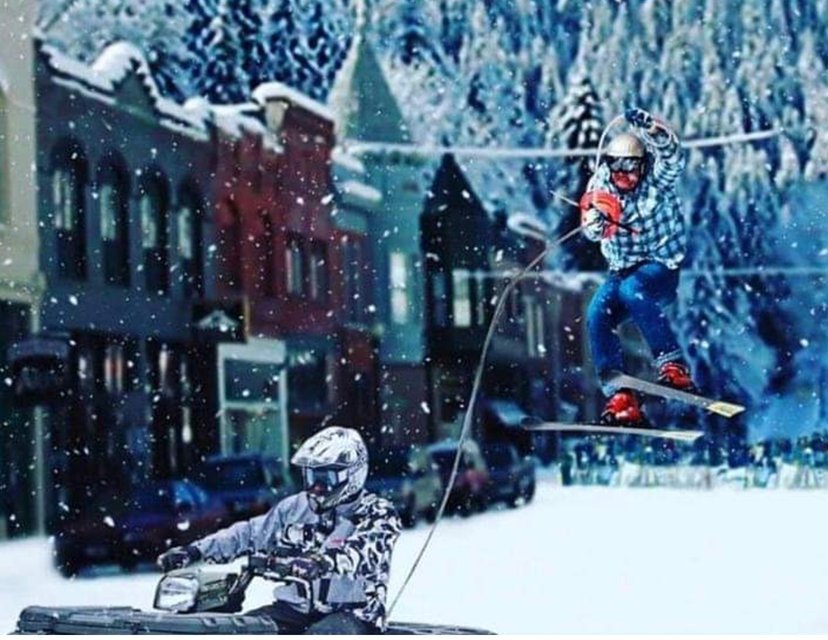 COURSE: Most ski-jor competitions consist of a horse pulling a rider in a timed race, but this is a freestyle event. The course consists of three jumps (S, M, and L) followed by a money booter jump. Most riders will let go of the tow rope as they approach the money booter, where they can throw their biggest trick then proceed to the rail section. The 20 foot rainbow rail and 12 foot flat rail were built specifically for this event. Both rails are mellow enough for new park riders but also proper for advanced riders to throw higher level rail tricks.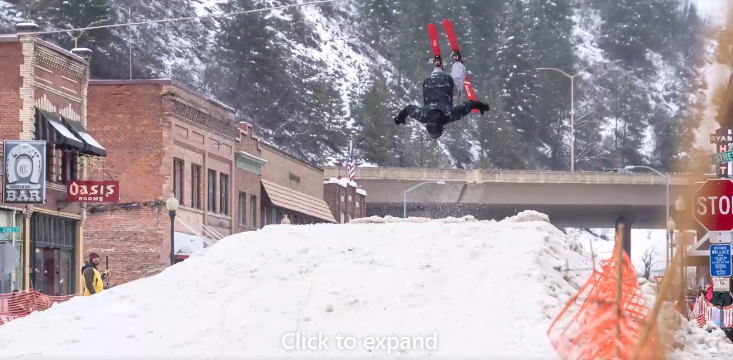 FORMAT: Snowboarders and skiers share the same two heats (afternoon and evening) with at least two runs in each heat. The course will be groomed in between heats. Experienced judges will follow standard slopestyle judging criteria, but an additional "crowd pleaser" category has been added. The prize purse is $1,750 total with the best rider winning $1,000. Cash and numerous other prizes are awarded at the end of the event. The entry fee is only $20.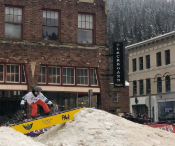 WALLACE: Wallace is a small town in North Idaho conveniently located on I-90 45 minutes east of Coeur d'Alene. The town is 15 minutes west of Lookout Pass ski resort, and 15 minutes east of Silver Mountain. Wallace has numerous lodging options, dining options and watering holes.
DEETS: Wallace Extreme SkiJor Competition, February 19, 2022, registration starts at noon at 6th and Cedar Espresso Bar, $20 entry, $1,750 in cash prizes, two heats: afternoon and evening. The Private Idaho Rail Jam is the following day in Wallace. A professional photographer will be present and all riders will have free access to all photos. A raffle will take place with numerous prizes, and we will have a live auction for a Pabst Blue Ribbon snowboard and a set of PBR Brewskis.
REGISTRATION:
https://skiwallace.com/signupform.html
https://www.newschoolers.com/videos/watch/1030673/2020-Highlights