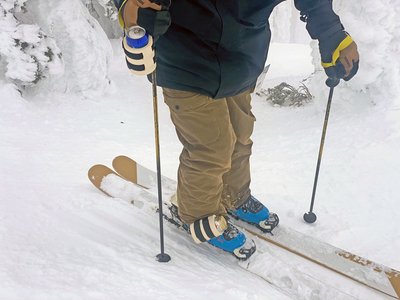 I invented this product here in Whitefish, MT and it has taken the mountain by storm. Check it out here:
https://beerbinding.com/product/ski-pole-ski-boot-beer-holder/


Thick "old school" foam coozie with two velcro straps to attach to your ski pole handle or ski boot buckles. I've sold hundreds of the original model for snowboarders but now skiers can join the party too. This new model hold your favorite beverage very securely we were boosting and hitting 70+ mph without any issues.
Previously I always kept my beverages in my backpack or pockets but that sucks when it explodes in your pocket or pack and this solves that. Plus you get to make a statement that you like to party. Always gets noticed in the lift line and lifties love them. The biggest critique is that the beer is shaken up but I'm here to tell you that happens regardless if it's in your pocket or pack, just open slowly and enjoy. The new thicker coozie model provides a more secure hold, more insulation for colder temps and protects the can from being punctured by ski boot buckles.