Top 10 in 2021. Top 5 ~2024, top 3 eventually Circulating or fully distributed.. do the math.. we still have a long way to go.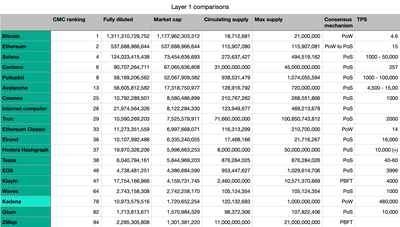 Energy intensive PoW like BTC or ETH switching to PoS are lagging too far behind and nobody else is even in the arena with KDA currently until forks and layer 2s of Chainweb pretend to be from scratch like all the ETH clones did in 2016-2017 and ETH was not really a huge upgrade from BTC enough to pretend it ushered in the era of decentralized smart contracts. Solana just proved that PoS and PoH or any variations are patchwork solutions.
Kadena is the real deal guys.
Are you ready men?