" Good luck " says Vail Resorts Management representative (VRM). "Clearly, the overhead at Mount Bohemia puts the people who work for them above the shareholders they would be representing if they were publicly traded. "We at VRM don't understand this concept or how anyone could make such an insane business decision".
Locals rejoice in the idea that they will actually make a livable wage this winter ski season instead of just getting by off of "sucking on the government unemployment like a bunch of fresh water lampreys" says one local.
In the Instagram post from Mount Bohemia screenshoted below, Mount Bohemia this season will be offering $20hr for Lift Operators, food service, and housekeeping. Bartenders will make $15hr plus tips.
With the amount stoke and happiness being spread from happy workers onto guest, business analyst suggest bartenders could see "a fuck ton more money than $15hr with that kind of stoke around".
Other factors for business analyst are taking into consideration for the windfall of cash that Mount Bohemia are about receive:
A $99 Season pass ($162 for a consecutive two season pass).
Long term reputation of being one of the most Gnarly ski resorts EAST of the Mississippi.
And many other factors that locals don't want you knowing about.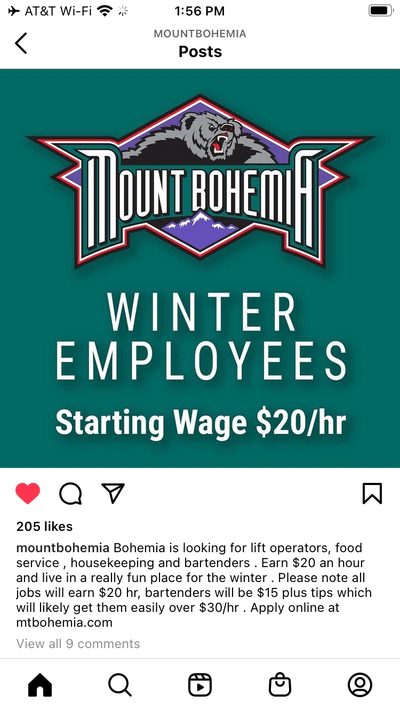 Ski bums across North America rejoice and pray to Odin that this business concept of a "livable wage for workers" will be as contagious as the Delta Variant of COVID in America and infects all ski resort business models in North America.
"Hopefully, they fail spectacularly and it crushes the notion to any ski resort about the possibility of a profitable recreation business. It's about the property value and making money. Not the people or activities." Says VRM representative.
This is 100% positively satirical*.
*(Except the Delta Covid part. Its really bad cause you didn't get your vaxx.)