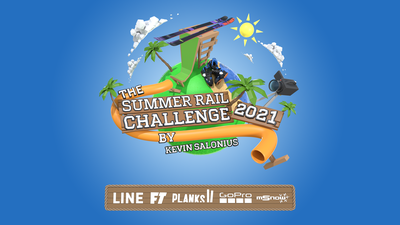 Hi NS!
I'm really stoked to let you know that "The Summer Rail Challenge" video contest is back again! This is already the 6th year that we are doing this contest, and every year there have been so many good entries! Last summer we received the most entries that we have ever had so far in the contest which I was super stoked about, so I'm very excited to see all the entries and what everybody will come up with this year!
Check out the contest page for all the details:
https://lineskis.com/en-fi/summer-rail-challenge
https://www.newschoolers.com/videos/watch/1005491/The-Summer-Rail-Challenge-2021---Enter-Now-
Thanks to all the sponsors we have a TON of rad prizes this year to give out! We have products from:
LINE Skis
,
Full Tilt Boots
,
Planks Clothing
, GoPro
and
mSnow
As always, the rules are very simple: No snow is allowed.
We are looking for creativity, style, wizard tricks, crazy set-ups, weird rails, hippy killers, k-feds, ski slides, and everything that's cool and fun!
Entry submission deadline: 11:59pm PST August 31th
Upload your entry to the contest page and share it with your friends!
https://lineskis.com/en-fi/summer-rail-challenge
We are really looking forward to seeing all the entries, and I hope you guys are as stoked about this contest as we are!
Let me know here in this thread if you have any questions regarding the contest.