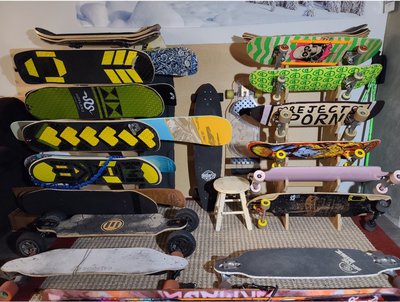 Omg I love showing off my girls!
🥰🥰🥰🥰🥰
Tempt me with a sk8 thread!
A few good ones out on loan and not pictured, but this is the current quiver snapshot:
Starting from the top left, we've got a smattering of snowskates:
- Hovland Buckshot with a 126cm sub ski and 9.5" top deck.
(Great across the board for freeriding powder, moguls, trees, all mountain jib, and even park. My main ride.)
-Hovland Ram Jeremy Jones Pro Model with a 105cm sub ski and a 10" top deck.
(My park board and the mayor of Sidehit City)
-Hovland Bubba with a 151 cm sub ski and a 9.5" deck.
(Powder destroyer. It's basically a powsurf with edges so you can traverse, ride it in-bounds, and have edge control in shallower powder)
-Harfang Azteca with a 109 sub ski and a 9" deck.
(Peace offering from the French Canadians. Lil thing cuts blue ice and smokes rails)
-Golden City Snowskates La Nina with a 115cm sub ski and a 8.5" top deck.
(Narrow shaped sub ski fastest turning dagger in the west tricking in unholy communion with the old style gods)
On the floor, I've got a couple of electric skateboards aka E skates:
-Evolve GT Bamboo 17lbs/10 mile range/32 mph speed limit *as tested by me
(Three words: electrified, bindingless, mountainboarding. Smoke the shit out of a country road, salt, sand, gravel, 4x4 track, motocross track, or BMX park)
-Boosted V2 15lbs/7 mile standard range/26mph speed limit *as tested by me
(Classic urethane feel zipping around that damn remote might as well be a vibrator)
-Sector 9 bamboo something something
(Double kingpin utility board for comfortably covering a lot of ground. Good for exploring)
On the wall behind the racks:
-Sector 9 pintail
(Dancing board I did a custom wood stain and engraving on)
-Ghost Longboards 40" Platypus
(Heavy smooth with these little light up wheels and Gripall spikes to simulate night snowskating during the off season. I love night snowskating!)
For the skateboards on the right rack:
-Creature board with 9" deck, Independent Hollows, Spitfire wheels and rails
(Bowl and pool pumper designed to carry my momentum and get me higher on the walls)
-Krooked board with 8.5" deck, Independent Hollows, and Spitfire Street Formula wheels
(Lighter version of the Creature deck better for transitioning between bowls and street style stuff and flat tricks)
- Woodchuck Laminates Old School board with 10" deck, 1/4" risers, double kingpin longboard trucks, custom paint job, and big ass wheels.
(Gliding board designed for mushy gushy slow gravity manipulating tilting. Maximum serotonin release to have that expanding feeling)
-Death Skateboards Benson Devil Woman Pro 8.75" deck with original test edition Krptonics Yellow wheels
(I like to be a little extra sometimes and show off my classic collector's wheels wearing a funny outfit and doing funky fresh old school tricks in the park)
-Goldcoast pink drop through board
(Easiest riding board I mainly use to teach my friends how to skate. It's got a mellow no pressure vibe to it for picking up on my rest days too.)
-Arbor Liam Morgan Pro Model board
(Freeriding board for bombing asphalt)
Whew! Yall still with me??
Each of the snowskates/eskates have a skateboard/longboard equivalent so that I have a wetland and dryland board for the style and feel I'm trying to accomplish. That way, I'm always crosstraining for snowskating.
Thanks for reading!