Sup guys.
Just wanted to go over my thoughts on the Picture Object Pants. Nobody asked me for a review, but I have an hour to kill at work and I'd rather do this.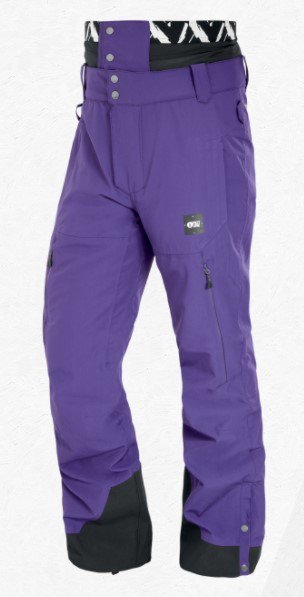 I purchased these through REI in November. I have a very generous grandma who likes giving me REI gift cards for my birthday each year. I'm an adult with an adult job. I don't need your handouts. But she's a grandma and grandmas are generous and I love her. Anyways, I'd seen positive reviews for Picture Organic and I like their approach to sustainability, so I figured I'd give their Object pants a shot. They had interesting features you don't usually see in pants. They have a cool mission, have weird pants, and you never see anyone wearing Picture, so that's why I bought them.
Disclaimer: I'm using stock photos from their website. I didn't know I'd be writing about them so I didn't take pictures myself. Mine were black, the photos are purple. Sue me idc
1. Fit
I'm 6'2" 210 lbs. My previous ski pants were a size L 686 pant, and before that, I had size L Columbia pants. I wear large in everything. I bought these Object pants in a Large, and although they fit, but they were a little tighter in the thigh and waist than I'm used to. Maybe it's because I'm used to American brands with slightly baggier fits and Picture is European, but I wasn't a huge fan of the tight thighs. I'm not a baggy steezy guy, but I like having room to move my legs when I ski. That's important in skiing. Us skiers move our legs a lot. I think I would've been better off sizing up.
2. Materials
The pants are well-made. The fabric didn't wet-out in shitty early-season wet Tahoe slush. The cuff edge protection was durable against my fresh new-season edges, and the zippers have these cute little trees on the ends. No issues with durability in the 10 or so days I skied in them. I'm confident they would last 5-10x longer than that. Note that I'm not super hard on my gear. I'm a park noob and more of an all-mountain skier. I'm what your local shop would call level 3+. Your mom calls me the best skier on the mountain, so take that into context.
3. Features
This is where it got weird. I'll break it down by the unique features.
a. Powder Skirt
See that black and white thing above the belt line of the pants? That's a snow skirt. I've never seen a snow skirt on pants before. It's an interesting way to approach the bib vs pant debate. However, I wasn't a huge fan of it. It compresses around your stomach area in a way that I've never experienced before. Guy clothes don't do this and I don't like it. I'm glad high-waisted pants aren't a thing for dudes. It's definitely not as comfortable as snow skirts built into jackets, which typically compress around your waist. It was a weird feeling and I never ended up using the Object pant skirt. It folds down inside the waist of the pants, and that's where it stayed for me.
b. I-fit System
This is wild. Picture's I-fit system is described as this: "The always-practical I-Fit System allows you to roll up your cuffs after a great day on snow" Essentially, there is a string that goes from the bottom of your pant cuff, up leg of the pants, and through the pockets. When you pull on the string, it pulls the end of your pant leg up.

This is the strangest feature I have ever seen in pants before. Truly odd. Pulling the string never lifted the snow gaiters up over my boot buckles if I needed to adjust them. I had to bend over and use my fingers like a normal person. That's kinda the only reason I could rationalize using this I-Fit system, and it failed at it. "Rolling up my cuffs after a great day on the snow" is something I've never done before, apart from taking off my boots. And it doesn't make that any easier.
Additionally, there was too much string. I had an inch or two of pull string just sitting in my pocket for no reason, even when the pants were draped completely loose. This meant that when I'd pull my phone out of my pocket, I'd occasionally grab the string by accident and pull my pant cuff up a few inches. Instead of a useful feature, the I-fit system was an annoyance. There's a reason pants have existed for thousands of years and nobody has decided to do this. I-Fit is a gimmick. Change my mind.
c. Leg vents
The location of the leg vents was actually my favorite feature of the Object pants. Most of the vented pants I've experienced put the leg vent zippers around knee-height on the inside of my legs - basically underneath my crotch. I think the idea is to hide the vents, while allowing your knee-pit (is this a word?) to breathe a bit. On the Picture Object pants, they place the vents on the front of the knees. It seems a little unusual, but it made so much sense in practice. By putting the vents in the front, they filled my legs with cool air as I was skiing down the mountain. It worked so much more efficiently than the inside-vents that I usually see. The only cons I can think of are: if you ski switch a lot, the vents are pointed in the opposite direction of where you need them to be. Another con is if you're hot but it's snowing/slushing outside and you open your vents, your knees get wet.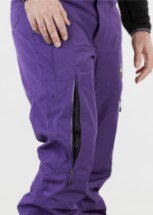 Would I recommend Picture Organic Object Pants? The answer is not really. Sorry Picture, but these pants aren't for me. They're made well, I'll give them that. But I want my pants to be just that - pants. The powder skirt and I-fit system were more annoying than anything. And $200 is way too much to spend on pants that annoy me.
Thankfully, I ordered them through REI. If you don't know by now, their no-questions-asked return policy is a gift from the retail gods. I ended up returning them and I ordered the Flylow Snowman pants instead. I'm looking forward to trying those once they arrive.
Bottom line: Skip the Object pants. Spend your money elsewhere